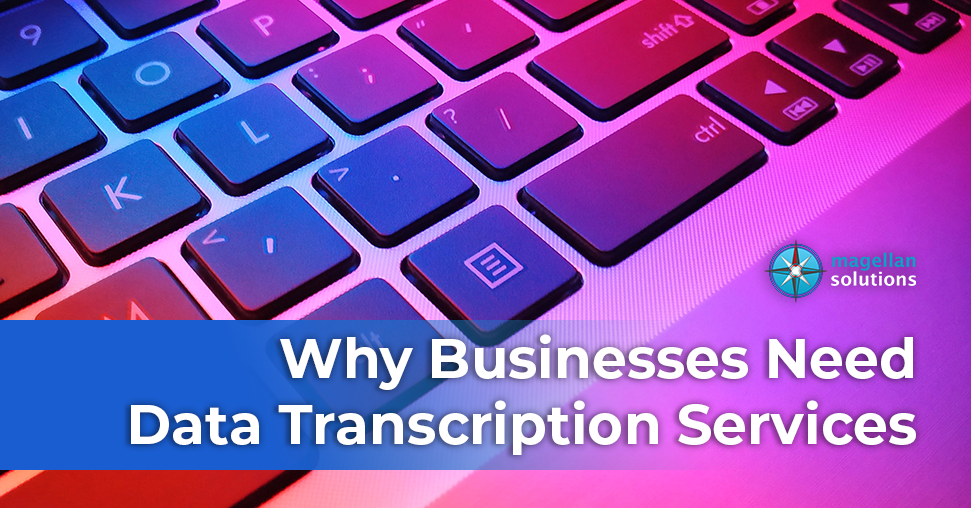 Why Businesses Need Data Transcription Services
They say that two industries worldwide do not go out of style no matter what. One is the food industry, and the other is the healthcare industry. Indeed, this is very true as people need both. Food keeps us going, and our health is what allows us to do the things that we would like to do. That is why making a name for yourself in these industries is pretty hard, but it will be worth it once you are in.
The healthcare information management industry is one of the rising stars in the BPO industry in the Philippines. This is not quite a surprise as there are many people worldwide, and all these people need healthcare. Imagine just one company that can get a small share of that market. You may call it a small share, but it is still vast as the world's population is already significant. And so, to be able to handle all the systems and processes involved in providing the best kind of healthcare, there are people behind doctors who help out to work out everything nicely. This is where back-office tasks come in. One of these main tasks is information management of the healthcare industry, and the Philippines is getting more and more of those tasks each year.
Although inbound call center services often focus only on taking in calls, some call center service companies do other back-office tasks like healthcare information management outsourcing services. That is why if you are looking for a good company that could work on this part of your business, you should ensure that you do good research. The Philippines has many companies that offer this type of BPO service, and you can choose from them.
To make things a whole lot easier for you, here is a good list of places that you can resort to and use to be able to find healthcare information management outsourcing services in the Philippines:
Yellow Pages and Search Directories
If you are new to the Philippines and have no idea where to start, the best thing to do would be to get a copy of the Yellow Pages. Hotels would have those lying around, and you can also ask for a copy from a phone company. From this thick book, you will get a good idea of the BPO companies in the country. Of course, you would likely find contact center providers, but that should not faze you. There may be a BPO company or several more out there that offer inbound services but also do well regarding healthcare information management services.
Of course, do not expect to find all the good companies in those Yellow Pages. See, not all companies are listed in that book. Also, some choose to advertise what they offer through other means. The good thing about checking out the Yellow Pages is that you get a decent number of companies to start with. That is one of the ways Magellan Solutions Outsourcing has found a considerable amount of its clients, although this company also invests in other advertising methods.
Newspaper Ads
There are plenty of places where you can get newspapers while in the Philippines. The hotel can have a fresh supply of the country's top newspapers daily. You can ask to borrow a copy to go through it. You can also find newspapers in the coffee shop or restaurant you are sitting in. The good thing about newspapers is that there are plenty of them available, and those who do offer business process outsourcing would be more than glad to tell the world about it. After all, investors are their lifeblood. So to get new investors, they would have to advertise what they offer through newspapers.
While reading those newspapers, you will learn more about the country, the economy, and how well you think your business would thrive if you invest in the local BPO industry. It would be an excellent way to learn more and see if you will make a good investment or a wrong move. Of course, outsourcing services would be suitable for your business, especially if you create a sound system followed by those working in the BPO firm you choose.
Online Directories
If you have no idea where to get a copy of the Yellow Pages or where to get newspapers, then you can resort to online directories. The good thing about this is that they also serve as Yellow Pages do. Of course, this one is available online, so no matter where you may be, you can easily access that and find the information you need. Although you may not quickly locate companies that offer healthcare information management services out front, you can go through the directory to find companies that provide back-office tasks. Most of them would be listed under the BPO category.
By checking out online directories, you can easily find many companies to choose from. Most of the contact information you need is there, so there would be much less effort on your end. Aside from that, you can also visit their websites to gauge if this is the kind of company you wish to be partners with regarding your business. One of the top online directories to find a BPO provider is 123outsource.net.
Search Engines
You would most likely resort to going online and opening your favorite browser for things that you would like to get answers to. Then you type in the address of your favorite search engine. It does not matter what search engine you choose to work with, but this has become your best friend when finding the information you need. In the case of finding companies with health business process outsourcing services, search engines would also be an excellent place to get a good list. Just type in your search keywords, and you will be all set. You would be given a long list, and it is up to you to go through each.
You can try putting in keywords like back-office careers as it would most likely lead you to companies that offer such as well as 24/7 customer support service. Of course, you can play around with the keywords and the terms you feel would give you good results. You can take note of your chosen companies on a separate sheet to easily track down which ones you would consider and which ones you may want to do further research on. Again, the study would be done well with your favorite search engine.
Social Media
Have you been spending a whole lot of time using social media sites and all that? Well, it is high time that you used that to your advantage. BPO providers are also utilizing their potential to connect with the right people. If you have been using social media to reach out to your long-lost friends and connect with new people, then you can do the same to learn about healthcare information management outsourcing services. Plenty of such in the Philippines are on social media sites. All it takes is proper research, and you can easily see their profiles and get a good idea about the kind of company they are.
You can follow the companies' pages for a good idea about it. You would get constant updates, and you would see just how well (or how bad) they handle people contacting them. You can try posting some stuff on their page or ask questions to see how well they interact with people. It could estimate how they do things and see if that is how you would want your healthcare information management service provider company to do something.
Conferences and Seminars
When was the last time you attended a conference or seminar focused on the updates and changes in your industry? Most people would not take the time to participate because they feel it is too hassle to travel across the country to get there. Plus, you would have to spend a lot on the whole experience because it does not come for free. Although you would get some knowledge, new friends, and a bag of giveaways, it does not feel enough. Well, that should not be the kind of mindset you should have. It would be best if you took the time to be there because you will get some ideas and tips you could not get by researching. These people are seasoned and know what they are talking about.
Plus, you should be able to find a good list of companies offering services and products that could benefit your business. Most BPO companies set up exhibits during such events because the chances of landing good investors are high. Some conferences can be held in your area or target locations where outsourcing services are offered. Regardless of where they are, be there and learn more about the industry. You also have a considerable chance of finding that BPO company that will be your business partner.
Billboards and Outdoor Advertising
It would be safe to say that billboards are one form of outdoor advertising. Some companies would spend on billboards alone, and many others would go the distance and find other ways of advertising what they have to offer. If you have been traveling and were only engrossed in your laptop, mobile phone, or book, you would not have the chance to see what the outside world offers you. See, sometimes, there are BPO companies that do advertise outside. So open your eyes and look for some. You may find that company you would be working without there.
Of course, it would be nice to contact them first and discuss some things with them before getting into a contract. It would not be a good idea to just say yes to everything they say. You have your own needs and your demands. Lay everything on the table and ensure you agree on your terms. Why invest in a company when they do not even have the back-end databases that your business needs?
Friends and Family (and professional networks)
If you still have not found a good company worth investing in, then it is time to call in the troops. Some people have a hard time choosing a company because although there may be reviews online, they believe that some are just concocted and not real. It can be a tough decision to make. So you can ask for help from your friends and Family and get their ideas. Yes, you can consider your friends and your Family your back-end support services, as they can help you with things like this.
You can also ask them for any ideas on which companies they have heard are great and which they would recommend not to deal with. That way, you know you can trust them regarding their reviews and recommendations. You would, more or less, know which ones will be at the top of your list and which ones you may have to cross out now. Just do not forget to thank them once you have made your decision.
Do you know other ways to find the right BPO partner for healthcare? Share your comments by leaving some comments below.
TALK TO US!
Contact us today for more information.