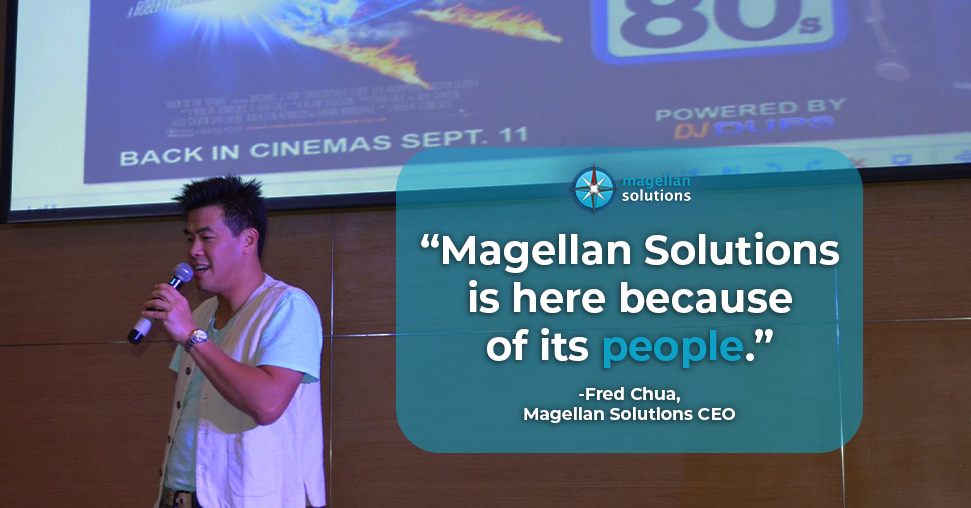 This September 2016, Magellan Solutions is celebrating its 11 years in the BPO industry. It is 11 years of helping SMEs and large corporations deliver great customer experiences around the world. Its formal operations started in August 2005 as an inbound call center with just 14 agents and 1 team leader from its first office.
"We work as one," said Fred Chua, Magellan Solutions CEO in his closing speech during the Magellan Solutions 11th year anniversary party. Because working "as one" encourages a supportive growth culture, it has now housed more than 600 BPO employees and the number continues to grow up to now. One of Magellan Solutions' key quality or value that its clients benefit from is its ability to achieve a mutual business growth for its clients and the company. An example is one outbound lead generation campaign with an SME client that started in Magellan Solutions with just 5 outbound lead generation agents grew to 70 agents and still counting. Another one is a telecommunications company that started partnering with Magellan Solutions with just 25 agents that grew to 400 agents.
"Magellan Solutions' customer support services are top-notch, that's why my customers keep on coming back for my products and services. Magellan Solutions' services greatly helps my business grow," said one of Magellan Solutions SME clients outsourcing customer service.
"Magellan Solutions is here because of its people," said Fred Chua in his anniversary party speech when discussing Magellan Solutions' success.
The company provides a family atmosphere where its employees strive for the good of the company while being rewarded based on performance, teamwork, and dedication. Also, the company provides an environment where employees want to grow because the company has a supportive culture that is beneficial for the well-being of everyone.
Just as how it has proven that a company is just as great as its people, Magellan Solutions seeks to grow further in the years to come — with more great people and more great services to offer.
---
For outsourcing inquiries, you can contact Magellan Solutions here.