How To Outsource Your Back Office Service in the Philippines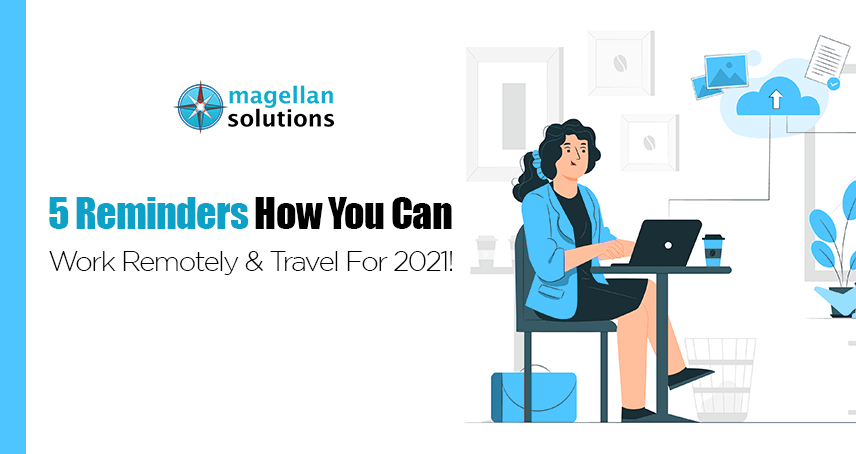 5 Reminders How You Can Work Remotely & Travel For 2021!
Covid-19 Impact on Call Centers Lead to the Re-evaluation of Digitalization and Emphasis on Mental Health
The pandemic has no end in sight, so far. 
While many people are still believing that things may go back to normal, it seems that the current normal is the new normal. At least for every call center company in the Philippines.
Companies around the world switched from traditional works spaces to remote work. Virtual teams blurred the lines between the professional and the personal lives of call center employees. 
Amongst the most impacted industries by the imposition of lockdowns are hospitality, travel, and transportation. Such an impact has a ripple effect to call center outsourcing providers, especially in the Philippines.
Impact of COVID-19 Pandemic on Call Center Operations
There is an exponential rise in call volumes at customer service centers across the globe and industries. 
While remote work provided continued services, the peak of the lockdown meant a freeze on various industries.
Call Volumes
For the transportation industries, especially airlines, there is a halt in travel and the grounding of commercial flights. This meant customers were anxious to cancel, refund, or modify their itinerary. 
While on the medical-related call center providers, lines were full to the brim with panic-stricken customers wanting to gain information on symptoms that may be related to the dreaded virus.
Overall, call center outsourcing witnessed a 300% spike in call volumes during the early stages of the pandemic. 
Call Center Metrics
The sudden spike in call volumes has a significant impact on call center KPIs. 
Such examples are the Average Handling Time (AHT) which increased from 3-6 minutes (on average) to 10+ minutes. Abandonment Rate (AR) increased the queue times that raised from 2-5% to over 10%. 
While CRM tools help to improve such situations, more and more businesses are looking to provide customers with the needed support on top of live agents that are working from home.
Call Center Company in the Philippines'
Reaction to the Changing Times
The pandemic thrust 90% of the global call center agents to work from the confines of their own homes. While call center companies in developed countries found it easier, call center outsourcing destinations like India and the Philippines found it much harder.
For example, India handles 60% of the US customer support operations. Immediate switch to a work-from-home setup was difficult to adapt in the first months. The same goes for call centers in the Philippines. 
Bumps in the road were slow connectivity, unavailability of laptop or desktop computers, and distractions at home. As well as security issues. 
These led mostly to call center companies in the Philippines to provide equipment, internet connectivity services with high bandwidth to their agents at home. While operations with much-needed security protocols to protect clients' data work on-site at a controlled number to ensure standard health safety protocols are strictly followed at all times.
These models resulted in a hybrid work setup in the Philippine context. That is the reason why clients across the globe are able to manage the customer spike even during the pandemic. As continued operations are possible in the call centers scene in the country.
Faster Adoption of Automation Techniques in
Call Center Services
Call center technologies went from nice to have into an absolute must-have. 
These are the use of chatbots, AI, and natural language processing to provide seamless first-contact resolution.
Some examples are the following:
1. Voicebots
Often referred to as voice-enabled chatbots or conversational AI. This offers customers a better experience with its always-on status, lower costs, and promotes more engaged call center operators. 
These voice bots free live agents from answering routine or boring calls. Thus giving them more time to solve creative challenges instead. 
2. Voice Verification
The Pandemic also pushed for faster adoption of voice channel security. This means tighter security protocols, one of them being voice verification. This uses biometric technologies that add an extra layer of security to phone communication with clients.
This also helps call centers save 20 to 90 seconds in AHT as it allows real-time analysis of the customer's voice and verifies its authenticity within a few seconds. 
Data analytics on the other hand is to help out any call center to map out and help clients to reduce calls, emails, and chats. IBM claims that there is a 40% increase in AI-driven contact support solutions. 
Often, these technologies help filter out queries with appropriate scripted answers or reroute them to a live agent to help customers resolve more complex issues.
Industry experts claim that the ideal ratio of agents working on-site and at home is 70%-80%:20%-30%. However, with the current situation, the reverse of this ratio is the common sight until god knows when.
The Silent Decay in Call Center Agents in a WFH Setup
Industry leaders in call center outsourcing often overlook this aspect. The immediate switch to a work-from-home setup blurred the lines between work and personal time for agents. 
While this is inevitable, more and more agents reported burnout and work fatigue due to these blurring lines. While the attrition rate is often high in the call center services industry, the pandemic pushed it even higher. 
Stress, dreaded effects of the virus, no clear difference between work and leisure time, and psychosocial anxiety is attributed to these higher attrition rates. 
This is why call center outsourcing in the Philippines creates programs to ensure a sense of community is still alive although virtual. Team leaders and project managers play a vital role here. 
As they know the team members and the weight of the services they provide to customers around the globe. Mental health checks and team huddles are among the common practices in call centers.
For example, in Magellan Solutions with most of its call center agents in a work-from-home setup, a support group is here to help agents cope. 
At the same time, they can talk to mental health care professionals to ensure their concerns are heard. With an emphasis on open communication with the management to provide solutions for the employee agents and the management to ensure continued operations.
Magellan Solutions Adopts to the New Normal of Call Centers
Our 18 years in the service gave us the necessary leverage to adapt to changing environments, even during the pandemic. We believe our core strength is to ensure our employees are in their best shape. 
As this is our way to ensure we can deliver excellent results and performance for our clients worldwide.
On top of taking care of our employees, faster adoption of the necessary call center technologies is among our top priorities. 
Magellan Solutions assure our clients are covered and continued support is here for your every customer and every needs.  Security protocols are never an issue for us as we are ISO 27001-certified and HIPAA-compliant. 
Contact us today and let us deliver excellent call center services for your business. Fill up the form below!
TALK TO US!
Contact us today for more information.