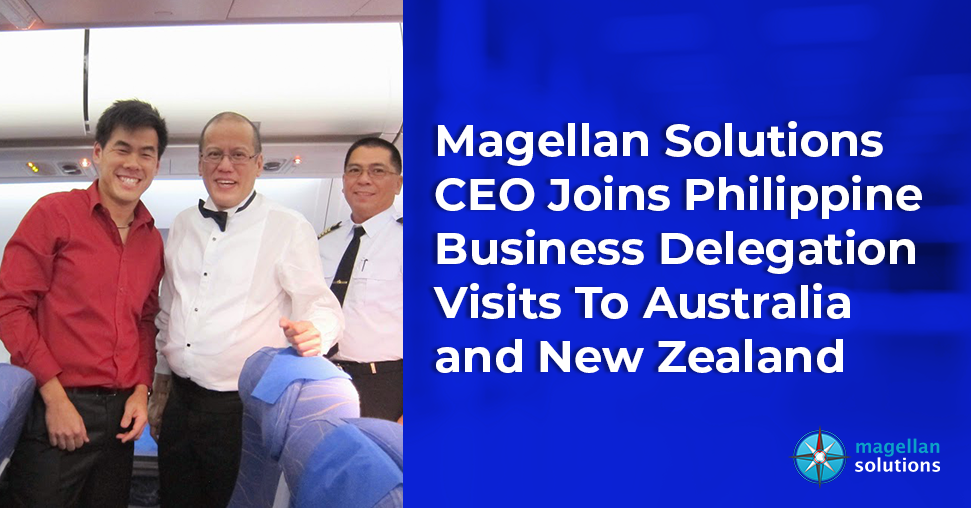 Magellan Solutions' Chief Executive Officer Fred Chua joined top government officials and businessmen for the joint state visits of President Benigno S. Aquino III to New Zealand and Australia on Oct 22-26 2012, upon the invitation of New Zealand Prime Minister John Key and Australian Prime Minister Julia Gillard, to strengthen the bilateral relations with the two nations.
The trip also served as a trade mission, composed of Philippine businessmen (where Chua was part of), to explore partnerships with the region's business decision makers and industry leaders.
In the Philippine-New Zealand Business Forum held in Auckland, President Aquino emphasized that this is the best time to invest in the Philippines because of its genuine reforms initiated by his administration, inviting local businessmen to consider the Philippines for potential business opportunities. He cited the Business Process Outsourcing (BPO) industry as one of the sectors in which investors may be interested in. According to Aquino, the country continues to diversify and move up in the value chain of BPO services, offering more complex services such as game development, data management, applied engineering, healthcare information management outsourcing, and animation. Because of its skillful, easily trained and customer-oriented Filipino people, the Philippines is now recognized by the international community and business circles as the world's leader in voice-enabled customer care services. The Philippine contact center industry posted US$7.38 Billion in revenues in 2011 alone.
The President also gave a speech during a dinner co-hosted by the Asia Society and the Australian-Philippines Business Council at the Ballroom of Shangri-la Hotel in Sydney. He told businessmen and top executives that his visit is to establish broader relations between Australia and the Philippines.
"The joint trips to New Zealand and Australia were a great opportunity for us to promote our [voice, back-office and data processing] services to large corporations and small and medium business owners in Australia and New Zealand," Chua said. "It is also our way of renewing ties with these countries, which impacted our country's economy with increased investor confidence and more employment."