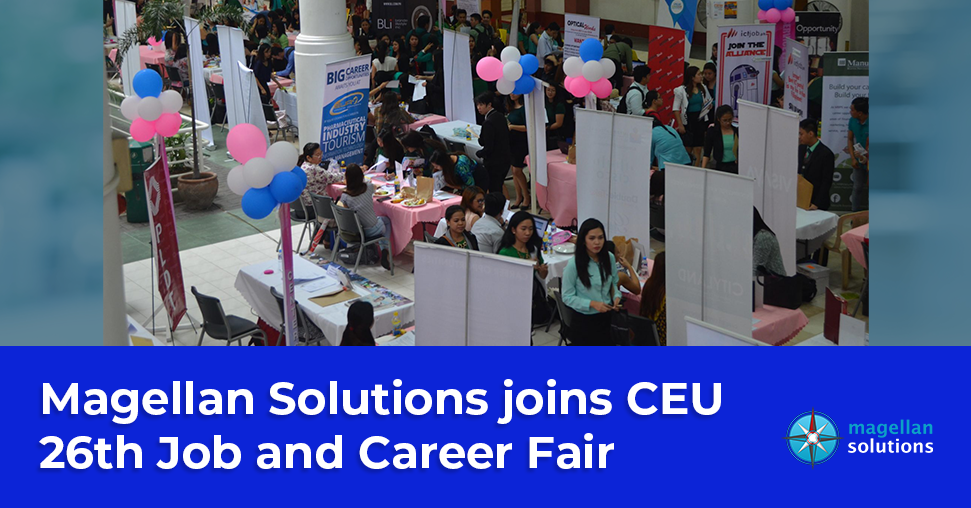 They went from table to table. Clinging on to their envelopes and binders, they neither looked too young nor too old for their corporate attires. Looking intently at every banner, they handed resumes and calling cards – and gladly filled out companies' applicant data sheets.
They were the graduating students of Centro Escolar University (CEU) who attended their university's 26th Job and Career Fair last January 29, 2016. Over 100 local and international companies from various industries attended the event including Magellan Solutions Outsourcing Inc., one of the most promising Philippine-based companies offering comprehensive BPO solutions to onshore and offshore clients. Most graduating students from different CEU colleges attended the event.
As part of Magellan Solutions' mission of providing superior value to clients, the company makes continuous efforts in seeking people who can adhere to the highest standards in the workplace to be part of its ever growing company. And CEU's 26th Job and Career Fair is the perfect venue for making the first step to that mission.
In the company networking forum held during CEU's Job & Career Fair, representatives from different companies that participated in the event gave good feedback on CEU's graduating students' attitude towards meeting prospective employers.
"They came prepared in their corporate attires and resumes. Some even handed calling cards," a company representative commented.
In the same forum, Dr. Espinas from CEU's Marketing Communications Department emphasized how they aim to provide a venue for their students to learn more about careers and employment opportunities from the participating companies of the job and career fair. At the same time, they aim to assist companies in responding to their manpower needs.
The Filipino Advantage
Job and career fairs for students, like this one in CEU, reflect how Filipinos are prepared for employment even before they graduate. Most of the job and career fairs in the Philippines do career seminars, initial interviews, and many other activities that will uphold recruitment, employment, and career development of the country's labor force.
When asked about the best advice he could give to students, Mr. Romulo Dimailig, CEU Career Guidance Coordinator said that students must continually improve on their skills and give a premium to desirable habits and values.
Top-notch human resources is one of Philippines' core advantages. The Philippine Board of Investments (BOI) stated, "Our people are highly educated. The literacy rate is 94 percent and 70 percent of the population is fluent in English, making us one of the largest English-speaking countries in the world. Filipinos also have strong customer service orientation and are highly trainable."
The country can boast of not only the quality, but also the quantity of its labor force. According to the Philippine Commission on Higher Education (CHED), there were 656, 284 college graduates in 2015.
Outsourcing to the Philippines
Magellan Solutions helps companies from around the world get access to a pool of talented and skilled Filipinos who value a strong work ethic and a set of good social values. That is why Magellan Solutions continue to engage in such activities like the recent CEU 26th Job and Career Fair to further reach out to the outstanding Filipino workforce and then showcase that asset to the rest of the world.
Seeking for the best team of workers? Experience how outsourcing can help you grow your business. Inquire at Magellan Solutions today.