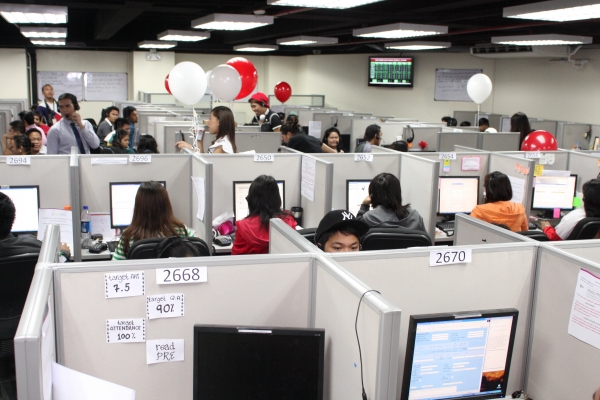 For small and medium-sized companies, especially startups, it is often crucial to have laser focus on product development and brand marketing. Doing menial, repetitious but absolutely necessary tasks take you away from what you do best. Tasks that need to be done in quantity as well as to a certain qualitative degree is best outsourced and even better: offshored!
Inbound Calling
Outbound & Telemarketing
Telemarketing Services – by far our most popular outbound service. Our agents are confident, well-incentivized and culturally attuned to Western cultures.
Lead Generation Services – we have had lead generation accounts for years. We set up custom lead gen teams with the works: basic agents, team lead, quality assurance and a general manager.
Other outbound services – we also do the occasional data verification and reminders, but our main strength lie in telesales services.
Data Management
Outsource Data Entry – we serve businesses who are in the process of transferring hard data to digital as well as businesses who constantly need data entry
Data Mining Services – some data mining needs can only be done by humans with their rational discretion
Data Cleansing Services – Magellan can reduce mistakes and clean up faulty databases. It's one of our most popular data management services.
Data Management Services – we are a secure company with immaculate training to protect client data
United States
Our biggest clients are companies in the United States. Culturally, the Philippines is well-suited to serve U.S. consumers.
Canada
Our Filipino agents feel more at home talking with Canadian customers. There is a growing and sizable Filipino community in Canada and the two countries have always had active economic, social and cultural relations.
Australia
Oceania may well be considered as part of greater Asia. As such Australians have become part of the national consciousness of the Philippines
United Kingdom
There is a growing trend of U.K. companies outsourcing to the Philippines.
EuroZone
Though we still have fairly few multilingual agents, we are serving companies in the Eurozone
Middle East
We are very interested in inquiries from the Middle East. We've had inquiries from Saudi Arabia, Qatar, UAE and Israel. Our clients from Israel are mostly tech startups.
East Asia
We seek to expand our services in the Pacific region with a special interest in China, Japan, Singapore and Taiwan.
1000+ Seats in Current Call center and BPO Operation
Our delivery centers may serve 600 call center seats optimally. Expansion is easy and seamless. Our location is ideal for expansion. We are strategically established on Shaw Boulevard, which is near Wack-Wack golf course and the Ortigas center business district. Our location allows us to utilize talent from areas that is still growing its call center and BPO sector. This means a lot of talent that serviced by aggressive job hunters in the Makati and Global City areas. In other words, you may get the same agents at a slightly lower salary grade.
Small, Medium and Large Call center and BPO Team
Small clients usually start with 3-4 seats, while medium and large-scale clients expect 50+ seats to be available in a month or two. As a ten-year-old outsourcing company, we understand the importance of scalable operations. To that end, a diversified service benefits both clients and employees. If you work or own a small- or medium-sized business or are currently engaged in making your startup a success, we are happy to hear about your ideas.
Inquire about your outsourcing needs below, and we'll get back to you ASAP!