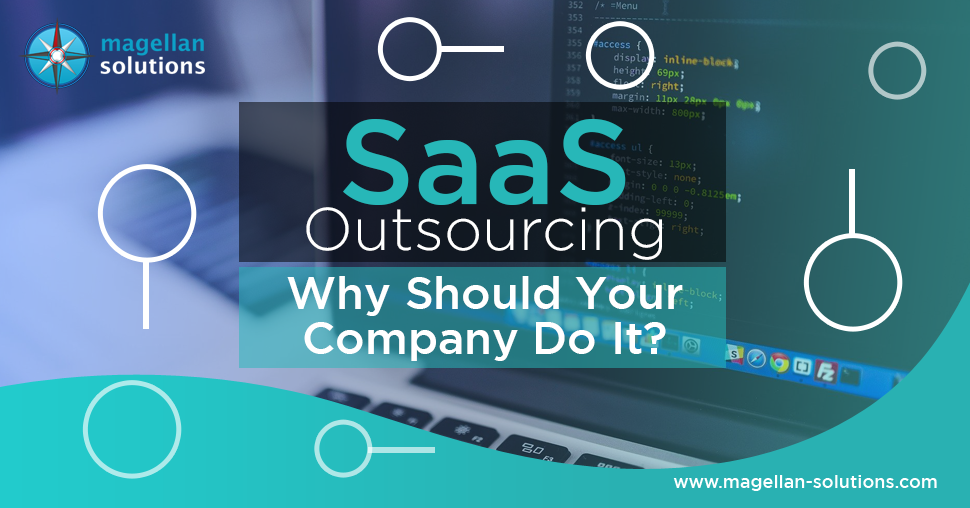 Software-as-a-Service or SaaS is one of the fastest-growing branches of the tech industry. More and more entrepreneurs are investing in the SaaS industry, as the demand for SaaS grows. To help meet market demands, some companies turn to SaaS sales outsourcing. However, should your company do it? The answer is yes, and here is why.
What is SaaS Sales outsourcing?
For starters, SaaS sales outsourcing is the process of hiring a third-party service provider to take over certain aspects of a SaaS business. Outsourcing reduces and almost eliminates the need for internal teams to handle certain business functions. It can also cover almost any business function, from product development to payroll accounting.
Which services can you outsource for a SaaS business?
SaaS businesses can outsource services in almost every stage of their operations. Some of the services for Service-as-a-Software outsourcing include:
Software development
Here, you hire a software development team to build your SaaS software and its updates. They can develop cloud-based SaaS software and/or mobile applications.
SaaS support (tech)
Your outsourced tech support can help end-users in every stage of SaaS usage, from installation to troubleshooting.
SaaS support (customer)
Service providers offer this in different channels, such as email, phone, and live chat support. You may also choose to outsource in multilingual customer support services.
Web design and development
Outsource web designers and developers to create a website for your business. They will create and optimize your website for great user experience.
Staff leasing
Staff leasing allows you to source and hire additional team members for your company.
24/7 inbound call center
Your customers can call in for support at any time of day. This allows you to accommodate calls from different time zones. Call center outsourcing is also ideal for a SaaS startup.
Data entry
Data entry can be time-consuming. Outsourcing data entry is especially beneficial to small businesses.
Lead generation
Like data entry, lead generation is also time-consuming. Outsourced lead generation provides high-quality leads in a short period of time, and significantly boosts your sales force.
Accounting
It can be expensive to hire a qualified professional for your accounting needs. So when you need accounting services, outsourcing is a cost-efficient alternative to in-house hiring.
Billing support
Even if your billing process is automated, you should provide support for your customers. Outsourcing your billing support will smoothen the process, and improve customer satisfaction, as well.
Inbound sales support
As an eCommerce business, you need to pay attention to your inbound sales. Strengthen your inbound strategy by outsourcing inbound sales support.
These are only some of the services that a SaaS company can outsource. You may outsource all of these services if you can. However, it is best to consider the internal factors and needs of your business when choosing which services to outsource.
How can outsourcing help a SaaS company?
Outsourcing is an ideal strategy for all kinds of businesses. Any outsourced service is beneficial as the company grows, and will contribute to long-term success. The same goes for SaaS companies.
Here are some of the ways SaaS outsourcing can help your business:
Focus on core activities:

when you outsource, you will do less non-core activities, and have more time and resources to focus on your core operations.

Affordable workforce expansion:

outsourcing is less expensive than hiring your own in-house staff. No need to spend on recruitment and onboarding, and mandatory employee premiums. You do not need to pay for additional equipment and workspace, as well.

Staff expertise:

outsourcing companies train their staff to represent clients in their respective fields. In Magellan Solutions, for example,

employees are thoroughly trained

to be effective brand representatives and customer service experts.

Access to the best technology:

outsourcing service providers also use the latest and most efficient tools and equipment. You will no longer need to invest in additional technology and keep up with trends.

Reduce business risks:

your outsourced staff is business professionals. They are well-trained in handling your customers and operations. So, the risk of poorly handled business functions and customer interactions is reduced. 

Disaster preparedness:

you are more likely to maximize this advantage through offshore outsourcing. If disaster strikes your area, your outsourced operations shall continue. Outsourcing also helps your business

during volatile economic times

.

Long-term profitability:

business process outsourcing

supports your growth

in the long run. It helps in keeping your processes optimized, so you can consistently expand in the most profitable way.
How should you select an outsourcing service provider?
The Business Process Outsourcing industry is booming in many parts of the globe. As such, there are plenty of service providers to choose from. However, not all of them are a good fit for your business.
You need the right partner to maximize the benefits of SaaS outsourcing. To do that, you must consider the following factors:
Length of experience:

experienced service providers have more knowledge on how to navigate through the challenges of eCommerce services. 

Quality of staff:

make sure that the outsourcing company has well-trained staff who can represent your business effectively.
Safety guarantee:

your service provider might need to handle sensitive data. Choose a partner who has strong measures in place to protect your information. One way of doing this is by checking if they follow industry standards, such as 

ISO data privacy

.

Value for money:

aside from being well within your budget, your chosen service provider should also provide high-quality services. Find an outsourcing company that offers flexible rates without compromising their service quality.
So, is SaaS outsourcing worth it?
SaaS outsourcing is absolutely worth it, especially if you have the right outsourcing partner. It boosts the growth of your company, regardless of your business size.
Outsourcing is extremely helpful for small businesses and startups. It is more cost-effective than hiring an in-house team, and it supports long-term growth and success. So, even if your SaaS business has just begun, you should consider outsourcing now.
A reliable SaaS outsourcing partner
Magellan Solutions is a Philippine-based BPO company that has been in the industry for over 15 years. We offer outsourcing services for a wide array of industries, including SaaS.
At Magellan Solutions, we make sure our staff reflects the collective experience of the company. We train, coach, and evaluate our employees regularly, so we can deliver high-quality services to our clients.
Your safety is our priority, as well. To guarantee that your information is safe with us, our company strictly complies with ISO and even HIPAA standards. We also offer flexible rates, without compromising the quality of our services.
Contact us today to learn more about our SaaS sales outsourcing services.
TALK TO US!
Contact us today for more information.