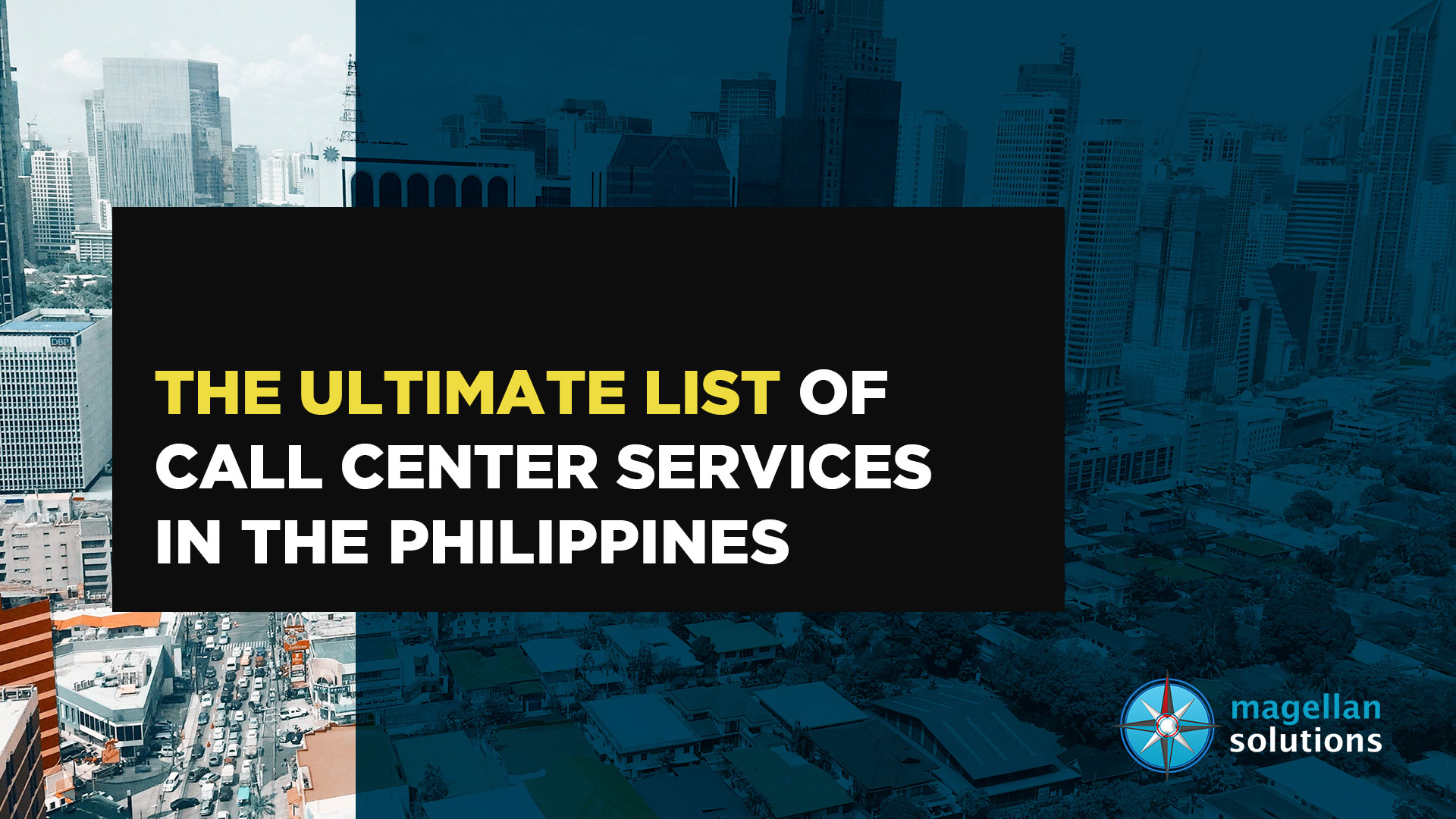 Call center services in the Philippines cater to different business needs. There are common services including customer service, technical support, sales, and lead generation. Meanwhile, there are also unique services for special business functions.
Generally, call center services have two forms: inbound and outbound. Below is an extensive list of call center services:
Inbound call center services
Inbound call center services deal with customers' inquiries and product- or service-related issues.
Customer service representatives focus on providing positive customer experiences. They do this by looking at the current needs and frustrations of customers.
If we'll look at it at a larger picture, we can see how it bonds business with its customers. Yes, product quality and price are significant factors in attracting customers. Yet, what makes them stay depends on how you treat them after they buy. Why? Because people are highly-emotional beings.
This concept revolves around the Golden Rule: "Do unto others as you would have them do unto you." If you're present during your customers' moments of happiness or distress, they are likely to become more loyal to your brand.
So what are the services that fall under this category? See the list below.
Answering services
There are different kinds of answering services which caters to specific business needs, as follows:
24/7 telephone answering and holiday cover
Internet answering service
Campaign and promos answering service
Physician answering
Telemessaging
Teleservice
Dental answering service
Emergency answering service
Hotel answering service
Legal answering service
Small business answering service
Answering services allow you to provide instant and reliable help to your customers 24/7.
App mobile customer support
This service is for you if you:
Develop mobile apps; or
Use apps for their business (such as banking applications)
App mobile customer support assists customers in resolving technical issues. This is for people who can't find — or don't take time to look for — solutions in search engines. A person with high technical knowledge is usually in charge of this function.
An effective app mobile support builds loyalty, prevent uninstalls, and increase sales.
Appointment and schedule management
With a systematic and centralized management system, it is easier to arrange and fill your business calendar. Through this, you can prevent missed appointments and even a bare calendar.
Billing inquiry
This is especially helpful if your business belongs to the banking or utility sector.
With a billing inquiry service, your customers can check their:
Balances
Payment history
Due dates
Credit card statements
And ask about any related concerns
This service provides convenience — which is what the modern world calls for.
Insurance Claims Processing
Insurance claims processing is particularly laborious yet essential to the stability of the company. Instead of spending too much time doing it in-house, outsourcing it to a BPO company is the better move.
Customer service
Customer service is the act of assisting customers before, during, and after a transaction. It is a vital part of every touchpoint of the customer journey.
Contact center companies in the Philippines have the best team of customer service agents. These people own admirable values — warm, empathetic, creative, flexible, and polite. Paired with the latest call center technologies, there is no wonder why the Philippines is a top outsourcing destination.
Direct response marketing support
Direct response marketing support can help you gather immediate feedback about your product. But why is this important?
The opinion of your market can pinpoint the strengths and weaknesses of your product. Once you have the data analysis, you can make the necessary tweaks to make it more marketable.
If this is so important, why should you outsource it?
Let's dwell on the basic answer: it lets you save resources from calling a long list of customers one-by-one.
Dispatch services
Managing a transportation business is never easy. This is the reason why dispatch services exist.
Dispatch services assist trucking company owners with the back office aspects of their business. Some of the services they provide are the following:
Finding loads
Managing drivers
Assigning loads
Customer service
Billing paperwork and collections
Issue resolution
Weather delays management
E-commerce customer care
E-commerce customer care is the equal of customer service for online shops. It is available through different platforms:
Phone
Live Chat
Email
Social media
This service is also an effective tool to enhance marketing efforts and to boost sale.
Email support
One of the most practical and convenient customer service channels is email support.
It does not provide the same timely response as live answering and live chat does. But it allows customers to write detailed reports about their experiences. It is also the best channel to attach and discuss confidential documents.
Inbound sales
Inbound sales deals with a targeted audience. Its method focuses on determining the purchasing decisions of customers. It gives you the ability to create messages that suit your buyers' interests.
Inquiry handling
Inquiry handling deals with customers' queries about a business' product or service. It may sound simple but handling questions is crucial for successful transactions. It is also one of the breeding ground of customer loyalty.
If you are in the service industry, or you have plans to introduce a new product, this service is for you.
Examples of businesses under the service industry:
Distribution
Food
Hospitality
Retail
Tourism
Transport
Interactive voice response support
"For inquiries, press 1…"
Ever heard this line before?
Interactive voice response support segments and routes callers to the agent who can give the best help. Its menu system is very basic yet effective. As a result, it lets you save more. It also increases the efficiency of the team.
Live chat support
Convenience and real-time support are crucial elements of customer service. Live chat offers both of this. This is the reason why live chat is the leading digital content method.
Without anyone to assist them, online shoppers are likely to abandon their carts.
Meanwhile, a live chat agent can help them come up with better purchasing decisions. Forrester revealed that e-commerce websites with live chat can achieve a 48-percent increase in revenue per chat hour.
Brick and mortar stores that have websites should also make sure to have this feature.
Multilingual call center services
Businesses need to learn their customers' language.
Multilingual call centers get rid of the language barrier between businesses and customers. If you operate globally or in a place with various nationalities, you should consider this service.
Order taking
As one of the first customer touchpoints, the order taking process can determine your success or failure.
A trained support team from local call centers in the Philippines can help you lessen order taking errors.
The ideal businesses that can take advantage of order taking services are:
Retail stores
Restaurants
Fast food chains
Overflow after-hours support
When you need support during peak season or the holidays, you can take advantage of overflow after-hours support.
Reservations services
Reservations services can make a customer's life hassle-free, which is a very important aspect of this instant-driven world. The businesses that need this are the following:
Hotel
Car renting
Spa and wellness
Restaurant accommodation
Travel booking
Technical support
As technology products increase, so does the need for technical support.
Technical support services help businesses through the following:
Resolving user issues
Building stronger customer relationships
Reputation management
Damage control
Here are some of the businesses that need technical support services:
Technology companies
Software development companies
Video game design companies
Home appliance companies
Computer manufacturing companies
Repair shops
Audio electronics companies
Outbound call center services
Outbound call center services refer to outgoing calls made by call center agents. Prospective or existing customers are the common recipients of this call.
During this activity, call center agents do
Sell a product or service
Collect debts
Conduct market research or surveys
Book appointments
Cross-sell or upsell to customers
Outbound calls can help you to receive higher sales, leads, or a healthier bottom line growth.
The services that fall under this category are as follow:
Appointment setting
You might want to consider this if your goal is to increase sales by setting appointments with your end customers or dealers.
Some of the methods used for appointment setting are:
Cold calling
Social media research
Customer segmentation
Targeting approach
Negotiation
Network building
Collection reminders
A collection reminder service assists you in reminding your clients to settle their liabilities. It speeds up your revenue cycle and settles issues with your customers.
This service is very beneficial to utility companies.
Data verification
Data verification checks the accuracy and consistency of the data. If you had a recent data migration or whose data are already obsolete, you can make use of this.
By verifying the accuracy of your data, you can have a smoother and error-less operation. There will also have fewer complaints from customers.
Lead generation service
A lead generation service is a powerful tool used to generate sales by initiating consumer interest.
However, you can find the entire process — prospecting, organizing, and producing qualified leads —  as tedious. This is where call center services in the Philippines come in.
By entrusting this service to Filipino agents, they will do the following for you:
Sort out the long list of clients
Call them one-by-one
Generate interest
Pre-qualify those who showed interest
There are two types of lead generation service:
B2B lead generation – for business enterprises and corporations
B2C lead generation – for individual customers
Market research
Everybody can start a business.
But here's the harsh reality: not everyone can succeed.
Starting a business out of nowhere, without careful consideration of the trends in the market or future innovations, is a huge risk.
Market research help businesses prevent failure by determining current buyer behavior and needs.
Telemarketing and telesales
Telemarketing and telesales are two different powerful tools used to generate sales.
The telemarketing strategy is more like lead generation. It intends to provide information, generate interest, create business opportunities, make appointments, and yield leads. Meanwhile, telesales aims to sell products directly to customers.
Call Center Services in the Philippines
These are the services that call center in the Philippines can offer. Some services may not be on the list yet. It is still best to discuss your specific business needs with a call center company to know the service that can help you the most.
If you have more question, or if you want to inquire about our service offerings, fill out the form below.
TALK TO US!
Contact us today for more information.