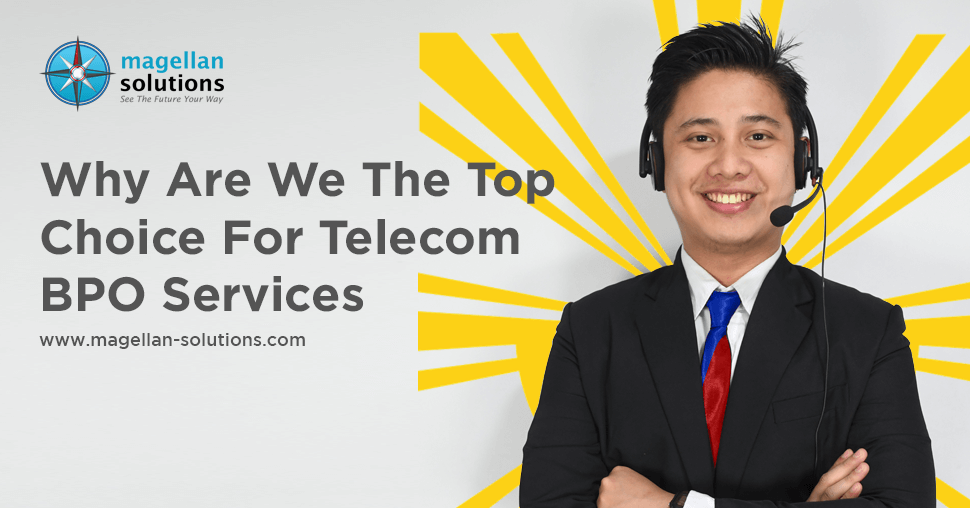 Outsource telecom
in the Philippines
Telecom BPO services help telecommunication companies. It maximizes their work output and improves their core functions. Telecom BPO services can only be put into maximum use if applied to the telecommunication industry. 
There are very many reasons for you to consider outsourcing with us. The most important is that we let you gain access to experts in different fields, including business marketing. With the tight competition, it will be a huge advantage for you to have marketing experts raise consumer interest. Furthermore, we keep you the top contender in the industry. We want you to keep your focus on the important tasks by outsourcing agents to handle your minor activities.
We have listed below some of the services we have been offering to our previous and current clients:
SME companies lack the proper resources to be at par with industry giants. Which is why we here at Magellan Solutions offer to personalize services fit for SMEs and startups. 
We only hire skilled and professional agents that will suit your business needs.

We have the best-in-class technology to facilitate day-to-day processes.

We will provide you with regular reports and access to our systems to keep you updated.
What is WCC
 meaning in telecom 
WCC may mean two different things for telecom.
WAN Communications Controller
A wide-area network (WAN) is a collection of local-area networks (LANs) or other networks. All these can communicate with one another.  A WAN is a network of networks, with the Internet the world's largest WAN. Today, there are several types of WANs, built for a variety of use cases that touch virtually every aspect of modern life.
Types of WAN technologies:
Packet switching

TCP/IP protocol suite

Router

Overlay network

Packet over SONET/SDH (PoS)

Multiprotocol Label Switching (MPLS)

ATM

Frame Relay
Wireline Common Carrier
It is a public telecommunications service provider.  Basically, it uses metallic or nonmetallic cables and wires. As a result, it is connecting customers to its local exchange service networks.
Magellan Solutions is the choice for your
telecommunications call center
needs
BPO in the Philippines started only about 25 years ago. But the sector is now the single biggest contributor to the nation's economy. There are more than forty BPO companies that have already built a name in the field. Entry to these is well-sought by a lot of people looking for jobs.
It has provided jobs to thousands if not hundreds of thousands of Filipinos. The BPO industry has shown the many talents of the Philippines as a country. It has leveled the field for Filipinos and given a chance for them to fairly compete with the rest of the world.
Every year, outsourcing suppliers are setting up, or expanding their operations. This is due to the highly educated population. It is also because of our close cultural alignment to the 'West'.
Industries that partnered with us found their dedicated 24/7 customer support team:
Still not convinced of Magellan Solutions capabilities? Fill out the form below and we'll prove it more or contact us!
TALK TO US!
Contact us today for more information.