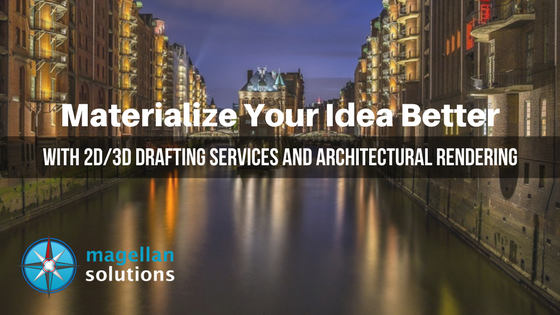 No one can dispute the power of visuals in our world.
As early as the beginning of the 20th century, variations of the idiomatic expression, "A picture paints a thousand words" began appearing in newspaper articles and advertisements. We, human beings, have always relied on our sense of sight to better comprehend ideas and principles that govern our universe. Words do have an important role in our lives, but often times, a single image is all it takes for us to fully grasp concepts in the same way a thousand words will do.
The same can be said with ideas for architecture and different fields of design. Illustrations of ideas such as how a building will look after completion or how the living room interiors complement that of the dining room, are very important in communicating to your colleagues and clients your brilliant ideas of aesthetic and proportion.
But the truth is, not everyone is gifted with an eye for composition, or an artistic hand, or both. And while there are computer aided design software tools readily available in the market, not everyone has the time or patience required for mastering these tools. Add to this the huge cost of these advanced tools.
Are you looking for talented illustrators and architects but short on budget and time?
Outsourcing your 2D/3D drafting services is recommended for those looking for affordable yet high-quality illustrations but are prevented by these limitations.
Delegating the specialized task of 2D/3D drafting services to the experts will give you professional illustrations of your design concepts and ideas. Because they are experienced illustrators and architects who have been helping different clients for years, you can rest assured that outsourcing your architectural rendering to them is a decision you will not regret. These professionals who have been rigorously trained by experience are the leaders in their field, so you can only expect to receive drafts, blueprints and illustrations created with the highest standards of quality.
Architectural rendering is just one of the many services that professional 2D/3D drafting services providers offer to their clients. With the help of their expert illustrators using the most advanced manual drawing and computer equipment, you can expect to get only architectural rendering work of the most superior quality but for a fraction of the cost for hiring these professionals.
Think about it. You don't need to invest money and time for recruitment, hiring, and training draftsmen, illustrators, and architects. These professionals don't come cheap. But outsourcing your 2D/3D drafting services will free you from incurring more costs by purchasing the tools and equipment they need to complete their work. When you outsource your architectural rendering and illustration, you won't need to spend a fortune for their specialized manual drawing tools or computer aided design software and hardware equipment.
The choice is yours. By outsourcing professionals, you can materialize your ideas better with the help of experts who are proficient with 2D/3D Drafting Services, but for a more cost-effective manner.
Outsource your 2D/3D drafting services to the experts for affordable but superior quality work! Contact us now!