Full Coverage Business Process Outsourcing Services for SMEs
Outsource world-class talents for accounting services, legal lpo, data entry, order processing, medical coding, and more! We offer complete bpo services for SMEs. Hire talents that your business deserves today!
Get Free Quote
DOES BUSINESS PROCESS OUTSOURCING SERVICES MAKE SENSE FOR YOUR COMPANY?
There are 2 answers: (1) No, if you have readily-available human resources to perform back-office functions within your organization. (2) And yes, if you want to unlock another dimension to your business growth and sustainability — at a much affordable cost.

Let us explain.

While having full control over your business makes perfect sense, it goes against the nature of growth.

Because to genuinely evolve as an organization, focus is the single most critical factor. And true focus comes from learning to let go of business functions that can be done much more efficiently by a specialized partner organization.

Throughout our 17+ years in the industry of being that specialized partner organization for hundreds of businesses, we know that BPO Business Process Outsourcing Solutions work. And it works magnificently.

We have become the top and premiere BPO solutions provider in the country for keeping at it. Currently we offer Call Center Outsourcing Services, Staff Leasing Services, Back Office Services, Community Moderation Services, Data Management Services, Virtual Assistant Services, Loan Processing Call Center, Debt Collection Services, Outsource Form Processing Services, Certificate Intelligent Document Processing and so much more. We are confident and experienced enough we can take your business to the next level.

Partner with the #1 SME-focused Call Center Services and BPO Outsourcing Provider in the Philippines for your BPO support requirements and customer handling success!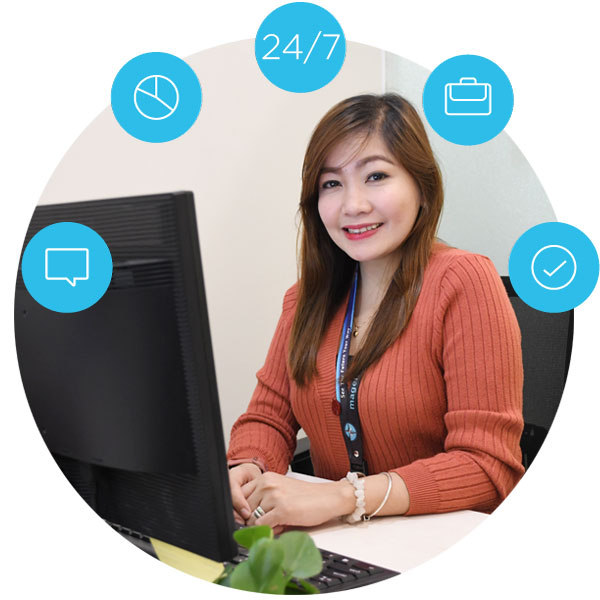 WHAT BPO outsourcing services ARE RIGHT FOR YOUR BUSINESS?
Not sure what services you need? Ask Magellan Solutions, a leading BPO support provider in the Philippines. We cover a broad range of services that will surely fit what you need – no matter how tailored and specific it is.
---
We have custom-fit infrastructure to fit your business needs. Our 24 7 customer service comes fully-equipped with talents that passed our value-generating onboarding process assessment. This ensures you get the inbound or outbound service that you need.
Hire the remote employees that you need while we handle all the necessary preparations. We take care of the pooling process, onboarding, payroll, and admin so you can start running your virtual teams right away.
Outsource your back-office while maintaining the quality output as you would expect from an in-house work. Our back-office services covers Technical Recruitment, Data Management, Transcription, Legal LPO, Content/ Community Moderation, 3D Services, and Digital Marketing.
Community Moderation Services
Protect your brand reputation and user-generated content on your digital platform with us. Our content moderation services include text, video, image generated content for your website, marketplaces, and social platforms.
Improve the efficiency of your data management to extract truly meaningful business insights. Propel your organization to have a data-driven environment and make informed and calculated strategies for growth and continuity.
Save as much as 70% in your business expenses, while providing high quality virtual customer support. We have reliable virtual assistant services for non-essential administrative tasks, creative projects, and technical help.
Get assistance for back-office tasks, such as business and mortgage processing and underwriting. And reduce loan processing costs by outsourcing part or all of your processes to us.
Maintain positive and healthy relationships with your customers by integrating customer service best practices into your debt collection. Our debt collection services to prevent bad debts, improve your cash flow, and complete your AR collections by streamlining your debt collection process.
We take over the handling of huge number of forms daily. We process, validate, and store data for our clients in hospitals, financial institutions, government agencies, schools, e-commerce businesses, and many more.
Certificate and Intelligent Document Processing is one of the latest services that we provide. We receive certificate processing requests, perform the research for compliance, and work on the certificates and documents for successful filing and approval.
Our current benchmark for our bpo services solutions
BPO Clients Across 50+ Industries

*as of March 2021
99.9% BPO Call Center Operation Uptime
*we can service our clients in their most preferred regional time settings
Years in BPO Services Industry and Leadership Role in the Market
*800 - 1000 FTEs-strong firm in the Philippines and the US