Accounts Receivable Services
We deliver quality Accounts Receivable Services provider for SMEs. We deliver innovative solutions to facilitate prompt invoice generation, statements generation, and reconciling customer accounts. Streamline your revenue conversions through effective cash flow management. Let us help you reduce your Days Sales Outstanding (DSO) and increase efficiency for your financial management requirements.
Why Do You Need Accounts Receivable Outsourcing Services?
Outsourcing accounts receivable management helps you streamline AR processes such as creating invoices, generating statements, manage and reconciling customer accounts.
Outsourced receivable accounts provide support for your business by freeing you from the tedious processes involved in generating such financial documents and information. AP AR outsourced team in turn help your local finance team focus on more complex and analytical tasks that directly impact your business.
Accounts receivable solutions give you an accurate assessment of your overdue invoices and financial standing. This in turn helps you to create a healthy and predictable cash flow.
We customize accounts receivable solutions with the best practices to deliver systematic analysis, automation, reporting, improved communication, and flexibility for your business.
Get the support you need and make sure everything incurred is all accounted for. Make this possible with accounts receivable management services perfect for SMEs!
Partner with the #1 SME-focused Accounts Payable Business Process Outsourcing Provider in the Philippines for your accounts receivable management today!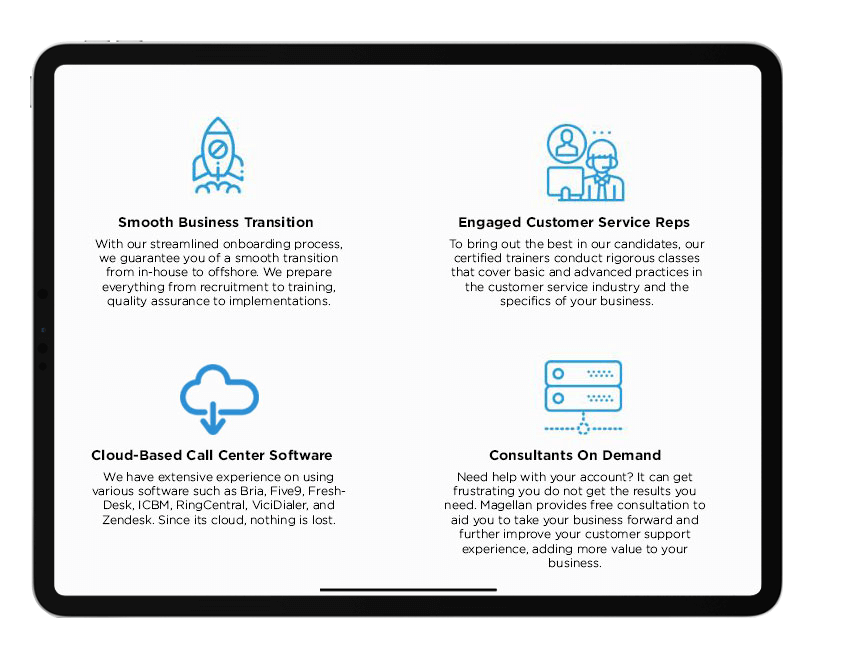 Our approach to Accounts Receivable Outsourcing Services
Let our accounts receivable solutions help your business run more with efficiency. Let us enhance your cash collections processes, error-free guaranteed!
AP AR are two sides of a health cash flow management coin. Our outsource receivable services are here to ensure you can get highly skilled staff, and the best practices to monitor receivables. As well as nudge customers whenever they need it and improve your overall business' collections. On top of flexible costings, we provide the following value propositions:
● we got highly skilled accounting professionals to handle the services you may need, we also capitalize on their industry experience that serves various business across industries

● we use the best tools and software that enable us to handle multiple accounts for proper monitoring, this ensures everything is accounted for and processed as it should

● we maintain and monitor the quality of our AP AR services through KPIs and benchmarks that we make sure to fulfill all the time
Let our outsourcing accounts receivable management provide you with the best support your local finance team may need. We customize AP AR solutions that suits SMEs!
Here with us, you can only get the best services, nothing else.
Invoice and Receipts Processing
Make sure your needed invoices and receipts are duly processed for bookkeeping and financial monitoring. Get a focused and dedicated team for this purpose to ensure everything is recorded and monitored.
AR Factoring Services
Our services can help you streamline your invoice factoring, factoring receivables, accounts receivable financing, invoice data entry, and accounts receivable loan processing.
Accounts Receivable Reports Processing
Depending on your needs, we can provide excellent services to ensure reports are based on analytics such as accounts receivable by age, business segment, customer, among others.
AR Aging Reports Processing
We make sure everything is accounted for by connecting to your customers to ensure they pay on time. We are here to help you reduce your outstanding dues, days sales outstanding and boost your working capital.
Our approach to Accounts Payable Outsourcing Services
For accounts payable outsourcing services, on top of speed and efficiency, accuracy is the priority
Financial management is tedious but necessary. That's why we are here to help. Our goal is to provide a dramatic increase on your AP efficiency and add value to your business. On top of flexible pricing:
we hire talents with accounting skills, degree and background to ensure we only provide you the best staff possible
we use the latest tools and technology to ensure our infrastructure are in place to provide excellent services, top speed
we monitor performance to assure quality KPIs and benchmarks are met, we treat them as something to surpass not just to meet the bare minimum
Expect our accounts payable outsourcing services to provide you with the seamless AP services you need. Here with us, you can only get the best services, nothing else.
Purchase Order Payments
Partner with us today to ensure your business is in tip top shape on the financial side. Never miss any receipt and ensure everything is paid on time. Get the confidence of your suppliers with through our efficient services.
Outsourcing Accounts Payable Function
Increase the efficiency of your company, maximize results, and reduce the risks of errors with our services. We only deliver the best tools, talents, and technology to make these possible.
Check Request
It's hard to keep track of every check request but someone has to do it. Pass it off to people who are experts, like us and lessen your worries.
Accounts Payable Solution Providers
Keeping your books balanced as it should doesn't have to cripple your business. We can provide the solutions you'll ever need. No matter what your requirements are.
Reduce your DSO and make sure payments are collected on time. Free yourself of the burden just to get a healthy cash flow. Get the best outsource receivable services, only here!
We have the best business development managers to ensure our accounts receivable management services are custom fit solutions perfect for you. We deliver performance with the best staff and infrastructure for top quality AR services.
Our Current Benchmarks For Accounts Payable Services
Accounts Payable Options To Choose From
Purchase Order Payments, Blanket Purchase Orders, Check Requests, Travel Advances, Travel Expense Vouchers, Petty Cash, Freight Bills, and Fellowship Payments
Core Market Focus

United States, Australia, Europe, and Asia
Flexible Pricing Option for SMEs

We accept packaged, results-based, and other business models