Inbound Call Center Services
---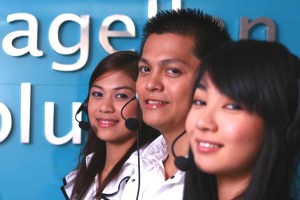 Fact: The telephone ranks as the highest and most preferred customer service channel to date—at 79%.
Fact: Around 71% of customers would still continue to use the phone for all their customer care needs. Moreover, a large number of people still want a live human agent to respond and deal with their needs each time they contact a company's customer call center.
Yes, the world may have been invaded by a slew of automated "self-service" Interactive Voice Response Systems (IVRs), checkout processes, online FAQs, and other electronic customer service tools. Despite this, clients still want the warmth of a friendly human being at the other end of the telephone line. And this is exactly what you and your customers will get when you partner with Magellan Solutions' inbound call center services.

Premier Call Center in the Philippines
---
As one of the leading inbound call centers in the Philippines,
Magellan Solutions
provides top-notch call center solutions that keep you in close contact with your valued clients. Beyond the usual product and service inquiry, however, we give you that extra edge which no automated IVR, or run-of-the-mill call center can give—a chance to build a personal relationship with your customers.
With innovative tools and services handled be a dedicated customer service call center staff, your business can now stay open 24/7. You can be there for your valued customers whenever they need you. As if this wasn't enticing enough, we offer the latest communication tools that makes your budding enterprise easily accessible to any client from anywhere in the world. Needless to say, we will throw in a highly-skilled customer service team who offers something that no other call center agent can: the Filipino warmth and hospitality that makes each and every customer feel as though they were your only client.
Magellan Solutions offers:
Rest assured that your customers will receive true personal care and attention—as if they were dealing with you, in person.

Contact us today for more information
---