Outbound Call Center Services for your Business
Prospect, validate and generate leads the right way with our outbound calling service. We provide genuine transaction-based models, shared services, and results-based campaigns.
Work with us
SHOULD YOU DO OUTBOUND CALLING IN-HOUSE OR WITH AN EXPERT TELEMARKETING FIRM?
It's no secret. Generating outbound leads is the fastest way to sales. Without the need to go through the long process of the marketing funnel.

To be successful, you only have to find the perfect ratio between the volume of calls needed to make a successful sale. But sadly, this is still grossly guesswork.

If you generate 1 successful sale every 100 cold calls, this does not mean the ratio is 100:1. There is a very big issue with this mindset especially if you only have a limited amount of lead data. You can't expect your business to run for very long this way.

That's why at Magellan Solutions, we focus on the quality of our sales and outbound teams. We hire talents that can make your 1 successful sale every 100 cold calls into 2, 5, 10 successful sale every 100 calls. So your business can realistically grow and we can be your permanent partner for outbound telemarketing services.

For over 17 years, Magellan Solutions outbound call center services help organizations to sell their products and reach out to new and existing customers with poise and professionalism. The company has been handling various direct marketing and outbound-related campaigns with existing clients from energy, education and retail industries at the helm. These years of experience in the call center industry is backed by its latest technology infrastructure, rigorous training sessions, quality assurance monitoring and a highly trained call center team. The result is increased sales and improved ROI using the best outbound call center strategies.

Partner with the #1 SME-focused Call Center Services and BPO Outsourcing Provider in the Philippines for your outbound calling requirements and customer handling success!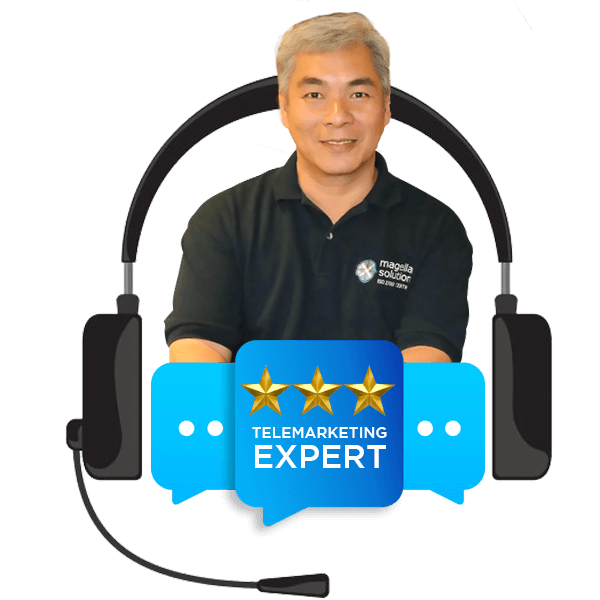 WHAT outbound calling services ARE RIGHT FOR YOUR BUSINESS?
Not sure what outbound service you need? Ask Magellan Solutions, a leading outbound call center provider in the Philippines. We cover a broad range of services that will surely fit what you need – no matter how tailored and customized it is.
---
We gather pre-qualified leads that is ready to become your paying customers. We provide 100% transparency across all of our outbound telemarketing efforts via real-time reporting to track both the lead quality and the performance of our sales teams.
This service applies to both B2C and B2B lead generation for your business. We perform lead qualification, lead list updating, local lead generation to help ensure your sales funnel remain full and ready to close and convert.
This is a custom-fit solution for businesses or individuals that require a process-based approach to manage their appointments and schedules. We can do personal, b2b, legal, and medical appointment setting that comes with ISO-certified guarantee and GDPR, HIPAA, PCI DSS data security compliance and certifications.
Enjoy superior cold calling services that comes with professionally studied and tested sales scripts. Our expert outbound representatives all pass our Global Standard Sales Representatives vetting process. Take confidence in our world-class talents to reach out to your prospects the right way.
Hire results-driven teams to sell your products and services directly to leads. Maximize your outsourcing budgets with our affordable telesales operation costs and lower attrition rates. We guarantee full performance and leads tracking so we can easily scale, rinse, repeat and win more sales!
Get affordable market research support for your overflow projects without the need to hire new staff. We provide bespoke B2C and B2B solutions for market research agencies, private companies, and public institutions.
Have a specialized team dedicated to extracting information from your customers about what they feel regarding your products and services. Learn about how your customers feel and think about your brand and what you can to improve it with us!
Our current benchmark for outbound calling services
Years Experience in Outbound Calling Services

*with dedicated 1:12 supervisor to team ratio
Flexible Pricing Models Transaction-based models, Hourly rates, & Shared Services
*we offer flexible quotation based on requirements and free trial guarantee
99.9% Outbound Call Center Operation Uptime

*we can make calls with any regional time settings required