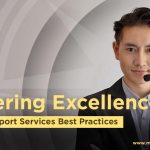 Delivering Excellence: Inbound Support Services Best Practices
Inbound Support Services: A Game-Changer in Customer Satisfaction
64% of business leaders affirm that customer satisfaction benefits business growth. Hence, there is a race to improve operations and customer service nowadays. 
Businesses are looking into efficient solutions that reduce costs and improve customer service while allowing companies to be flexible. Not surprisingly, outsourcing is the foremost solution everyone is investing in. 
The reason? There are a plethora of business benefits employers outsource inbound support services. 
Need us to be specific? To name some, cost savings, improved customer service, scalability, and technological advancements. Let's discuss these in more detail below! 
Benefits of Outsourcing Inbound Call Center Services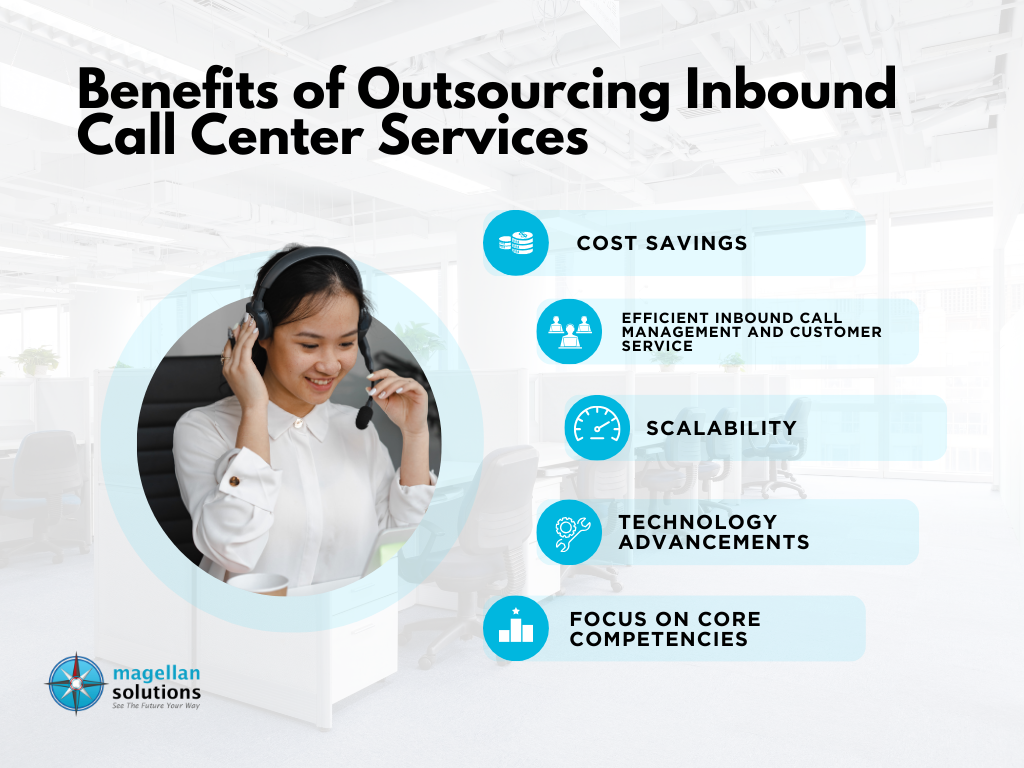 Providing outstanding customer service is as important as offering a product or service. It is where outsourcing incoming call center services can be a strategic game-changer. 
1. Cost Savings
It costs a lot of money to operate in-house call centers. Infrastructure costs, such as staffing, training, and maintenance, can get out of hand. Imagine shifting those funds to your strategic growth projects and critical tasks.
You only pay for a service that you need. When businesses outsource inbound call center services, it eliminates unnecessary expenses like the following:
Facility maintenance

Utility bills

HR costs
To put this into perspective, think of a retail company that outsources its inbound call center customer service. Within the first year, they cut operational costs by 40% and lowered employee expenses. You can allot these saved costs to marketing, product development, or growing their customer base.
2. Efficient inbound call management and customer service
The core of any business is customer service. Well-trained outsourced agents become an extension of your brand. They always connect with customers with professionalism and expertise. These agents handle issues to foster positive customer relationships and promote your company.
Outsourcing allows you to accommodate clients in various time zones by providing 24/7 assistance. Multilingual support improves accessibility by removing language barriers.
Outsourcing helps you improve customer satisfaction by measuring and analyzing customer service metrics. This data-driven approach allows you to optimize support services by tracking the following:
Response times

Customer feedback

Issue resolution rates
These detailed metrics enable continuous improvement of your customer service processes.
Imagine a retail business during holidays and product launches. It's a sure guarantee that the business's customer service line number won't take a break. Without proper support, systems, and workforce, the retail store might not be able to attend to them all, which can lead to bigger problems. 
Businesses can best see the effect of outsourced call center customer service during such times. It'll help the retail shop handle increased client queries around the holidays or a product launch without trouble. 
After all, outsourced retail inbound call center customer service specializes in this. Their expertise in handling high call volumes guarantees your customers excellent service. It leads to increased satisfaction and loyalty.
3. Scalability
There will always be changes in market demand. That's why outsourced inbound call center services promise adaptability. Call volumes can fluctuate due to seasons, product launches, or marketing campaigns. Businesses can increase agent capacity during fluctuations. It optimizes resources and reduces costs.
For example, you run a thriving e-commerce business preparing for a major product launch during the holiday season. Outsourcing inbound support services can swiftly increase your staff during high-demand periods.
For instance, your in-house team handled 100 customer inquiries per hour during last year's holiday launch. However, with outsourced support, you could scale up to 200 queries per hour, resulting in a 100% increase in responsiveness. It boosted sales by 25% during the peak season. 
If a recent marketing campaign didn't generate the expected buzz and call volumes decreased, you could quickly scale back your outsourced call center team by 50%. It maintains cost efficiency and saves the company US$15,000 per month.
4. Technology Advancements
Outsourcing companies have the latest technologies, which might be too expensive for in-house operations. This technology makes call handling more efficient and improves the customer experience. It includes the following:
Advanced systems for call routing

Interactive voice response (IVR)

Communication across various channels
Adopting artificial intelligence (AI) and chatbots within call centers transforms customer service. These innovations quickly answer common questions, freeing human agents for complex queries. AI-powered analytics also offer valuable insights for ongoing development.
Outsourced call centers offer potent data analytics and reporting tools. These tools help businesses understand customer behavior, call trends, and performance metrics. With this data, companies can make data-driven decisions and enhance customer satisfaction.
Let's consider a case of a financial institution seeking to improve its customer service. It has access to advanced analytics tools by outsourcing its inbound support services. 
These tools show that a lot of customer inquiries involve mortgage-related topics. The company adjusted its marketing strategies with this information to concentrate on mortgage products. It leads to a 30% rise in mortgage applications.
5. Focus on Core Competencies
Aside from lowering expenses, inbound call center outsourcing also frees up necessary resources. Refocusing management bandwidth and human resources on critical projects and core skills is possible. It allows companies to focus on core tasks.
Call center outsourcing frees companies from operational burdens. It allows them to concentrate on growth strategies such as expanding into new markets and developing innovative products. It will enable businesses to pursue their growth ambitions.
Let's take the case of a healthcare provider. Given the complexity of patient care and regulatory compliance, management needed to be more robust. 
By outsourcing inbound support services, healthcare organizations can focus on providing excellent patient care and customer service. This change led to a 20% increase in services and higher patient satisfaction.
Seize the Opportunity: Partner with Us for Inbound Call Center Excellence
The advantages of outsourcing are crystal clear and open doors for business growth. The path to success begins with the decision to outsource inbound support services.
Consider making the strategic decision to outsource inbound call center services. Embrace outsourcing as the key to maximizing your company's potential. Don't let inefficiencies and obstacles hold you back.
Are you ready to watch your business flourish? The future of your company starts now. Outsource inbound call center services to us.
Magellan Solutions can help you master growing your business through outsourcing inbound call center services. Our experienced team is ready to elevate your customer satisfaction and loyalty goals.
Our expertise and experience in outsourcing make us an ideal partner for your business. Work with Magellan Solutions to streamline your business and deliver excellent results.
Take this chance to improve customer support and witness your business thrive. Begin a journey towards an exceptional customer experience and long-term success.