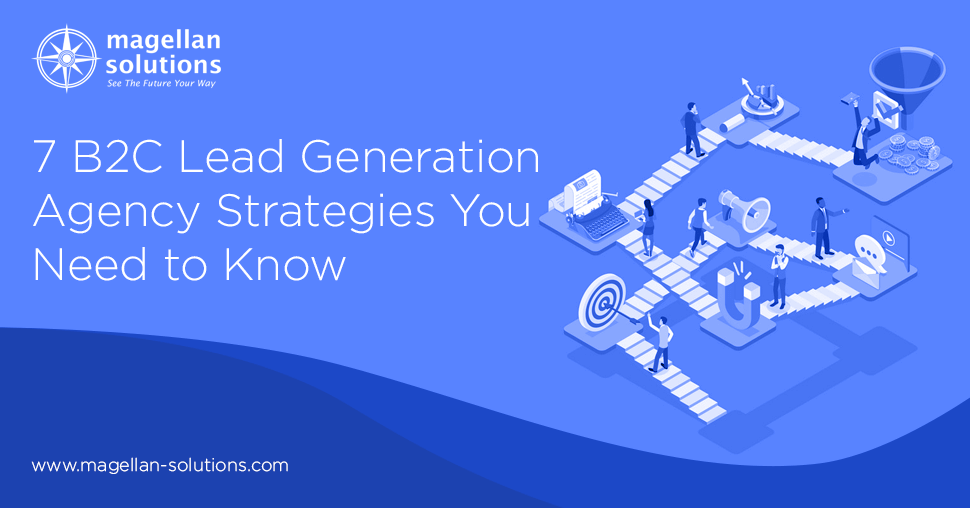 Are you looking to improve the number of your leads? Here are some B2C Lead Generation Agency strategies you ought to know.
B2C (Business to Customer) is the process of selling to individual consumers.
For customers to make a purchase or subscribe to your business services, you will need to have a unique strategy to increase brand awareness.
That is why in this article, we'll go over the top B2C lead generation tactics to help you and your BPO partner to produce more qualified leads. And to close more transactions.
B2C Lead Generation Services Strategies
A successful strategy is something that will resonate with your target. 
Top B2C lead generation companies use these strategies to also significantly increase their client's sales and help them achieve their short-term objectives. All the while establishing a pipeline of potential customers for their company.
So without further ado, here are seven B2C lead generation services strategies you need to know:
Gated Content
Gated content is a way of delivering useful information in exchange for customer information.
The goal of Gated Content is to convince customers to put in their information in exchange for a more detailed description of the product they wish to purchase.
This method aids in the identification and channeling of prospects. 
For more than a decade, gated content has been a tried-and-tested strategy.
Video Content
When it comes to lead generation, fresh content is always at the top of the list.
That is why most businesses are venturing to videos to communicate with their customers. 
Are your customers perplexed by your product? And do you think you can help them with their problems?
If this is the case, then use a series of movies to present the answer to the problem.
People nowadays spend more time on the internet.In fact, 85 percent of internet users in the United States watched video content on the internet, all the time.
Content Marketing
Not only is Content Marketing an effective B2B strategy, it also works wonders for B2C.
Your B2C lead generation approach relies heavily on accurate, clear, and high-value content. 
Your marketing team must generate content that appeals to the proper demographic and keeps them interested throughout the campaign. 
It is important to remember that customers are drawn to material that is consistent, timely, and valuable rather than content that is dull. 
You must eliminate redundancy and just include the information that is required.
The objectives should be to attract visitors, engage them, turn them into brand ambassadors, and earn their confidence.
Email Marketing
Email marketing is a type of direct marketing that communicates with clients via, you guessed it, emails.
The benefit of email marketing to businesses is primarily reflected in three areas: 
One of the most cost-effective ways to engage with customers is through email marketing. In fact, according to Salesforce, the average return on investment for email marketing initiatives is $38 for every dollar spent.
Advertisements
You've probably experienced this before. While searching for a specific product online, advertisements for related products begin to display on the websites you visit, social media platforms you use, and other places. 
It's because advertisers target you with sponsored ads across several channels and devices depending on your current preferences and interests. 
Although each media has their own target audience, it is still an effective way to reach customers.
Social Media
The point of social media is to be a place where individuals can have online discussions. But too many marketers make posts and then forget about them, some do not even constantly monitor likes and comments.
You're doing your brand a disservice if you don't follow through with all the comments and interaction, even if it's just with a simple question mark. What's worse is you're sending the message that you don't care about them, your customers.
One of the most effective lead generating strategies is as simple as responding to impressions.
SMS Marketing
SMS lead nurturing is quickly gaining traction as a powerful marketing strategy. In fact, they're starting to take the place of email marketing.
Why? Simple, customers read SMS more frequently than emails. They are quick, and the recipients can answer quickly as well.
Smartphone users are more likely to jump over to your brand if you can send them a fast text message about something new and valuable. Do not forget to add along a link to the landing page where they can purchase the product for ease of usage.
Although it is a little trick because of the DNC policy. But if you really want to do it, there is always a way.
The Best B2C Lead Generation and Follow Up Services Provider
Magellan Solutions is a Philippines-based BPO company. With over 18 years of expertise in the field.
We provide top-notch lead generation support and call center services. Furthermore, we are an ISO 27001:2013-certified and HIPAA-compliant organization.
We combine technologies with agent training. And we make sure they have all the tools, equipment, and information they need to service clients.
Also, we want to make our services available to small and medium businesses, therefore we keep our charges low and flexible.
Contact us right away and let us explore the ways we can help your company to grow. Just fill out the form below to schedule your free 60-minute business consultation with us now!
TALK TO US!
Contact us today for more information.