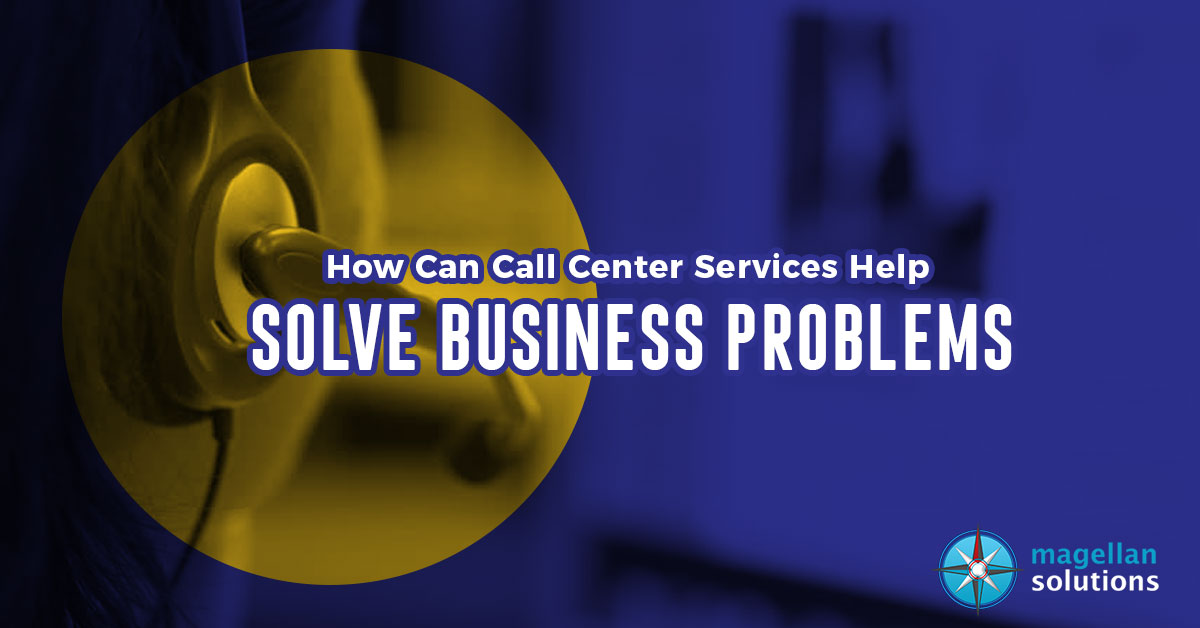 Are you in the middle of deciding whether you should outsource call center services for your business or not?
If yes, maybe you are experiencing some difficulties focusing on your non-core functions. It is also possible that you want to leverage the skills of people who really specialize in this activity.
But if you still don't know how call center services can help you solve your business problems, it's all right! In this article, we are going to show you the common reasons why many other businesses have already outsourced this function. We will also outline the type of service that fits your specific business needs. Keep on reading!
Why do I need to outsource call center services?
If you are having one or two of these concerns, there is a reason why you should consider outsourcing.
High labor costs
Additional expenses for infrastructure
Difficulty in hiring competent individuals
Lack of focus on core functions
Mitigation of risks
Limited market reach
High call volumes
A need to leverage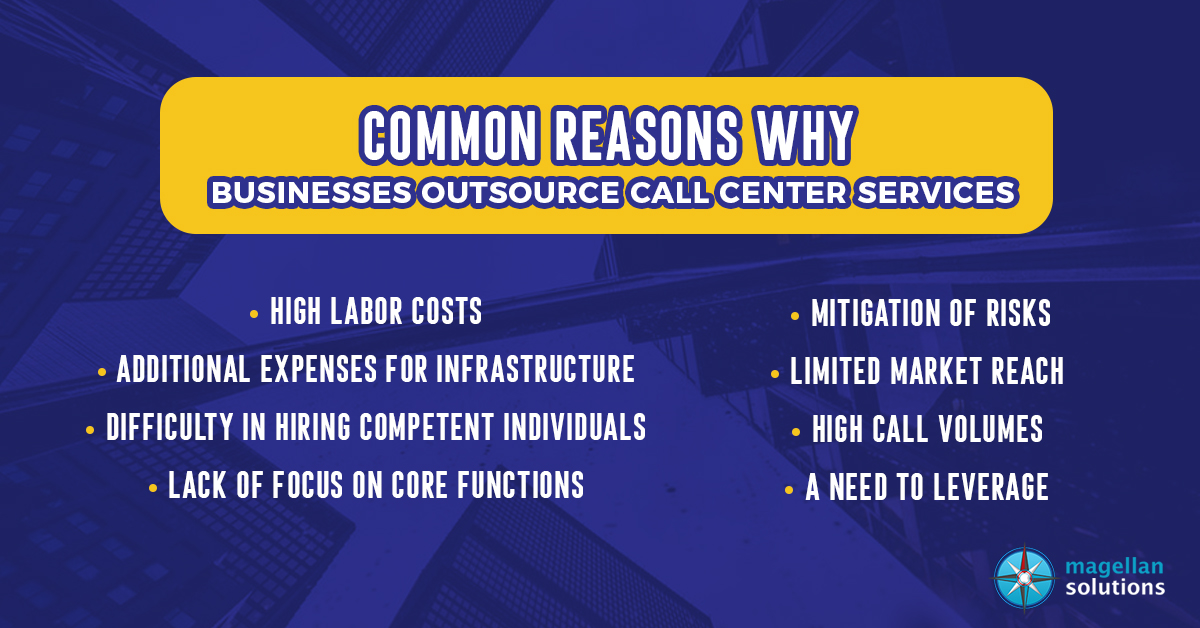 High labor costs
The business issue: The labor cost of an in-house employee — which includes their salary, allowances, bonuses, et cetera — is one of the common challenges for startups or SMEs.
The outsourcing advantage: Instead of going through the tedious and costly agent selection process and training, outsourcing enables you to employ call center agents from countries with lower arbitrage. This will allow you to save more because it eliminates supplementary costs such as allowances, reimbursements, et cetera.
Another reason why outsourcing is an excellent option is that they already take in-charge of HR and other general administrative tasks — making the entire process convenient and cost-efficient on your side.
Additional expenses for infrastructure
The business issue: More in-house employees mean a need for a bigger physical office space. Aside from that, it also requires an additional investment for computers and other technical resources.
The outsourcing advantage: All those additional necessities — office space and equipment — are available in outsourcing companies. Because of this, you can maximize all available external resources.
Difficulty in hiring competent individuals
The business issue: With over 5,000 recruiters who responded in a Top Echelon survey, nearly half or 45.8 percent of the respondents said that the biggest complaint of their clients is the lack of candidates to choose from.
Meanwhile, 96 percent of hiring professionals wish they had better access to qualified candidates.
The outsourcing advantage: The success of your organization is not dependent on high-end infrastructure but on the skill set of people in your organization. But if you have difficulty hiring competent and knowledgeable individuals (because many of them already work on large companies) within your country, probably this is because you can find them outside your geographical location. With outsourcing, you can leverage the skills of call center agents in your chosen BPO company.
Lack of focus on core functions
The business issue: Limited resources and manpower force business owners and their employees to multitask which prevents them from focusing on their core functions.
The outsourcing advantage: In business, time is so crucial. It means money. It can also be translated to more sound and wise business plans and decisions which can improve business growth.
If you entrust some of your non-core functions to a call center company, you will have more time to focus on the core of your business.
As the Forbes contributor Martin Zwilling highlighted in the article titled 6 Ways That Lack of Focus Can Kill Your Business, "Only by focusing on the right elements of the market, product, business, and people, can you really hope to win. Bigger is not necessarily better. Be the best in your chosen niche and you can change the world."
Mitigation of risks
The business issue: Starting a business requires courage because there are always some risks involved — financial, legal, human factor, and market risks.
The outsourcing advantage: Risks are inevitable. While you cannot eliminate it, you can minimize it. And minimizing it entails not only internal efforts but also external efforts or help from a third party. Outsourcing to the BPO call center means engaging in a mutual risk-sharing agreement. Reputable BPO companies can offer you support in any challenging situation that involves your partnership.
Limited market reach
The business issue: Operating in a limited market space also limits a business' opportunity to extend their services and products to consumers.
The outsourcing advantage: There are call center services like lead generation and outbound selling that can help your business reach more people, thereby increasing your chances to close more sales.
High call volumes
The business issue: A startup with a limited number of employees can experience difficulty in managing an influx of calls, especially during peak seasons.
The outsourcing advantage: When you outsource call center services, the BPO company will assign a dedicated team of agents exclusively for your campaign. They will answer all queries to make sure that not a single phone call and opportunity is missed.
How do I know the right call center service for my business?
If you are new to outsourcing call center services, you may be wondering what service you should avail that would fit your needs. To give you some ideas, here are the list of the common call center service and a little bit of background about it:
Customer service – For answering various customer concerns, inquiries, and complaints, ensuring that all these are addressed to maintain an excellent customer experience rate. This is offered in a variety of media: phone, live chat, and email. This is best for businesses involved in manufacturing or distributing consumer products or services.
Technical support – For resolving technical glitches; assists customers in troubleshooting. This service is perfect for businesses that sell or manufactures gadgets and other technical products.
Order taking – For businesses that offer their own products or who sell various products for delivery.
Inbound sales – For a personalized, helpful, and modern way of selling.
E-Commerce customer care solutions – For taking care of online customers' issues, complaints, and inquiries.
Mobile app customer support – For assisting users of different mobile applications.
Collection reminders – For collecting unpaid dues or debts of your clients.
Telesales – For selling products and services directly to customers.
Telemarketing – For providing information, generating interest, creating business opportunities, making appointments, and yielding leads. Used to reach more customers.
Lead generation – For identifying and cultivating the interest of potential customers in a business' products and/or services.
Market research and survey – For determining the pulse of the market regarding a particular product or service.
Now that you know the benefits of call center services, especially those offered by top outsourcing companies, have you decided to outsource?
If you do, send us a message today!