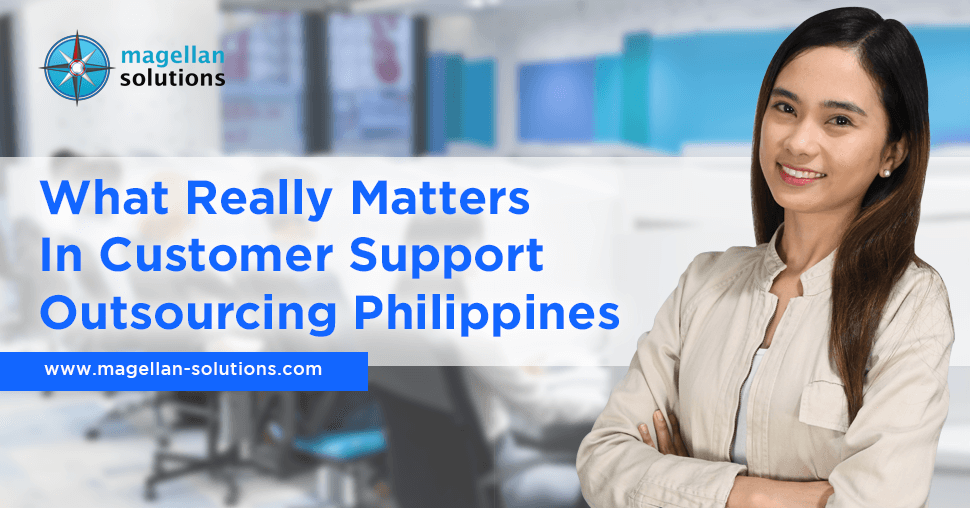 What Really Matters In
Customer Support Outsourcing
Philippines?
When it comes to customer support outsourcing, the Philippines is the undeniable choice for a lot of businesses worldwide. Proof to that is the country remains as the call center capital of the world.
For instance, many businesses outsource customer service to a BPO company in this country. This is because its services are competitive at an affordable price for most business owners. 
However, the Philippine BPO industry has gradually veered away from offering voice-based services alone. In fact, its BPO industry remains highly competitive due to continuous upskilling and focus on high-level services such as LPO, KPO, HRO, and other management services. 
Factors To Consider If You Want To Outsource
Customer Contact Services
In PH
Cost-cutting is often the main reason why a lot of businesses outsource their customer service. Aside from that, a reliable call center provider can help your business save time and free up in-house staff to focus on their task which you are paying them for.  
Here are the things you should consider when choosing to outsource in the Philippines:
1. Outsourcing requires commitment
This is to assume that you are in for the long haul and thus you do your due diligence in order to achieve that. This means it has to be clear that you can't get the benefits without putting the right amount of effort.
In addition to that, if you are only looking for the lower costs, you may end up with poor services which may eventually damage your business.
2. Have a lot of options
There are a lot of call center providers in the Philippines. This means some are excellent at handling high-volume calls, some are good at repetitive conversations, some are good at flexible customer support, while others focus on complex or highly technical situations. 
Furthermore, you have to consider the company culture, ease of training, staff turnover rate, language needs and your minimum volume.
3. Focus on quality and training
You know your customers way better than any other outsourcing provider. That is why it is best to commit to working with your provider to ensure their staff is up-to-date to the quality that you require of your in-house staff.
This means you have to be responsible in training them to ensure they can extend the same top quality assistance to your customers. 
4. Up front huge cost saving is a trap
It is proven that outsource customer support services from the Philippines is more affordable than doing it in-house or inshore. However, this does not mean you'll get it upfront. Like any other things, it requires maturity for your business to feel the cost-saving that you desire.
Also, this kind of support partnership capitalizes on adding flexibility while maintaining the quality of your customer support other than driving down the expenses.
5. Legal and security issues matter
Customer support involves allowing your outsourcing provider to access your sensitive customer data. That is why you need to check first your legal obligations and do a thorough review of your internal security.
You may set the necessary level of access to your provider and get your legal team to review the situation before entering any contracts. The good rule of thumb is to look for a BPO company in the Philippines that is ISO certified, HIPAA and GDPR compliant among other international standards.
6. Review and invest in your internal tools and systems
A lot of BPO companies in the Philippines use top of the line tools, software and systems to ensure streamlined services. This should create synergy with your internal systems or depending on your service level agreements.
However, it is best to audit your tools that your in-house team uses before allowing your third-party provider to gain access to it. 
7. Train the outsourced team to sound the way you do
Your customers can detect the way you talk to them in various channels. Whether in messages, phone calls, emails and through your marketing efforts. That is why it is crucial for your outsourced team to convey the same brand talk, voice and tone.
Which means you have to be clear on your training, provide ample examples and prepare the necessary information for your provider to truly understand your approach. This will ensure effective communication with your customers. 
8. Aim for a partnership
Successful outsourcing involves partnerships nurtured through an ongoing and effective two-way communication. This means you have to talk it out with your provider on what's working well, where there is a need for new training and what support agents learn that is also useful for your in-house team among others.
This means you have to treat the outsourced team as an extension of your internal team. Which creates more value in your investment and will help you detect possible issues early on the partnership.
Magellan Solutions Is Your BPO Provider For
Customer Care Outsourcing Services for SMEs
We have 18 years in the BPO industry wherein we get the opportunity to provide excellent call center services for various businesses in diverse industries worldwide.
As a BPO company that specializes its services for startups and SMEs, we strive to create and provide custom solutions for your business. 
Magellan Solutions is an ISO 27001-certified, GDPR and HIPAA-compliant outsourcing provider. This is our pledge to assure you that we only implement and follow the best security protocols when it comes to protecting your data.
Contact us today and let our Business Success Managers create the best service packages that will suit your needs. Fill up the form below!
TALK TO US!
Contact us today for more information.