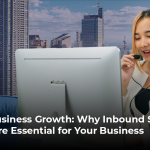 Modern Business Growth: Why Inbound Support Services Are Essential for Your Business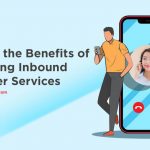 5 Business Benefits of Outsourcing Inbound Call Center Services
Heads up: Two-thirds of customers will IMMEDIATELY QUIT doing business with a brand if that brand provides POOR CUSTOMER service! Consequently, this means decrease in loyal customers and eventually profit loss. 
The best way to stop this from happening? Prevention. You want to leave a good impression with your customers by satisfying them on every interaction point you have with them. This is where inbound support services are best used. 
We can't emphasize this enough: inbound support services are the pillars of customer satisfaction. These efforts are  the foundation of business success.
 It leads to increased loyalty, customer satisfaction, and revenue. Hence, it's important that you DO IT RIGHT from the get go and we're here to help you do just that. Here are the best practices to help you provide top-notch inbound support services. 
Best Practices for Inbound Support Services
Service excellence is not just the goal but the essence of improving the bottom line and customer satisfaction. Each practice in this guide is a pivotal step forward, unleashing the transformative potential of inbound support services.
1. Have a Centralized Knowledge Base
Inbound customer support service relies on a consolidated knowledge base as its foundation. It ensures that your customer service team has quick access to accurate data. It allows them to offer reliable and consistent customer service. It minimizes resolution times and avoids inconsistent responses.
Benefits:
Consistency in Service Quality: A centralized knowledge base allows all support staff access to the same information. It produces consistent and excellent results.
Reduced Resolution Times: Agents are more productive with easy access to relevant data.
Improved Employee Satisfaction: Agents feel more competent and in control when they have access to an organized knowledge base. It improves their job satisfaction.
Tips: To create and maintain a centralized knowledge base, you can:
Categorize information for easy retrieval.

Regularly update content to reflect changing information.

Provide user-friendly search functionality.
2. Personalize Interactions
Personalization in customer interactions means more than using a customer's name. It shows a sincere dedication to understanding and meeting customer needs.
Benefits:
Enhanced Customer Loyalty: Personalized interactions foster lasting relations with customers. It increases the likelihood that they will return and be loyal.
Improved cross-selling and upselling: Understanding customer preferences helps find ways to recommend more goods or services. It increases sales in the long run.
Tips: To personalize interactions effectively, you can do the following:
Use Customer Relationship Management (CRM) systems to monitor and store customer data.

Employ personalized communication strategies tailored to each customer segment.
3. Provide Multiple Channels for Support
Providing support through various channels is vital for understanding customer needs and preferences. Customers can contact support via email, chat, phone, and social media. 
Benefits:
Expanding Reach: You can connect with a larger audience and reach clients on their preferred platforms using multiple channels.
Catering to Diverse Preferences: Customers have diverse communication preferences. Offering a range of channels allows them to select the most practical choice.
Strategies: To provide multiple channels for support, focus on:
Training agents to handle different channels with expertise.

Seamless incorporation of media for consistent service quality.
4. Empower Your Customer Service Agents
Giving your agents liberty, resources, and the ability to handle problems empowers them. The decisions they make can align with business goals and customer satisfaction.
Benefits:
Faster Issue Resolution: Customers are more likely to be satisfied when dealing with empowered agents who can promptly respond to issues.
Improved Customer Relations: Agents with increased authority can handle challenging situations better. It improves client relationships.
Tips: Empower your agents by:
Providing extensive training programs.

Defining clear policies and limitations for decision-making.

Offering opportunities for growth and skill development.
5. Set Up Rigorous Quality Assurance
Quality assurance ensures that customer expectations and support interactions are in line. It promotes consistency and lessens mistakes.
Benefits:
Consistency: Every client interaction must adhere to standards according to quality assurance measures.
Reduced Errors: Quality control prevents customer dissatisfaction and mistakes from happening again. It spots and fixes problems.
Tips: To set up strict quality assurance, you must:
Audit support interactions

Establish feedback loops for continuous improvement

Implement a culture of quality within the support team
6. Analytics and Reporting
Analytics and reporting are essential for making data-driven decisions. It improves resource allocation, simplifies strategy simplification, and fulfills customer needs.
Benefits:
Improved Insights: Data-driven decision-making offers helpful insights into customer needs and behaviors.
Better Resource Allocation: Analytics help allocate adequate resources, which optimizes business operations.
Informed Strategy Adjustments: Reporting makes it possible to pinpoint areas needing strategy adjustment.
Insights: Use analytics tools to measure key metrics and customer trends. From this, you can get helpful information for continuous improvement.
7. Timely Response and Availability
Meeting client expectations and addressing difficulties requires prompt responses and 24/7 availability. It shows a dedication to customer satisfaction.
Benefits:
Increased Customer Satisfaction: Prompt responses and availability make customers more satisfied and feel respected.
Improved Issue Resolution Rates: Quick responses contribute to faster issue resolution. It reduces client frustration.
Strategies: An excellent way to increase production and cut expenses is by maintaining availability through: 
Shift scheduling

Automation

Outsourcing to global teams
Applying these techniques helps companies save costs while improving production and maintaining availability. It ensures clients can contact support whenever they need help. 
8. Empathy and Active Listening
Practical inbound support starts with empathy and attentive listening. It fosters positive customer interactions, trust-building, and effective issue resolution.
Benefits:
Stronger Customer Loyalty: Customer loyalty increases when empathetic interactions make a lasting good impression.
Higher Customer Retention Rates: Active listening is necessary to handle client requests. It lessens the likelihood of recurring problems.
Tips: Train support agents in the following:
Active listening techniques

Empath

Practical communication skills 
It improves their ability to connect with customers.
9. Continuous Feedback and Improvement
Collecting and acting on customer feedback helps with continuous improvement. It ensures that your services adapt to shifting customer demands.
Benefits:
Adaptation to Changing Customer Needs: Feedback allows you to respond to changing customer needs and expectations.
Enhanced Service Quality: Incorporating customer feedback results in better service and superior customer support.
Increased Customer Loyalty: Responding to consumer issues and comments builds trust and loyalty.
Strategies: Implementing feedback collection techniques, analyzing data, and including helpful insights are vital for long-term success.
Elevate Your Business with Inbound Support Services
Implementing these practices in inbound support services has a profound impact. It builds customer loyalty and ensures long-term success. Inbound customer support services are essential for your brand's journey towards business achievement. Adopting these best practices can help your customer service reach new heights.  
Are you ready to ignite growth and elevate customer satisfaction? Partner with a customer service support inbound call center now.
Magellan Solutions can help you master the art of customer engagement through inbound support services. Our experienced team is ready to elevate your customer satisfaction and loyalty goals.
Our expertise and experience in outsourcing make us an ideal partner for your business. Work with Magellan Solutions to streamline your business and deliver excellent results.
Take this chance to improve customer support and witness your business thrive. Begin a journey towards an exceptional customer experience and long-term success.