MEDIA RELEASE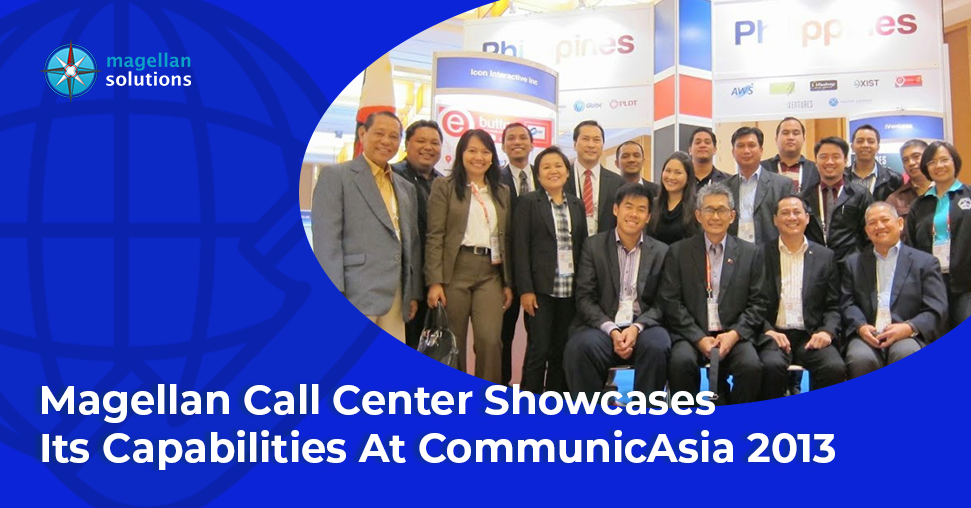 Magellan Solutions Outsourcing Inc., a fast-growing Philippine-based inbound contact center, joined the Philippines' major telecommunications players and business process management companies to showcase the country's industry-leading ICT and BPO offerings at CommunicAsia2013 in Marina Bay Sands, Singapore on June 18-21, 2013. Now in its 24th year, CommunicAsia draws the world's biggest brands to feature key and emerging technologies every year, and is renowned to be Asia's biggest and much-anticipated information and communications technology (ICT) event.
"Magellan Solutions is proud to participate in this year's CommunicAsia where we had the unique opportunity to place our voice-enabled contact center, back office and data processing services in front of influencers and decision makers, mostly from telecommunications companies, service providers, top government officials and trade
organizations from around the world," said Fred Chua, Chief Executive Officer of Magellan Solutions Outsourcing Inc. "The event at the same time allowed us to gain a better understanding of cutting-edge technologies and the latest market trends, and how other countries have developed their niche when it comes to outsourced services." Chua said this was proven true during the event's discussions, meetings and networking sessions.
Chua, together with Magellan Solutions' business development manager Arnel Cayabyab, had the privilege of meeting with key government officials from different countries who facilitated business matching opportunities. "We are happy to promote our BPO offerings to visitors from across the globe, connect with the right people, and meet with providers that can help us improve our quality of service," Cayabyab said. He noted that Magellan was able to find companies that are open to partnerships and collaborations during the show.
This is the first time Magellan Solutions participated in CommunicAsia. The delegates this year were led by the Information and Communications Technology Office of the Department of Science and Technology (DOST-ICTO) to present the country's expertise in IT and software development, cloud computing, mobile and web applications, firmware design, M2M, mobile broadband, International Gateway Facility (IGF) services, and business process management services. DOST-ICTO has been participating in the event since 2004. Also joining the Philippine delegation is the Information Technology and Business Process Association of the Philippines, the enabling organization of the information technology and business process management (IT-BPM) industry in the Philippines. IBPAP has over 300 industry and support-industry members, including five partner associations, which include the Animation Council of the Philippines, Game Developers Association of the Philippines, Healthcare Information Management Outsourcing Association of the Philippines, Philippine Software Industry Association, and the Contact Center Association of the Philippines, where Magellan Solutions is an active member.
For more information, contact:
Jon Borillo
Corporate Communications
john.borillo@192.168.201.23
+1 800 3716224