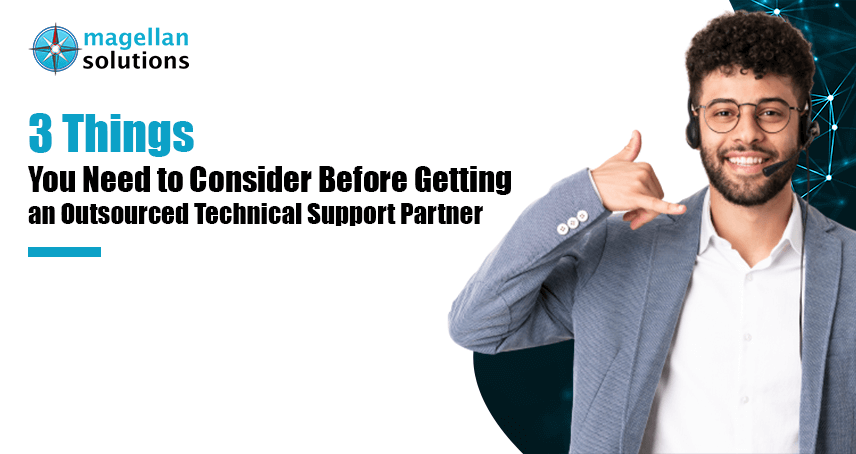 Do you plan to Outsourced Technical Support anytime soon? Here are some things you need to take note of first!
Outsourcing technical support service is an enticing concept. 
Call centers can help you save money, resources, and, in many cases, a lot of worries.
However, there is no such thing as a one-size-fits-all approach. That's why you should carefully consider your options, especially if an external company will be communicating directly with your customers.
So here are some things you need to consider first before getting that Help Desk Technical Services.
Things You Need to do Before You
Outsourced IT Support Services
In today's environment, any firm, large or little, requires competent technical help. Even the most meticulously built apps can go wrong at times; computers crash, incompatibilities develop from upgrades in related programs, and bugs that aren't detected during testing can cause havoc for your customers.
You won't be able to develop your firm considerably — let alone quickly enough to match the competition — without dependable tech support specialists, and a reputation for failing to resolve technical problems can have severe, long-term impacts on your sales and credibility.
That is why it is the number one priority to assess before you agree to be in partnership with a BPO. Here are some things we think you need to do before getting an IT support:
Weigh in the pros and cons of Technical Support Outsourcing.
Before determining whether or not to outsource your support services, you should be informed of the benefits and drawbacks of outsourcing technical assistance.
Outsourced Technical Support benefits:
Reduced Costs

Flexibility In Scaling Up (Or Down)

Give you the Opportunity to Focus On Your Core Business, Not Tech Support

Harness Tech Advances to Speed Up, Not Slow Down
Its disadvantages are:
Quality Control May Be Out Of Your Hands

Limitations In "Trouble Ticketing"

Outsourcing Creates Less Direct Contact With Customers
Set goals
Begin engaging with key stakeholders to set clear goals for your tech support outsourcing project, moving from the practical to the aspirational. 
What are the areas where you are now falling short? How can you build a technical support team that adapts to your changing requirements? Are you in a position to establish particular goal KPIs right away?
The following are some examples of frequent objectives in outsourcing IT team:
Cost-cutting

Decreased response times

Getting the most out of cutting-edge tech support tools while spending less

Offloading the responsibility of staying current with tech support trends.
Assess your Target BPO Partner
You must consider their internet presence, company image, and, most importantly, their reputation when selecting the correct outsourcing partner. Look into their work to see if they have a local or international presence. 
Take into account both positive and negative feedback, but try to remain as objective as possible. Ascertain the company's financial stability as well as the country's economic progress. 
The organization must be able to deliver high-quality service and be technologically and communicationally compatible with yours. A pro tip is to consider the BPO Philippines. We do not only have a growing economy and revenue, but we are also a major call center country.
Additionally, investigate the company's clientele to have a better understanding of their ability to provide results, as well as the network and market they serve. 
Check to see if they have the local expertise and worldwide reach to satisfy your needs. When an outsourcing firm establishes itself in a new market, it often opens the door to a slew of new prospects. 
As a result, clients can use their regional or global economic interests to their advantage. You may easily lead your company into both known and unfamiliar markets, expanding your reach and network.
Top
Tech Trends in 2022
Call centers faced unique challenges as a result of the COVID-19 pandemic, with a significant increase in call volume and difficult calls, and many call centers relocating employees to remote locations for extended periods of time.
Here are the top tech trends you need to know before outsourcing your technical support team:
Artificial Intellegence
The pandemic has only increased the importance of artificial intelligence in call centers. AI will transition from a cutting-edge innovative technology to a standard issue for call centers by 2022.
AI has numerous advantages in the call center. Because they can route conversations to the most qualified agent, AI-assisted software applications have helped reduce the need for manual call routing programming. Call wait times can be significantly reduced with this intuitive call routing.
2. Chatbots
Chatbots, also known as conversational AI, are a type of artificial intelligence that can recognize multiple languages, process what words are said and even their cadence, and then choose the best way to respond in the most natural human way possible.
Natural language processing (NLP) and natural language understanding (NLU) can be used by chatbots to determine the customer's intent in asking a question. AI-powered virtual assistants can collect payment information, provide account updates, and assist customers in scheduling appointments, relieving call center employees of some of their responsibilities.
3. Omnichannel Communication
Omnichannel communication is about unifying communications with customers to standardize service delivery.
It's a way to centralize and optimize customer interactions to provide a consistent experience across all communication devices and channels. A well-orchestrated omnichannel approach enables customers to navigate between a company's touch points with ease. In addition, consumers are more aware of the omnichannel experience, as shown by a study that reveals that 9 out of 10 users prefer the omnichannel service (Business2Community).
4. Advanced Self-Service Tools
Self-help options will continue to gain popularity, ranging from frequently asked questions (FAQs) and video tutorials to chatbots and virtual assistants. After 2021, the use of customer self-service tools will increase. In this spirit, businesses must improve the available online self-service tools. They should ideally connect the content of your FAQs, video tutorials, and troubleshooting pages to the most frequently asked customer questions.
Top
Technical Support Services provider for SMEs
Magellan Solutions is the leading SME-focused BPO among all outsourcing companies in the Philippines
With over 18 years of industry experience, we offer high-quality customer service support and call center services. On top of that, we are a certified ISO 27001:2013 and HIPAA-compliant company.
At Magellan Solutions, we combine technology such as ACD, CRM, and IVR with agent skills. We make sure that our agents have all the necessary tools, equipment, and knowledge to serve customers. 
We believe that progress shouldn't break your bank, so our services remain flexible and competitive.
Contact us now, and we will discuss with you how we can help your business succeed. Complete the contact form below and talk to us for free!
TALK TO US!
Contact us today for more information.