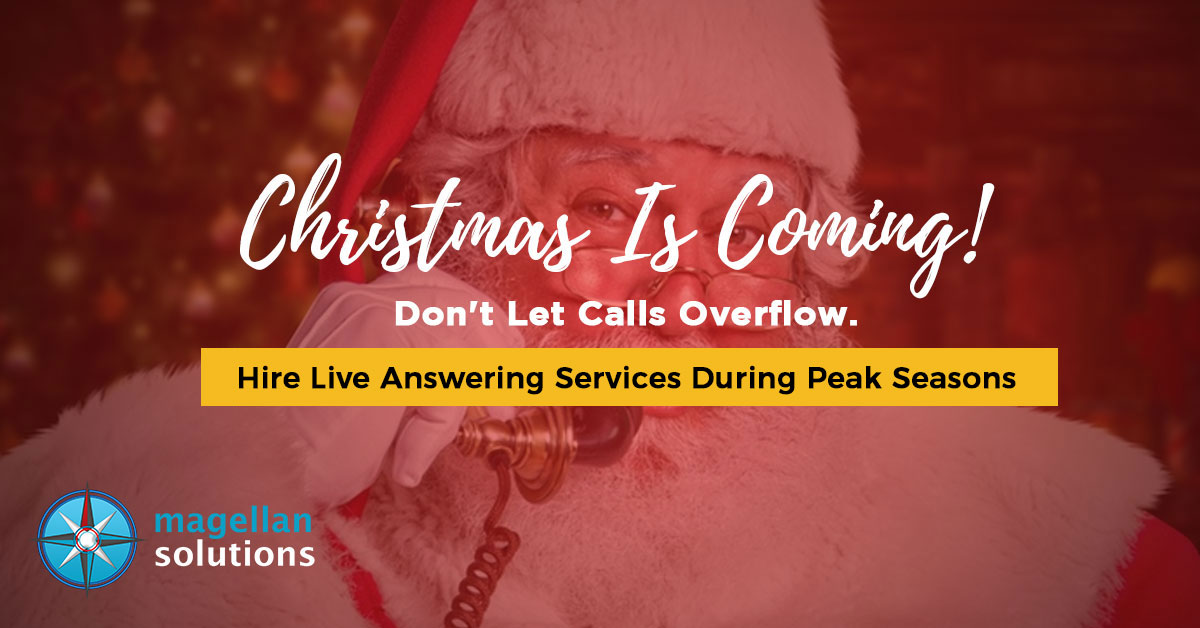 A Live Answering Service For The Holidays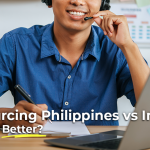 Outsourcing Philippines vs India: Which Is Better?
Discover the heart of the Philippines' economic progress as we explore the IT-BPO industry in this article. The latest Philippine BPO statistics and insights show the industry's resilience. It showcases its crucial role in the country's economic development.
It will provide us with a solid foundation to begin our journey. Learn how this thriving sector has become an essential pillar of the Philippine economy. We will also highlight its diverse role in fostering growth and development.
But that's just the beginning. We'll explore the remarkable economic growth of the Philippine IT-BPO industry. Additionally, we will uncover the intricacies of the BPO attrition rate in the Philippines.
We will present you with an exclusive outlook on the Philippine BPO statistics. Be ready to adapt and make well-informed decisions in business process outsourcing. Let's get started now!
Philippine BPO Statistics 2023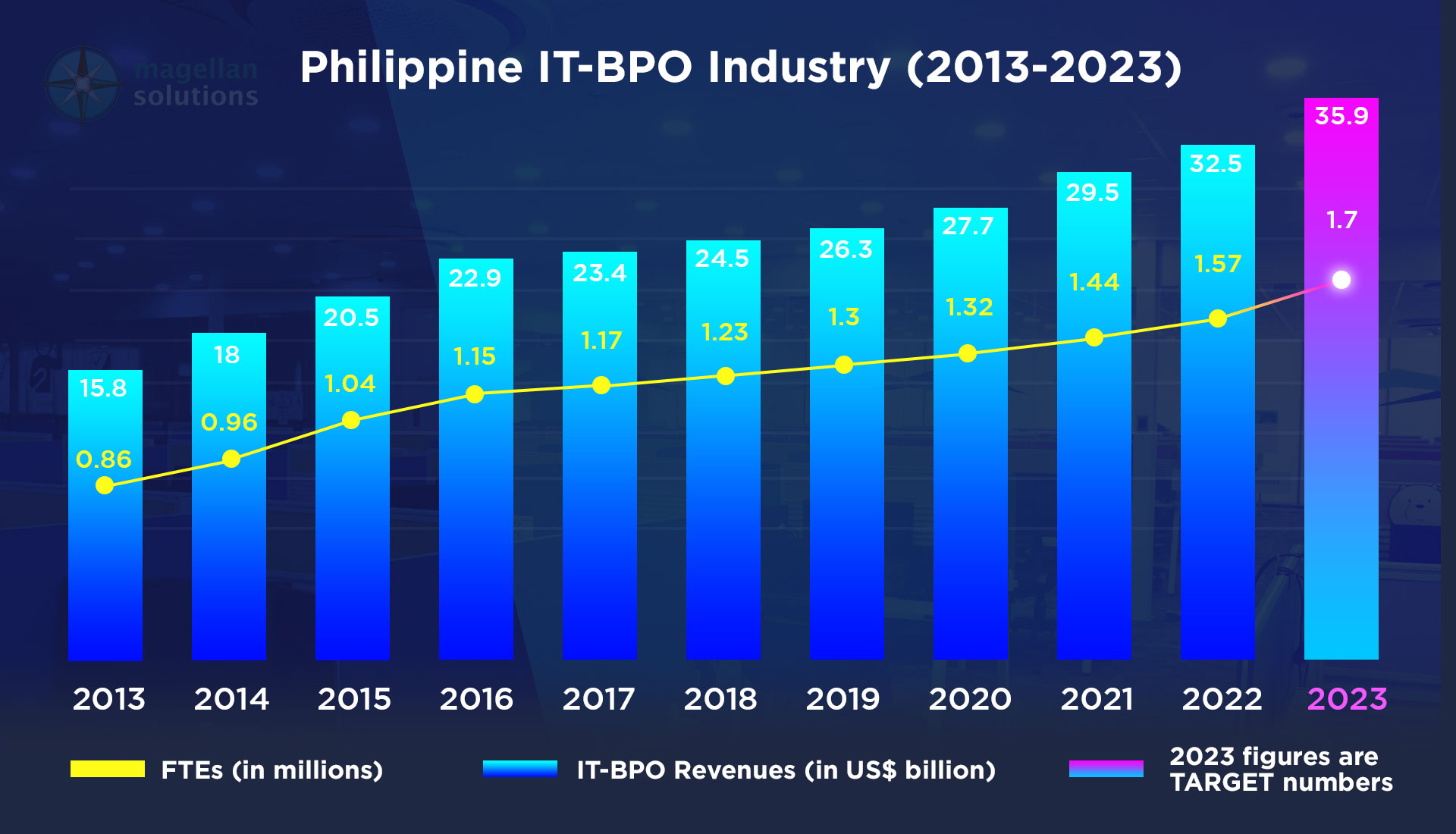 As other countries face economic challenges and companies tighten their budgets, the outsourcing industry in the Philippines is expected to thrive. The industry is expected to reach its goal of 1.7 million full-time employees (FTEs) and US$35.9 billion in revenue by 2023, experiencing a significant increase from the previous year.
Furthermore, the long-term forecast suggests that the industry has the potential to generate over $59 billion in revenue and create one million additional job opportunities by 2028.
IBPAP attributed the boost in headcount and revenue to growth in the following sectors:
Banking

Financial services and insurance

Healthcare

Retail

Technology and telecommunications
According to IBPAP's survey, 83% of BPO companies expect growth in 2023, even during a global recession, while 17% maintain a neutral stance. The survey revealed that organizations will keep outsourcing to drive cost-saving initiatives.
Contribution of IT-BPO to the PH Economy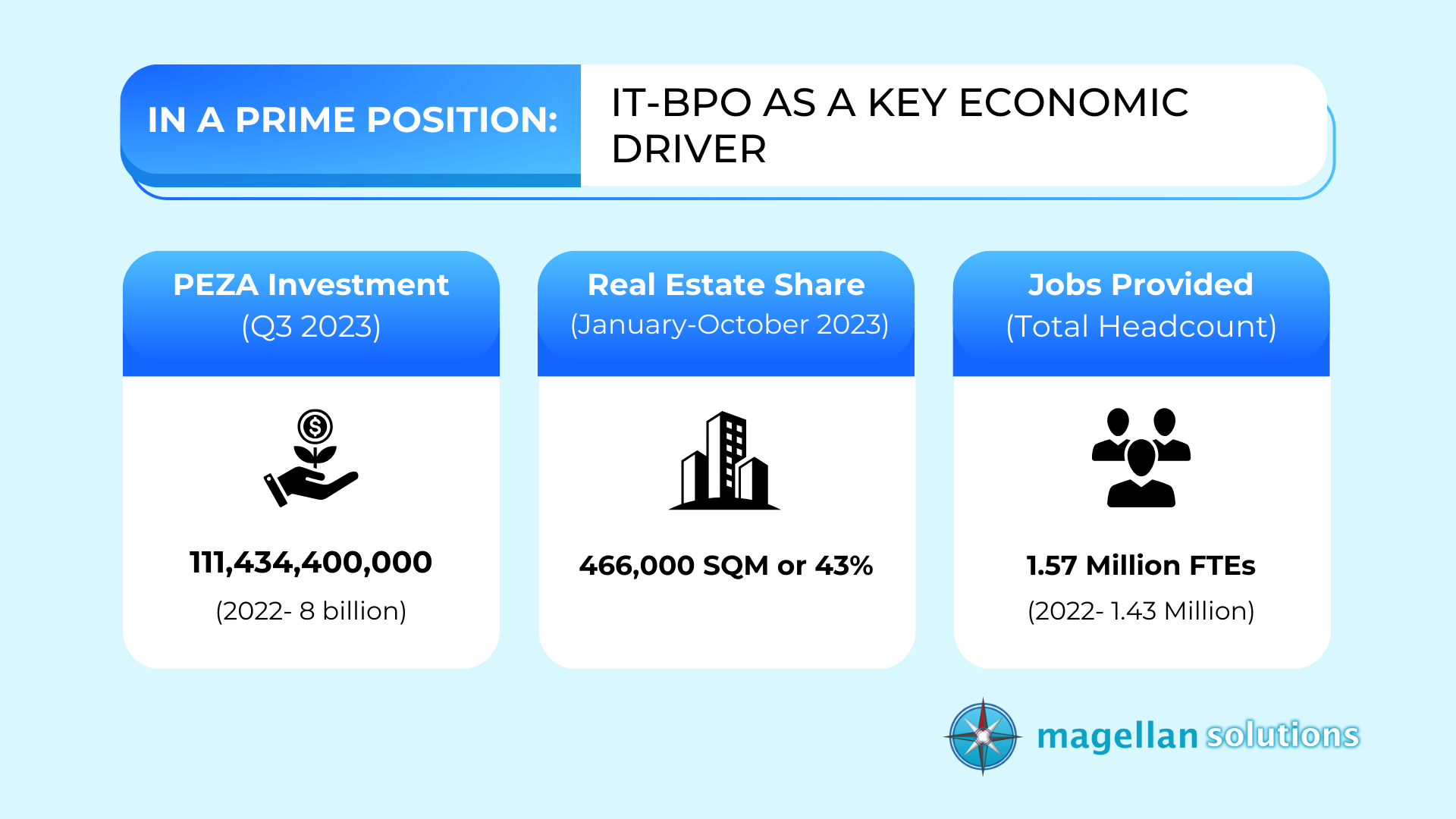 Office real estate take-up by the BPO industry is

466,000 square meters

, accounting for nearly half (48%) of the total office space demand nationwide.

According to IBPAP, the BPO sector surpassed its targets in 2022, with a

growth of 8.4%

, or 121,000 full-time employees, reaching 1.57 million in the industry.
The IT-BPO industry has played a significant role in contributing to the robust growth of the Philippine economy in 2023. With its strong foundation and continuous innovation, this sector has driven the country's:
Gross Domestic Product (GDP) expansion

Foreign direct investment (FDI)

Job creation
The IT-BPO industry has attracted many international companies. It boosts the economy and fosters trade through various high-quality services, such as the following:
Call centers

Software development

Knowledge process outsourcing (KPO) 
Furthermore, it has created employment opportunities for:
Skilled workforce

Generating income

Reducing unemployment rates
The Philippines is a global leader in the IT-BPO industry due to its expertise and adaptability to emerging technologies. It attracts more investors and contributes to the country's economic development.
The Economic Growth Of The PH IT-BPO Industry
The PEZA Board green-lighted 27 new and expansion projects worth PHP 14.04 billion, which include: 
11 export enterprises

5 information technology (IT) enterprises

5 facility enterprises

2 each for logistics service enterprises, domestic enterprises, and ecozone development
New project registrations in PEZA skyrocketed by 180% to PHP 111.21 billion in total investment pledges from January to September 2023. It is compared to just PHP 39.63 billion approved in the same period last year.
The top foreign sources of investments in PEZA for the year are the following:
Japan

Singapore

Cayman Islands

United Kingdom

South Korea
PEZA's significant development results from the strong economy, collaborative government approach, and President Ferdinand Marcos Jr.'s active promotion of the Philippines to global investors through his international visits.
BPO Attrition Rate In The Philippines
The attrition rate in the business process outsourcing sector was the highest among all industries, at 40% in 2023.
These factors mainly cause job dissatisfaction and employee turnover:
Limited career progression

Low pay

Inadequate employee benefits

Poor leadership and management

Work-life balance issues
BPO Turnover And Retention Statistics
Up to 14 percent of IT-BPM employees plan to shift employment in the next three to six months.

If the RTO directive is implemented, a fifth of its members have said they will resign from the BPO sector.

Part-time agents stayed with the company on average for six months. On average, full-time workers (FTEs) left contact after 18 months.

Call center managers serve the company for up to 4 years.
Sources: IBPAP and Magellan Solutions' Call Center Benchmarking Report
Outlook for the Philippine IT-BPO Industry 
IBPAP president and CEO Jack Madrid predicts that the BPO industry will generate more than US$59 billion in revenue, contributing 8% to the country's GDP. They also expect the industry to create a million jobs by 2028.
Despite the pandemic's economic challenges, such as lockdowns and social distancing, Madrid acknowledges that the Philippine outsourcing industry remained resilient. It also created over 125,000 jobs from 2020 to 2022, unaffected by the local economy's high inflation.
He recognizes three key strategies to boost the BPO sector's growth and enhance its global competitiveness in the next five years. These are:
70% of IT-BPM companies worldwide are willing to implement a hybrid work arrangement. Most Filipino workers in the sector are supportive of this flexible work model.

Promote variety in business locations. Third-party vendors are encouraged to consider establishing their operational sites in the countryside. Small-scale establishments offer the advantage of ensuring smooth operations in unforeseen situations.

Urge supply chain flexibility. Outsourcing companies must prepare for labor shortages and foreign competition for qualified personnel. They must obtain the right human resources and upskill them to address the rising demand for specialized skills in:

Advanced cybersecurity

Cloud computing

Automation
Madrid believes industry associations should collaborate with government agencies to implement these strategies effectively. He adds that the Philippine outsourcing industry can maintain the uptrend by: 
Streamlining business procedures

Improving digital infrastructure

Bridging the labor supply and demand gap
A Path Forward for Your Outsourcing Success
The impressive Philippine BPO statistics demonstrate the exponential growth of the Philippine BPO industry. The numbers speak volumes, reflecting a sector that continues to outperform expectations, even in the face of global economic challenges. It solidifies the country's position as a globally competitive outsourcing destination.
What does this mean for you? It's an invitation to explore the immense possibilities of partnering with Magellan Solutions, a leading name in the outsourcing industry.
By choosing Magellan Solutions as your outsourcing partner, you gain a competitive edge, access to a skilled workforce, and the ability to focus on what you do best—growing your business.
In a world where adaptability and efficiency are crucial, we offer a partnership that promises a pathway to unparalleled success. Your journey to an enhanced business process begins with Magellan Solutions.
Our expertise and experience in outsourcing make us an ideal partner for your business. Work with Magellan Solutions and take the first step towards a brighter, more prosperous future for your business. Your success is our commitment.
Don't miss the opportunity to be part of the Philippines' outsourcing success story.