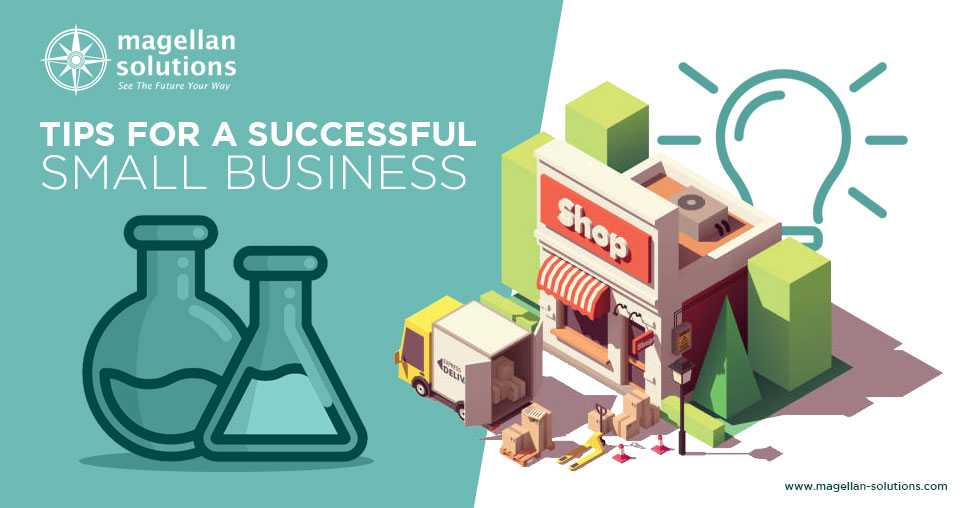 Being an entrepreneur means becoming a trailblazer. There is always the need to forge ahead to stay in the competition and make it grow, regardless of its size. This post offers useful tips for a successful small business and the necessary steps in achieving both short- and long-term goals.
What is a Small Business?
A privately-owned company that requires less capital and workforce that aims to serve its local community and makes an annual revenue of around $750,000-$38.5 million is a small business, depending on the industry. 
Small businesses play an important role in the economy. Half of the jobs in the US are from small businesses. They create an impact in their communities by donating 250% greater than big companies to local nonprofits and other charitable donations.
Anyone can put up a business. You must be truly dedicated to transforming your ideas into actions and be a jack of all trades as 56% of the owners said that they can never be away from their venture.
Challenges in Establishing and Maintaining a Small Business
Like any other thing, building your firm has its difficulties that might keep you from pursuing your idea, but for us to succeed, we need to take the risk. Here are some of the challenges you may face in starting and maintaining a small business:
Having to Wear Many Hats – Time management is one of the biggest struggles. You might find yourself overwhelmed with the workload that needs to be done. Maximizing your time to do most of the work will be your priority as hiring a lot of in-house staff to do a specific role will increase costs. To avoid this and boost productivity, outsourcing your non-core processes is an option. 
Building a Solid Team – Surround it with a team of dedicated people. You should also consider the possibility of hiring the people you trust and those you are comfortable with. Always keep in mind the culture of the company.
Riding Out Bad Economic Times – As an entrepreneur, you must be aware of the best practices to do to keep your business surviving during times like this. 
Dealing with Competition and Keeping up with the Market – Competition is what keeps us improving. You should always be on guard and updated with the changes and trends as these are a huge factor to make your business afloat.
Benefits of Putting Up a Small Business
Thinking of starting your venture from scratch can be daunting. You will hear, read, and face a lot of disadvantages that could discourage you. But bear in mind that if there are challenges, there are also benefits in establishing your own small business:
Doing What You Love – You don't need to be stuck in a fixed hour job again. You can finally have the freedom to pursue your passion through the business you are building. Earning while enjoying what you are doing gives us a joyful feeling.
Independence – If you are longing to do your own thing, be your boss. This is the biggest reason why most entrepreneurs built their own. You can manage your own time and have the independence and flexibility to control your professional life and your venture, but never forget to be responsible.
Personal Satisfaction – The feeling of succeeding from something with your hard work and effort is priceless. Your business is your pride. 
Immediate Response and Action – You can keep a high level of customer satisfaction by being quick to react to problems as you can be there to attend even to the smallest concerns. Even customers are aware that they can easily get in touch with you.
Freedom to Make Changes – Small business owners are commonly hands-on with all the operations. Some even work closely with customers to observe and monitor the areas that need improvement. 
Tips for a Successful Small Business
Establishing a business is never easy. It doesn't happen overnight. It requires time and hard work. Its level of success will depend on your strategies and hard work. Here are some tips for a successful small business:
Find Your Niche – The first step in building a business is to look for a niche by identifying your interests and passions. Focus on that specific niche and create related things that can make your it stand out. 
Establish Loyalty – Making customers purchase your products or services takes time and effort, but it isn't enough to just get them to buy, you need to encourage loyalty. Focus on providing an outstanding level of customer experience to make them feel appreciated. 
Be Adaptable and Keep on Improving – Entrepreneurs should always be open to change as the market never stops innovating. This is a trait that most successful business owners have in common. Always think ahead and keep on improving to have an advantage with your competitors.
Maximize Social Media – We are now in the digital age where social media is a powerful platform to promote your business. It is an effective tool to build a profile, attract potential customers, and you can also listen to consumers and improve your venture based on their comments.
Outsource Non-Core Processes – One of the important things to keep in mind is to save costs. For example, outsourcing your calls is a lot more cost-efficient than hiring in-house people as there is no need for you to provide training sessions, working stations, materials, and many more. It is a beneficial strategy as call centers can provide you with solutions to all of your professional needs. With this, they can help you increase sales through quick turnaround time, making you feel that doing business is somehow lighter, and/or bringing a high level of customer satisfaction.
Give Back to the Community – People would love to patronize a business with a heart, one that cares for the community. Doing relevant activities such as charity events, creating simple campaigns promoting change for the better, or any other things that could benefit the community may bring a significant impact on everyone.
The Customer is Always Right!
Customer retention is relevant to the success of a business. It's not as easy as it may seem, but giving your customers the option to voice out their feedback, whether good or bad and engaging with each one of them, could make them feel heard and valued. Make them feel that you are on their side and that you will do the appropriate action regarding their concerns.
Always put a smile on the face of your customers. They would love to return and deal with a firm that makes them feel happy and comfortable. It could change their mood and have a good vibe for the entire day. The reaction of a customer is a reflection of how you do business.
Another factor why you should build a good relationship with your customers right from the start is the possibility of getting more sales from them once they recommend you to their relatives, friends, and colleagues. As a business owner, the last thing you would want is for your customers to spread bad word-of-mouth about your venture. 
Nurture your existing customers while trying new opportunities that may help your business grow. You can give your loyal customers rewards from time to time as a sign of appreciation. 
Amid the increasing competition, the keys to excel are to double the level of your effort, focus on the core function of your business, take good care of your customers, and always come up with something creative, fresh, and relevant to consumers that will give them value-for-money.
Did these tips for a successful business help you? What do you think is applicable to your business?
TALK TO US!
Contact us today for more information.