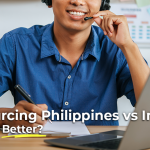 Outsourcing Philippines vs India: Which Is Better?
Have you ever thought about how a business would thrive without customer service? If you're a start-up, having dedicated customer support may pose challenges with hiring and training costs.
However, as a business owner, are you willing to give up this crucial aspect, especially since studies show that around 54% of your customers may stop doing business due to poor customer service?
One viable solution to this is opting for a shared call center service. What is this, and how beneficial is this for your business? Keep reading!
What is a Shared Call Center
A shared call center is one of the most cost-effective call center options for small to medium-sized companies who cannot afford to establish their customer service department. 
Several businesses use the same resources, such as technology, facilities, and trained professionals who can handle customer inquiries, complaints, and other issues on behalf of the businesses they serve.
Benefits of Shared Call Centers
Businesses have varying reasons why they may opt for shared customer service for SMBs. Here are some reasons why shared call center outsourcing for SMEs is beneficial for the growth SMEs.
1. Scalability
Depending on their needs and objectives, SMEs may use shared call center services to scale up or down their call center operations. They may quickly change the amount of agents they utilize and the hours they work without compromising the consistency or quality of their service. 
Shared call center services, for instance, can let a seasonal firm manage more calls during peak business hours and fewer calls during off-peak hours.
2. Flexibility
Businesses can also benefit from greater flexibility and customization with shared call center services, as they can select the kind and quality of service that best suits their needs. They may choose the channels and platforms they like, the analytics and data they require, and the agents that best represent their brand and message. 
For example, a specialty company may utilize shared call center services to locate agents who are knowledgeable and enthusiastic about their offerings and can interact with clients via chat, email, social media, or phone calls.
3. Security
The security and privacy of company and consumer data and information are guaranteed via shared call center services. They can adhere to industry norms and rules, including HIPAA, PCI DSS, ISO, and more. 
In order to safeguard the data against loss, theft, or illegal access, they may also utilize the newest methods and technology. 
With the high-security level that BPO companies practice, a shared call center can be used by financial institutions to manage sensitive data and transactions, including credit card payments, bank account transactions, and personal data.
4. Technological Intervention
Modern technologies and infrastructure are easily accessible to SMEs through shared call centers. By utilizing cutting-edge communications technologies, call center outsourcing for SMEs may expect quality data management, boost client relations, and operational efficiency.
A software development firm called XYZ Tech Solutions focuses on making unique apps for companies. Their customer base is growing, and so is the demand for effective customer service. XYZ Tech Solutions chooses a shared call center solution instead of significantly investing in constructing an internal call center.
5. 24/7 Assistance
24/7 assistance for SMEs ensures worldwide accessibility, accommodates different time zones, manages peak hours, and allows for continuous service during emergencies. 
Beyond just being accessible, this ongoing help increases client happiness, loyalty, and adaptability to specific business requirements. SMEs can efficiently handle higher call volumes, offer prompt assistance outside of regular business hours, and maintain consistency in customer interactions. 
6. Cost-Effectiveness
One of shared contact centers' main benefits for SMEs is cost-effectiveness. These centers provide businesses with an affordable alternative by sharing operational costs among several companies, allowing them to obtain expert customer support services without spending on upfront expenditures. 
Startups and smaller businesses significantly benefit from this cost-sharing approach, which enables them to carefully deploy resources and concentrate on their core competencies or come up with more product innovation.
Magellan Solutions: Where Shared Call Centers Redefine Customer Service
Do you have a booming business with growing operational demands but lack the resources to fulfill them? Look no further! 
Magellan-Solutions specifically caters to small-medium businesses. Whether you need help with customer interactions, such as informing, explaining, resolving, assisting, and transacting, or back office services, Magellan-Solutions can handle it all for you. 
Don't miss this opportunity to partner with one of the Philippines' leading shared call center service providers. Call us today to get started!