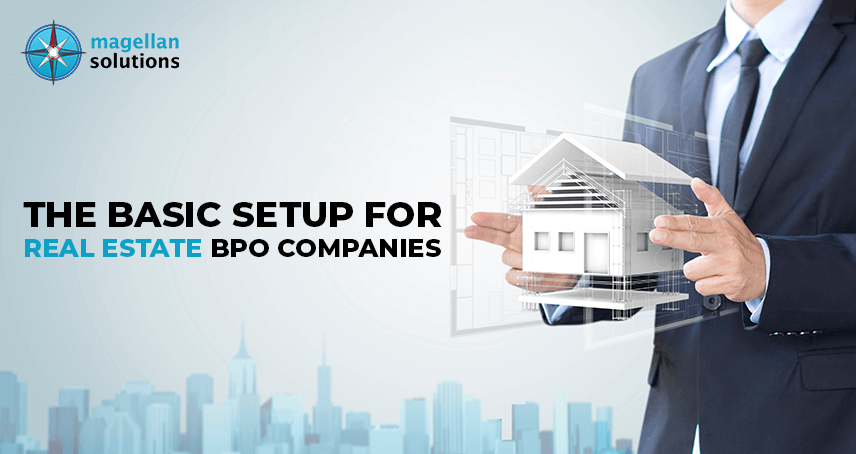 The Basic Setup For Real Estate BPO Companies
20 Highly Effective Real Estate Cold Calling Scripts You Need to Know
How BPO Real Estate Firms Can Maximize Their Operation Through Outsourcing
Outsourcing is the go-to when industries want to scale up and improve flexibility. Also, focus on core competency, and save costs. BPO real estate is no stranger to that need and has reaped the benefits of outsourcing in the last few years.
These needs are even highlighted for the Broker Price Opinion real estate companies. As their client lists are financial institutions. Such as banks, loss mitigation, and mortgage companies.
How
BPO Real Estate
Works
Real estate brokers perform BPO, which includes property inspection. They do this on behalf of the financial institutions. This is to provide an estimated value based on the property's characteristics. 
This value is in comparison with property value in the same area. As well as against similar properties nearby.
While BPO mortgage is for foreclosures or short sales. Processes involved in BPO property valuation are the following:
Information about the property's location, building type, and size

An overview of the local housing market and trends

The property's condition and its details

Analysis of three other comparable properties in the same area recently sold

Analysis of another three properties currently listed for sale

Report on the number of foreclosures in the area
On the other hand, BPO appraisal is a more complex process. It is a highly regulated, unbiased estimate of the property and requires a licensed appraiser to do so. This is often necessary for the following:
Home buying processes

Purchase mortgage approval

For pre-listing assessment before placing the property on the market

Home equity loan applications

Refinance applications
Various non-core and tedious tasks contribute to these processes. Real estate BPO companies can help streamline the processes.
Outsourced Roles
Real Estate BPO Companies
Needs To Outsource Today
1. Data Entry Specialists
Property documentation requires detail-oriented ability—plus faster encoding of such information into cloud-based data management tools.
Also, encoders for real estate listings understand the importance of accurate information. An error could affect a property's value.
2. Property Management Assistant
BPO companies have valuable clientele, such as banks and mortgage companies. Thus handles and manages multiple listings in various areas.
Your outsourced property management assistant acts like your in-house team. Depending on your requirements, this outsourced staff may perform the following tasks:
Tasks about lease contracts

Creation and placement of property ads

Scheduling of property viewings

Database and account management

Communication and liaison with landlords, tenants, applicants, and trades

General administrative tasks such as handling property inquiries and lease renewal management 
3. Market Research Specialists
BPO is crucial to ensure a property's valuation is at par with the latest market valuation and trends. Thus a market research team specializing in real estate is something indispensable.
These specialists can come up with comprehensive market reports and analyses. They can handle the market research compilation in support of your in-house team. The information they can draw up valuable and accurate market insights from.
This ensures you can provide the proper and accurate valuation to your clients.
4. Property Data Management
You can outsource staff to manage your property database. This ensures that every change with the properties or assets is up-to-date in real-time.
In turn, you can pull up this information and adequately relay it to your clients whenever needed.
Also, your in-house team doesn't have to deal with paper works and filing cabinets, as they can access them whenever needed.
5. Real Estate Accounts Assistants
BPO real estate often requires extensive trust accounts. Fortunately, this position does not always have to be in-shore. Your outsourced account assistant can cooperate with your in-house account managers. This is to ensure quality and accuracy.
In doing so, you only get talents with real estate accounting knowledge and experience. Tasks they can perform:
Trust accounts maintenance

Bank or bond reconciliation

Tenant and landlord invoice processing

Accounts receivable and payable processing

Utilities, trades, and rates pay runs

Tax Preparation

Property accounts management

Late payments, arrears, and defaults management

Strata management accounting

6. Real Estate Marketing Coordinator
This outsourced staff organizes photographs of properties for placing on advertising listings online. As well as sending emails and following up with potential buyers. They can also do tasks such as:
Property copywriting, putting up listings online and on print ads

Coordination with the multimedia team for property photoshoots

Image manipulation and enhancement

Database management

Social media marketing

Third-party websites management

Property inquiries management

Creation and design of marketing paraphernalia, such as property brochures
7. Strata Management Assistants
This involves assistance to the BPO real estate upper management. Which may include internal and external administrative tasks. These are the following:
Maintenance and repair work scheduling

Preparation of Agendas and Minutes of the Meeting

Issuance of keys, contracts, and emergency details to contractors, leasees, and owners
8. Virtual Executive Assistants
They can act as a point of contact between principals and business stakeholders. Tasks may include pre-screening of business calls and other communications. Also, scheduling and organizing meetings or property visitations and other administrative tasks. Other duties may include:
Connect property owners or principals to their clients

Business communications and reports management

Schedule, engagement, and travel arrangements

General administrative support
9. Lease Consultants
BPO real estate handles many properties, and keeping track is challenging. This staff can present properties to prospective buyers in a persuasive yet professional manner.
Also, they can assist property owners in looking for suitable tenants to keep their properties intact. They can also evaluate the tenant's requirements and financial capabilities. This is to ensure both are getting the best of the lease agreement.
Furthermore, they can handle advertising and marketing of properties in various channels. 
10. Telemarketing Officer
Targeted marketing, which telemarketing uses, is beneficial for BPO real estate. This can help your sales team zoom in on prospective clients compatible with your property listings.
Your telemarketing officer can warm up leads and entice them with your property offering. Then your salespeople can further hammer their interests down with customized proposals. Also, the CRM tools this telemarketing staff can give you insights which market segment your properties are more in-demand, which your realtors can set their sights on for more closed deals.
How Real Estate Outsourcing Solutions Work
Real estate companies may be different in many ways, but when it comes to outsourcing real estate roles from offshore BPO companies, there are prevalent ways to do so. Here are the key steps you can follow to do so effectively.
1. Inform your in-house team or existing employees about the plan to outsource and identify critical areas where you need additional help to streamline the overall process of concern.
2. Choose and engage with the right outsourcing provider
3. Create job descriptions for each role you intend to outsource from the third-party BPO provide so they can perform skill tests when interviewing potential candidates
4. Choose which candidates are suitable for the role and cooperate with your BPO company provider with the onboarding process and training
5. IT and facilities or infrastructure are no longer your concern as your BPO partner takes care of it
6. Your newly established offshore team can integrate with your current processes and may develop an ongoing performance management process with your BPO provider.
Signs You Need to Outsource Real Estate Solutions ASAP
Business owners fail to understand that outsourcing, when done right, contributes a lot to the business's overall efficiency without breaking the bank. That is why the BPO industry is booming and continues to strive even amidst the pandemic.
In line with that, here are the signs you need to start working with a BPO company.
1. Competitors are way ahead of you
It is a fact that the real estate industry is a competitive and cutthroat business. The challenge is always to stay ahead of real estate companies against competitors. Now if your business is struggling against the competition, this is where a reliable BPO company can help.
They can help you improve proficiency and maximize your overall business and employee capabilities. This way, you can position your company competitively despite the changing business landscape.
2. Tasks with no direct contribution to ROI and profit takes up too much time to process
Business processes are composed of tasks that may have a direct impact on your profit and ROI or not. However, if insignificant tasks take up too much of your employee's time to accomplish, it is a disadvantage for your business. It not only exhausts your employee's time but also takes up their skills and capabilities to perform far more valuable tasks for your business.
An outsourced team can efficiently handle all of your needed back-end tasks, giving your in-house employees the advantage to focus on tasks that matter.
3. Processes often come last
The real estate business focuses on securing deals and connection creation. However, this does not remove smaller, more tedious tasks from the equation to succeed. If such functions are neglected, it could affect your overall business operations and efficiency.
A reliable BPO company provides practical and economical solutions so you can get these tedious tasks done effectively without sacrificing the quality of the job accomplished.
Benefits of Outsourced Roles From
Real Estate BPO Companies
Flexibility
Outsourcing enables your BPO real estate firm to scale up or down depending on the season and requirements. You can lease a staff for specific roles you deem fit or build your offshore team.
This move benefits your in-house employees as they can maximize their performance and time in closing deals. Go after interested buyers and draw up marketing plans to ensure an updated listing and on top of buyers' choices.
Process Enhancement
Outsourcing is the perfect hybrid of human intellect and technologies—factors your real estate BPO firm can maximize with. You can hire staff adept at management tools for streamlined processes through them.
This also guarantees a faster turnaround time. As you can hire extra help with tedious processes depending on your project.
Improved Business Alignment
Outsourcing companies do not have to be in complete control of your tasks. You can assign a contact person and an in-house QA team to ensure quality. Also, as you free your employees of non-core tasks, they can dedicate more time to developing your business.
Cost Saving
Outsourcing has been proven to save your firm up to 70% in costs. This is about the overhead spending. Such as recruitment, office space, and equipment. Also salaries, benefits, supervision, and human resources.
Magellan Solutions Caters to
Real Estate
Companies
We are the only SME-focused real estate BPO company in the country. We deliver solutions and talents your BPO real estate firm may need. We have real estate specialists who have in-depth knowledge of your industry and its discipline.
We can assure you only get the best performance you can think of. All the while, deliverables are of high quality. Not to mention at a flexible pricing rate perfect for your business.
Magellan Solutions is ISO-certified, GDPR, and PCI DSS compliant, as we take pride in protecting our client information to its last detail. Your information is safe with us, and you can always count on it.
Contact us today to get your free 60-minute business consultation. Our business development team can help you create the service packages custom-fit for your BPO real estate firm. Fill up the form below!
TALK TO US!
Contact us today for more information.