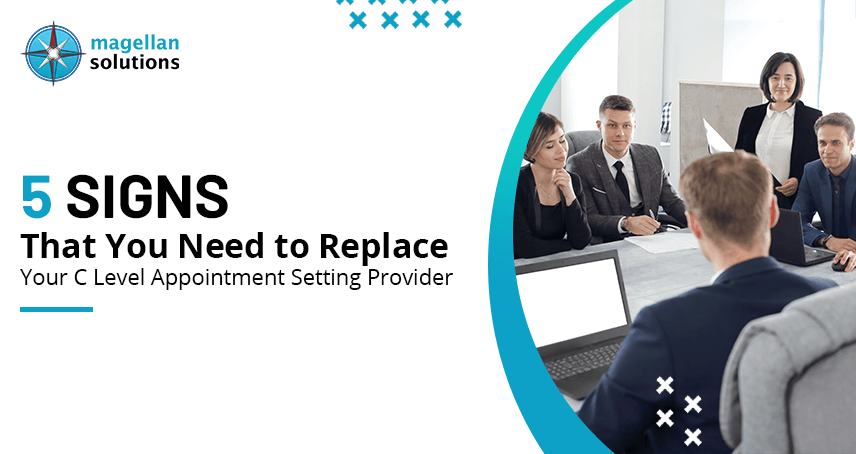 Is your C Level Appointment Setting Provider not delivering the results you want? Perhaps it's time to replace them.
Appointment setters assist a company's sales team by making phone calls to potential customers and setting up appointments for them to talk with a salesman.
However, some appointment setters do not even meet the minimum performance benchmark of their clients. While some deliver, the customer experience is terrible.
Furthermore, here are 5 signs that you need to replace your C Level Appointment Setting services provider.
What is a C-Level Appointment Scheduler?
If someone wants to book an appointment with you, they should not be limited by your business hours. Using a seasoned outsource call center will allow your customers to schedule appointments 24 hours a day, seven days a week, without putting a strain on your internal staff.
Outsourcing appointment scheduling creates a dedicated external team that never closes, regardless of time zone, allowing customers to schedule appointments whenever it is most convenient for them. Even if you have a robust online scheduling system, many customers prefer to make appointments over the phone in order to get real-time answers to their questions.
Why Replace Your C-Level Appointment Scheduler?
Everyone aspires to reach the pinnacle of achievement. 
For some companies, it means being able to move past AB-level decision-makers and engage C-level executives in terms of appointment setting. CEO, CIO, CFO, and all the other enticing titles may help your firm expand faster if you use the appropriate language and cadence.
That is why it is important to have the best appointment setting services out there.
If you are currently experiencing these setbacks and issues with your C-Level Appointment Scheduler, perhaps it is time to ditch them for something new.
Agents cannot solve issues
Agents can solve problems faster if they have access to a database that has all of the information they need. 
But they will, undoubtedly, face complex scenarios they will need to address quickly. They must use their critical thinking, resourcefulness, and inventiveness in such situations.
The problem occurs when agents cannot solve issues without your assistance. This is a problem that your company will need to resolve in a short period of time. Or else, high-level managers will turn their back on your brand.
Make it a point to ask about their Average Resolution Time the next time you meet with a call center partner.
Average Resolution is the time it takes for your call center's support agents to resolve all open tickets within a given time. Through this metric, you can observe if agents can solve their issues on time.
They pressure your C level customers too much
As an appointment setter, they need to use some traditional sales strategies to make the appointment.
Definitely, they will have to exert some pressure as a result of this. 
However, there is a limit to it. They do not need to exert too much pressure on the customer, or else it will leave a bad impression on them. 
In fact, if you come on too hard and too early, the prospective manager may become irritated and dismiss your brand entirely.
To measure this, look no further than the BPO's CSAT.
Customer satisfaction, often abbreviated as CSAT, is a measure of how happy your customers are with the services contact centers provide. 
BPOs directly ask the customers to rate their satisfaction with an agent, product or service. This typically comes in the form of a survey communicated through some channel to the customer (direct mail, email, phone, etc).
There is no consistency
It's one thing to deliver exceptional customer service on a one-time basis; it's quite another to do it on a regular basis.
Building a brand requires consistency.
According to the University of Nevada, a strong brand presence can be produced through careful and deliberate execution. Having a consistent brand message and tone also helps to develop trust.
To measure consistency look at your BPO's Net Promoter Score.
NPS measures both customer loyalty and customer experience. An always high NPS score, means your call center partner is able to maintain high-quality service.
High level managers wait too long
You may be asking questions like how to reach c level executives and how to convert them into sales? Well, the answer is simple: Respond immediately.
Your revenue relies on your customers. So don't keep them waiting long.
To check if your appointment setting service provider is keeping your customer satisfied, look at their First Response Time (FRT).
FRT is the time it takes interacting with your customers – whether they're disgruntled or simply have a query – it's important to be responsive and resolve their issues as quickly as possible.
A low FRT is equal to low and poor response.
Agents are not happy
Whatever business you work in, one thing is certain: without the right agents, call centers cannot provide a pleasant customer experience. 
Hiring the appropriate personnel can make or break a call center, but it requires more than just looking over resumes during the hiring process. Leadership and management teams have a responsibility to maintain morale and keep agents happy after they are hired.
Employee dissatisfaction can have a wide range of consequences, from high turnover and low productivity to revenue loss and bad customer service. You do not want that, of course.
So make sure that you partner with an appointment setting service provider with a high attrition rate.
Some call centers provide their Agent Turnover Rate.
Agent turnover rate is a KPI that includes the percentage of agents who resigned to work somewhere else. 
Customer happiness, call center scheduling, and staff morale are all impacted by agent turnover. Thus it should be included on a list of contact center KPIs to track over time.
If your call center partner is experiencing these issues, do not hesitate to switch to a reliable partner.
The Benefits of Outsourcing Your Appointment Setting Processes
Most businesses want to close deals with potential customers. However, due to a lack of appointment setting processes, it is difficult to establish a connection with customers.
A lack of appointments eliminates the possibility of further communication with leads. Furthermore, if no follow-up discussions are forthcoming from companies, it may lead to disappointment.
Opportunity to increase sales
Setting appointments allows businesses to increase sales by converting leads into paying customers. There are numerous ways to increase sales, but appointment setting is particularly effective because it provides salespeople with an exclusive opportunity to persuade their prospects.
Appointment setting allows company representatives to schedule time to speak with customers directly. Appointment setting gradually but steadily familiarizes leads with what businesses are marketing or promoting. These leads can get a sense of what they're getting into, and human interaction gives them the option of asking questions and clarifying concerns.
2. Saves time and improves productivity
Companies that use outsourced appointment setting services benefit from less time spent scheduling meetings with customers.
Aside from having trained appointment setters on staff, outsourcing providers may also use software scheduling systems to streamline the process.
This allowed sales teams to focus on their assigned tasks of presenting to customers and closing deals. Concentrating on customer meetings allows salespeople to improve their presentations without being distracted by other pending tasks for the day, such as appointment setting.
Companies can ensure daily productivity by outsourcing appointment setting processes. While there are prospects to close deals with, there are also important tasks to complete within the organization.
3. Stay updated 24/7
Appointment setting services will let you know when a new prospect sends you a message, makes a booking, or visits your website. That way, you have the chance to respond to special requests when you receive updates.
4. Speeds Up Result
It could take months to find the right person if you do appointment setting internally. Your goal of expanding by selling may also be jeopardized, and it may take months to see results. Outsourcing expedites this process. It would also be much easier to see the results, particularly if your outsourcing partner provided accurate reports on a regular basis.
There may be additional reasons that each company can share based on their own experiences. Some companies may still be doing this, while others have most likely discarded it. However, it is still important to understand what appointment setting is and how important it is to your company – whether it is large, small, medium-sized, or a start-up. It can make a significant difference in the success of your business.
The Best C Appointment Setting Services Provider
We are Magellan Solutions, the #1 appointment setting service provider for SMEs.
We are an ISO-certified company with 18+ years of experience in the industry. You can guarantee that behind everything we do is extra focus on quality and protection.
If you want to know more about who we are and what we do, just shoot us a message.
You can contact us by completing the information below.
TALK TO US!
Contact us today for more information.