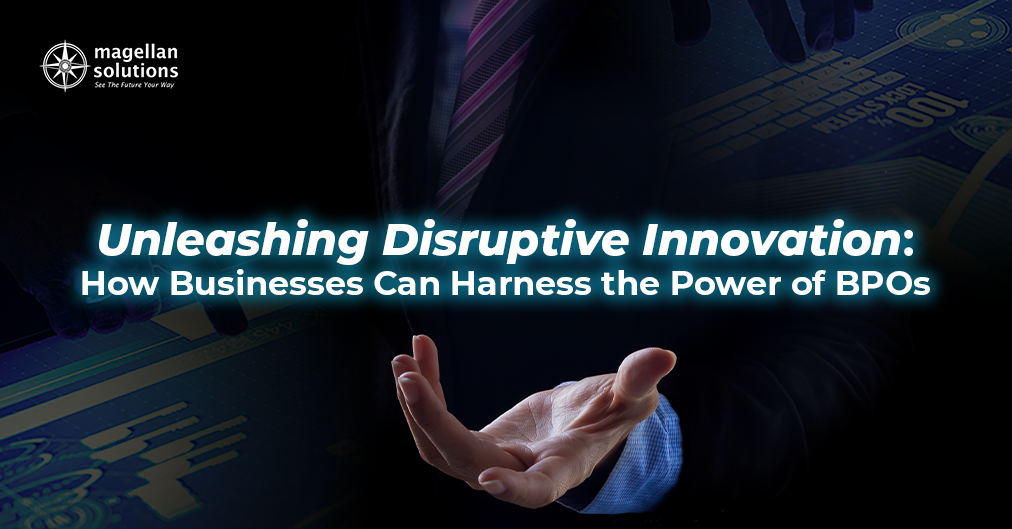 Unleashing Disruptive Innovation: How Businesses Can Harness the Power of BPOs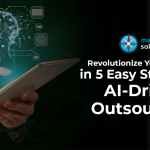 Revolutionize Your Business in 5 Easy Steps with AI-Driven Outsourcing
AI is upon us and is now disrupting many industries, including outsourcing. Education, healthcare, human resources, and even the legal industry are being disrupted by AI. It is transforming traditional approaches and offering new opportunities. 
AI is transforming education through personalized learning, task automation, and increased convenience. Artificial intelligence is changing healthcare outsourcing by enhancing patient care processes, results, diagnostics, analytics, and resource allocation. AI is transforming the legal sector by evaluating legal papers, advancing research, and enabling lawyers to concentrate on crucial tasks. 
Outsourcing enables companies to focus on the crucial aspects of their business. The outsourcing environment is changing because of artificial intelligence (AI). With the rise of AI, have you ever wondered how AI is transforming outsourcing? 
Businesses are stepping into a new era of efficiency and innovation. AI-powered outsourcing is now in the spotlight. Businesses may seize never-before-seen chances for expansion and innovation in a digital world. 
AI includes machine learning, natural language processing (NLP), and robots. It automates repetitive jobs, analyzes data, and enhances human capabilities. AI offers something new by automating repetitive processes and enabling advanced data analytics.
Today, we will explore how AI is revolutionizing outsourcing. We will look at how AI is transforming outsourcing. We will emphasize how it can redefine success in the global economy.
The Evolution of Outsourcing
Traditional outsourcing methods have long been a pillar of corporate strategies. It helps businesses make use of other resources and knowledge. Outsourcing can pose problems such as quality control, cultural differences, and communication. Making informed choices requires an understanding of the complexities of traditional outsourcing processes. 
AI's revolutionary potential is changing traditional outsourcing techniques and providing new commercial opportunities. Businesses can boost productivity and cost-effectiveness by taking advantage of greater efficiency.
Understanding AI in Outsourcing
So how is AI revolutionizing outsourcing exactly? Understanding AI's foundations and basic principles is essential. AI is the creation of systems that can do things that require human-like intelligence.
AI makes use of the following technologies:
Machine learning: It allows algorithms to gain knowledge from data and form judgments. It automates jobs, analyzes massive volumes of data, and streamlines business processes.
Natural language processing: It enables computers to comprehend and translate human language. NLP enables effective customer interaction using virtual assistants, chatbots, and voice recognition technology. 
Robotics: It entails the automation of tasks using real or virtual robots. By automating labor-intensive operations, it has changed the outsourcing landscape. This leads to enhanced efficiency and productivity.  
Knowing the key components can help businesses understand how AI is transforming outsourcing. It is changing the outsourcing industry and providing business opportunities. 
The Benefits of AI in Outsourcing
Let us discuss how AI is revolutionizing outsourcing. The advantages of AI in outsourcing will be tackled below:
A. Increased Efficiency and Productivity
AI has significant advantages in outsourcing, showcasing how AI is transforming outsourcing. One of the key benefits of AI in outsourcing is increased efficiency. 
AI-powered automation simplifies repetitive tasks that are tedious and costly. It enables employees to concentrate on more strategic and intricate duties.
AI also analyzes data in real-time and supports decision-making. Businesses acquire insightful knowledge from the ongoing analysis of massive amounts of data. It enables them to make rapid, well-informed decisions. Organizations can remain flexible and respond quickly to shifting market dynamics.
B. Improved Quality and Accuracy
AI algorithms can reduce human errors and biases in manual processes. Businesses can reduce the risks associated with human errors by automating operations. 
AI performs advanced data processing and analysis, which enables companies to gain insights. AI can discover patterns and trends. It gives organizations the ability to make data-driven decisions. 
Using AI can increase the quality of processes and decision-making. It will improve results and give them an upper hand in the market. 
C. Enhanced Customer Experience
Virtual assistants and chatbots have transformed how companies communicate with their customers. These technologies can offer tailored assistance. It can respond to client questions and handle problems. Businesses can provide support around the clock by utilizing AI skills.  
Additionally, NLP has enhanced response times and communication. NLP allows computers to comprehend and analyze human language. It will enable smooth and organic interactions between customers and AI-based systems. By using NLP, companies can answer customer inquiries and provide personalized recommendations. 
Businesses may develop client loyalty and fulfillment, leading to business success. 
D. Cost Savings and Scalability
By using AI, there are considerable cost reductions and improved scale. AI facilitates the efficient distribution of resources, which minimizes waste and lowers expenses.
Businesses can increase efficiency and reduce costs by automating tasks and streamlining procedures. Companies can allocate resources efficiently and make wise decisions that maximize their operations.
Moreover, AI provides adaptable scaling alternatives that cater to changing business requirements. Businesses can adjust their operations depending on their needs. Companies are more responsive to changing market conditions.
AI opens the possibility of cost reductions and the flexibility to scale operations. It gives companies a competitive edge, setting them on the road to success.
AI in Key Outsourcing Functions
A. Customer Support
Businesses may transform their customer service and deliver effective and seamless experiences. AI-powered chatbots are helpful resources for answering questions from customers and addressing problems. It allows employees to concentrate on more specialized work.
Voice recognition technologies have transformed call center operations, along with chatbots. AI-powered voice recognition systems enable automated call routing and speech analysis. It facilitates efficient and accurate customer interactions.
Businesses can provide 24/7 assistance and outstanding customer service. 
B. Data Analytics and Insights
By using AI, businesses can examine massive datasets to get valuable insights. AI can find patterns, trends, and correlations that human analysts can miss. It allows companies to make accurate and data-driven decisions. 
Evaluating historical data with machine learning algorithms can assist in forecasting future outcomes. It allows companies to seize new opportunities, reduce risks, and improve their strategies. 
Applying AI can allow businesses to maximize their data's full potential. Companies can improve their game in today's data-driven world by adopting AI. It will help them establish their reputation and profits. 
C. IT and Software Development
AI has also contributed to the increasing efficiency of the IT industry. Businesses may speed up software development and testing through AI. It can cut down on manual labor and increase productivity. Moreover, AI also identifies potential threats that can reduce security breaches and bugs. 
Overcoming Challenges and Ensuring Success
AI-powered outsourcing requires a strategic approach and skills to succeed and overcome obstacles. Addressing issues with AI implementation is a crucial component. 
Building trust and confidence requires addressing challenges such as:
Data privacy

Security

Ethical considerations
Communication and robust governance frameworks are essential to minimizing the risks of AI implementation.
Choosing the right outsourcing vendor for your needs is essential. It is crucial to consider these factors before partnering with an outsourcing company:
Track record

Experience

Expertise
Before hiring your potential partner, assess their track record first. It ensures seamless workflows and transactions. Successful relationships require a collaborative approach and open communication.
A collaboration between human experts and AI guarantees optimal results. AI is here to provide efficiency and automation. It further enhances the work of humans. Better results come from skilled professionals and a collaborative environment. 
Businesses can navigate their way to success by using effective strategies. Collaboration between humans and AI can optimize outsourcing and drive growth.  
Embracing Human-AI Collaboration
We will know how AI is revolutionizing outsourcing. AI is in charge of analyzing data and automating it. Human expertise like critical thinking, handling emotions, and creativity are also essential. Collaboration between AI and human expertise is crucial to maximizing the benefits of AI. 
Business owners can enjoy both human expertise and AI through outsourcing. Human experts can concentrate on challenging projects, while AI can handle repetitive tasks. 
The outsourcing industry is changing as a result of AI and human collaboration. Business owners must understand how AI is revolutionizing outsourcing. With AI and human expertise, businesses can take their operations to the next level. They can maximize the potential of AI and human expertise to drive growth. 
Wrapping It Up…
Nobody can deny the fact that AI will change the outsourcing landscape. AI technologies have transformed traditional outsourcing processes. It provides firms with access to efficiency, accuracy, and innovation. 
Adopting AI can be a turning point for businesses that wish to grow. It can automate repetitive operations and analyze data. AI presents unmatched prospects for improved efficiency and innovation. 
Companies may improve customer experiences, streamline processes, and make data-driven decisions. Businesses can improve their efficiency and profit while creating new growth opportunities. 
To drive success, business owners must incorporate AI-powered outsourcing into their businesses. It will also help them establish a good reputation in the market. 
Magellan Solutions Will Help Revolutionize Your Business With The Power of AI-Powered Outsourcing
When it comes to providing outstanding outsourcing solutions, Magellan Solutions has a strong track record of accomplishment. Don't miss out on this incredible opportunity to transform your business. 
Our experienced team will guarantee efficiency and growth. Work with Magellan Solutions to streamline your business and deliver excellent results. 
For two decades, we have been a top-tier provider of call center services. Additionally, we are an ISO-certified and HIPAA-compliant company offering an extensive range of high-quality outsourcing services. Reach out, and let's talk about how we can help you achieve your business objectives.
Contact us and start your journey toward business growth and success. Optimize your operations like never before.