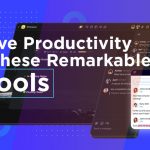 Improve Productivity with These Remarkable AI Tools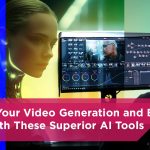 Elevate Your Video Generation and Editing Game with These Superior AI Tools
Website creation is vital in the digital age since it is a portal for people to interact online. A well-designed and optimized website is crucial for building a solid online presence. A good website must draw in clients and exhibit goods or services. Website building has become an essential component of success for organizations. It paves the way to the rise of AI tools for website development.

Artificial Intelligence (AI) tools are crucial in revolutionizing website development. Website design and content development are now more creative and customized.
AI-driven algorithms that monitor user behavior, preferences, and trends provide intelligent website recommendations and layouts to improve the user experience. AI also automates repetitive operations, such as content creation and optimization. It helps website designers save time and money.
This article examines notable AI technologies facilitating website development in the digital age. We want to give readers tips on improving their website development process. Building a website can help readers attract audiences.
Benefits of Using AI Tools for Website Development
Intelligent Website Design and Layout Recommendations 
AI tools analyze user behavior, preferences, and industry trends to enhance website design. These tools use data-driven insights and programming languages to make smart recommendations for website layouts. By creating visually appealing and easy-to-use designs, websites can attract and engage visitors, leaving a lasting impact.
AI's ability to adapt and optimize designs based on user interactions allows websites to evolve continuously. It provides an unmatched experience that encourages return visits.
Automated Content Generation and Optimization
Content generation can be time-consuming, but AI tools streamline the process through automation. With the power of natural language processing, AI can generate relevant and high-quality content, reducing the need for manual content creation. Furthermore, AI-driven content optimization ensures that the produced content aligns with SEO best practices, improving search engine visibility and driving organic traffic. By automating content creation and optimization, website developers save valuable time, allowing them to focus on other crucial aspects of website development and digital marketing strategies.
Personalized Website Customization 
Customizing a website based on user behavior and preferences is crucial for engaging modern audiences. AI tools excel in this area as they analyze individual interests to personalize the user experience. It creates a connection and sense of relevance. It leads to higher user engagement and conversion rates. 
Moreover, personalization enhances brand loyalty as users feel valued and understood. It results in increased customer retention and recurring visits.
Noteworthy AI Tools for Website Development
Typedream
Typedream simplifies the website development process with its unique AI-powered features. AI-driven content generation is one of the tool's essential capabilities. It enables users to produce captivating, simple, and SEO-friendly writing. Typedream is an AI website builder that makes it simple to develop content. It is ideal for people looking to build engaging websites without design knowledge. Website designers can devote more time to other important facets of website creation. It makes the process of creating websites easy and quick.
Framer
When it comes to interactive design and AI-driven prototyping, Framer stands out. Users can design interactive, high-fidelity website prototypes with the application. The performance of the finished website is previewed. Its capacity to validate design choices early gives Framer its unique power. Website designers can develop visually appealing and user-friendly websites. A great user experience may help businesses create impressive websites.
Webflow
Webflow is a powerful AI-driven platform for the web development process. Its drag-and-drop interface makes website customization and layout changes simple. Also, Webflow's AI-based responsive design capabilities guarantee that websites appear flawless. It functions perfectly across a variety of devices and screen sizes. Webflow allows for website creation that fits the requirements of businesses. Website designers can create highly personalized websites that match their identities and objectives.
Expert Solutions for Utilizing AI Tools for Website Development Effectively
Unlocking the potential of website creation requires both AI and human intelligence. Human creativity adds a distinctive perspective and emotional touch to website design. AI excels at automating monotonous processes and producing data-driven insights. Website designers may create websites that impress with their visual appeal. Additionally, it engages users on a deep level. Websites stand out when an AI assistant and human creativity are balanced in the digital scene. It makes a lasting impression on viewers.
AI analytics offers priceless insights into user behavior and website performance. By utilizing AI-driven analytics, website designers can collect information on the following: 
User interactions

Engagement trends

Content performance
These data-driven insights enable thoughtful decision-making when it comes to fine-tuning website components. It improves the user experience and customizes content to suit user preferences.
By analyzing AI-generated data, website creators can use data-driven insights to: 
Improve their website

Increase conversion rates

Achieve exceptional performance
Stay Ahead in the Digital Landscape with AI-Driven Websites
The transformational potential of AI in website development is unmatched. 
AI tools revolutionize website creation by: 
Making intelligent design suggestions

Automating the creation of content

Delivering individualized user experiences
Thanks to AI's real-time ability to evaluate data and user behavior, websites can change and adapt. Website creators can design functional websites that captivate audiences and achieve success.
Staying ahead in today's competitive digital economy is essential. Businesses need websites that stand out and have a lasting impact. The key to success is a well-designed and optimized website. It enables companies to entice potential clients and foster brand loyalty. Companies can maintain an internet presence that gives them a distinct competitive advantage.
Website developers can advance their website-building process to new heights. Reading this article will help readers develop outstanding websites that:
Connect with their target audience

Increase engagement

Experience extraordinary success
Transform Your Website Creation with AI Tools for Website Development
Are you ready to take your website application to the next level? Take advantage of the AI tools' potential to revolutionize your online presence. With Magellan Solutions, you can position your brand for outstanding success in the ever-changing digital landscape. 
Our expertise and experience in development services make us an ideal partner for your business. Work with Magellan Solutions to streamline your business and deliver excellent results. 
For two decades, we have been a top-tier provider of call center services. Additionally, we are an ISO-certified and HIPAA-compliant company offering an extensive range of high-quality outsourcing services. Reach out and discuss how we can help you achieve your business objectives.
Contact us and start your journey toward business growth and success. Optimize your operations like never before.