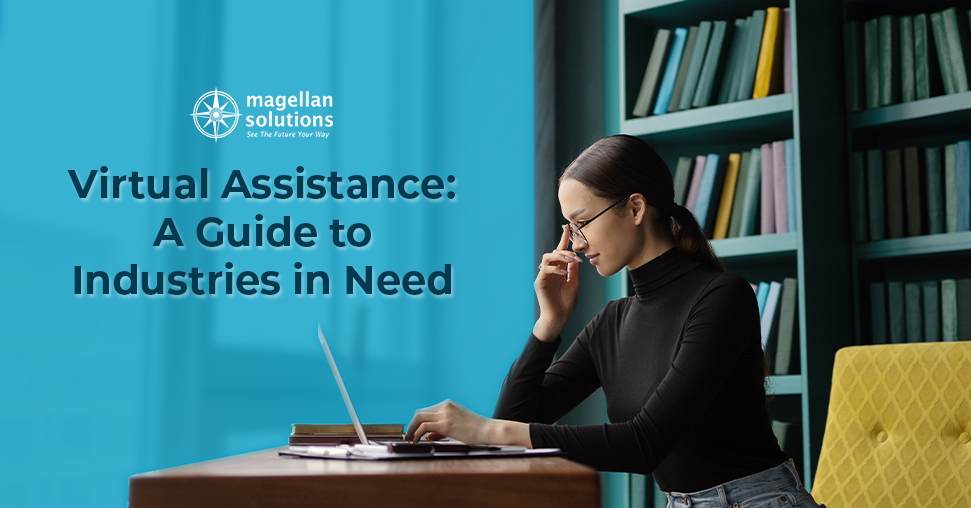 Virtual Assistance: A Guide to Industries in Need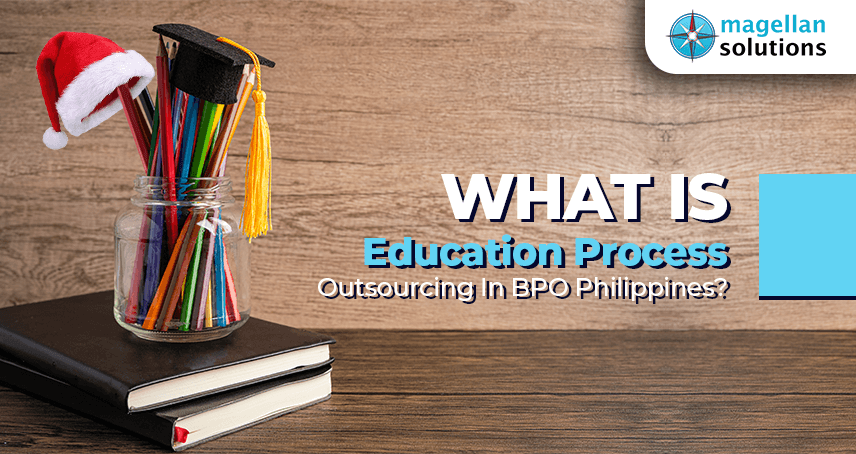 What Is Education Process Outsourcing In BPO Philippines?
Analyzing call center performance is best done through data and analytics. Several visualization techniques can be used to achieve this. Using this analysis, call centers can identify trends that point to issues inside their departments with less dependence on intuition or bias.
Another effective way to analyze call center performance is by conducting surveys and interviews. These are helpful ways for a business to gather information about its employees' attitudes, behaviors, and productivity. Structured interviews ask questions about specific topics, such as service demands and the quality of customer service your agents provide regularly.
Call center performance metrics can gauge the effectiveness of customer service teams. The primary objective of call center performance analysis is to improve governing, improve customer understanding, and enhance business processes through data-driven problem-solving.
What is the best way to measure call center efficiency?
Call center managers closely monitor trends and patterns and search for information that can be used to enhance customer service. Call centers use key performance indicators (KPIs) to measure their performance.
Executives need strategic measurements and KPIs to monitor to build a financial case for excellent customer service. Management teams need more detailed metrics to manage customer service and workforce effectively.
Call center performance metrics include customer satisfaction, handle time, call volume, and costs. Using these metrics to measure performance, the call center staff can maximize their productivity and effectiveness, ultimately reducing costs. And to evaluate agents, several variables, including client satisfaction, attitude, and expertise, are considered.
Call Center Metrics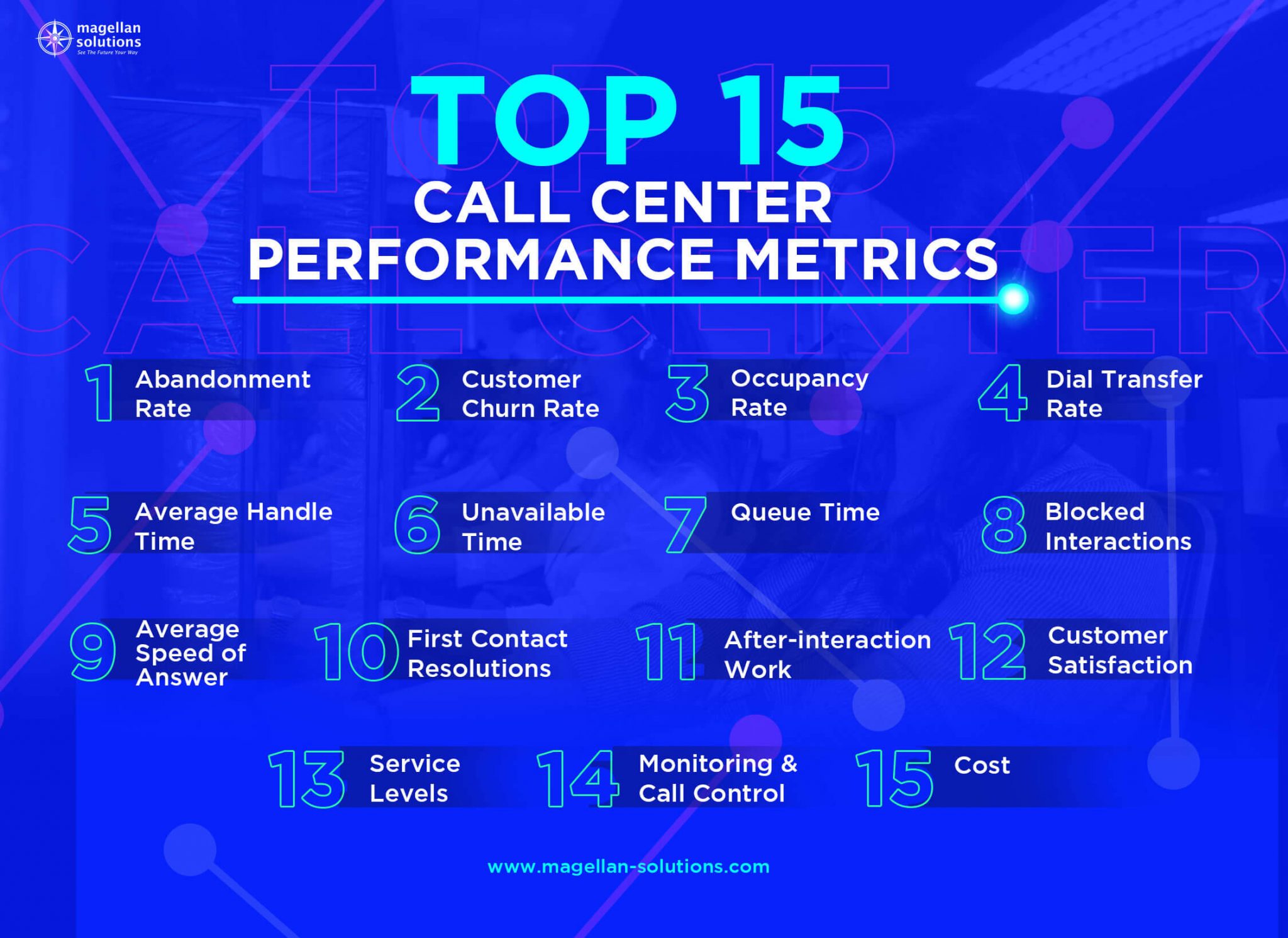 Source: Magellan Solutions
Evaluating performances is inevitable. Analyzing call center data enables the management to monitor employees' efficiency and improve areas that require attention. There are various factors to consider in analyzing call center performance. We have listed the top call center performance metrics below.
#1) ABANDONMENT RATE
The number of callers hanging up before reaching an agent is called the abandon rate. It's essential to remember that a small portion of callers might dial the incorrect number and hang up as soon as they hear your company name.
There is a possibility that your abandonment rate is high because of some issues affecting your agents. Continuous training and quality monitoring can help prevent problems or issues that might arise.
Improve the tools for evaluating your agents' productivity and tweak the method you use to manage call center performance.
#2) CUSTOMER CHURN RATE 
The customer churn rate calculates the percentage of customers who have discontinued using your service over a specified time.
#3) OCCUPANCY RATE
Occupancy rate refers to how much time the agents spend on active calls or wrapping up tasks linked to those calls.
Occupancy rate can also be used to gauge burnout. Being overwhelmed with calls can result in reduced productivity.
#4) DIAL TRANSFER RATE
Dial transfer rate reveals how often an agent transfers interaction to another agent. Targeting this rate is challenging since many dial transfers are determined by policy and procedures.
#5) AVERAGE HANDLE TIME
Average handle time (or average hold time) measures the average time between when an agent picks up the phone and when the call is disconnected. This can help reduce call wait times and determine which agents are efficient.
There are chances that agents put callers on hold because of the following:
They do not know the answer to the queries
They are not sure on how to respond to issues
They have to look for the appropriate response to the callers
When the number is alarming or requires attention, you can resolve the issues by modifying processes, integrating training and monitoring, and improving management.
#6) UNAVAILABLE TIME
Call center agents cannot answer incoming calls due to factors like being on break and attending to other work-related tasks, which make them unavailable. Setting a schedule or time for agents to attend to these factors can be an excellent way to prevent being labeled inefficient.
#7) QUEUE TIME
Queue time is another call center metric worth noting in analyzing performance. This refers to the amount of time callers spend waiting in call queues.
When callers tend to wait longer, you can motivate your team to perform better by asking for feedback to help them reflect on their challenges.
#8) BLOCKED INTERACTIONS
The metric "blocked interactions" measures the number of contacts that failed to reach any agent, reducing the total number of client contacts. This is common during busy periods when inbound calls are asked to try again later. If this metric is too high, your agents may miss opportunities to assist clients, causing frustration. It's crucial to minimize blocked interactions to ensure top-notch customer service.
#9) AVERAGE SPEED OF ANSWER 
This call center performance metric shows the amount of time agents spend answering a call connected to the call center.
#10) FIRST CONTACT RESOLUTION
It monitors the number of calls in which the agent successfully resolves the caller's issues without needing a transfer, escalation, or callback. Since this metric concerns customer satisfaction, fixing a problem on the spot is crucial.
#11) AFTER-INTERACTION WORK
This call center performance metric estimates the time an agent spends working on tasks related to a client encounter after the call has ended.
#12) CUSTOMER SATISFACTION
The critical aspects of customer interactions, such as courtesy, efficiency, and decency, which are under the agent's control, should be the emphasis on customer satisfaction rankings. Management teams may find possibilities to give additional agent training to address particular call types if they can analyze customer satisfaction levels at a more detailed level.
#13) SERVICE LEVELS
This indicator gauges agent productivity in real-time based on the number of calls answered within seconds. The quality of your service reveals whether your company has the resources necessary to meet customer demands. This metric indicates whether clients are connected to agents promptly and if their issues are resolved immediately.
#14) MONITORING & CALL CONTROL
Supervisors or quality assurance teams monitor the agent's phone conversations and evaluate them based on various criteria, such as critical thinking, policy compliance, and customer interaction. This can identify areas of improvement regarding coaching and further training to become efficient.
#15) COST
You can optimize your call center operations and make it even more profitable if you know better how much your customer support costs compared to your overall income.
It is essential to pay close attention to your reports and trends. You will be able to look into the cause and take the necessary steps to fix problems that will arise without spending a lot of time and money.
The Bottom Line is…
One of the best ways to evaluate call center performance is to have a comprehensive list of the qualities of the clients who are the lifeblood of your company. You can discover areas that need development and offer suggestions for how to boost future performance by analyzing this data. To effectively assess call center performance, looking at both short- and long-term measures is crucial.
To enhance call center performance, it is crucial to evaluate metrics that can help pinpoint areas that require improvement. Good customer service is one of the many elements that contribute to a company's success. Setting and maintaining reasonable goals can help your employees understand what to expect from one another, which will help your clients.
If you want high-quality services, we need to track what the employees do and evaluate their performance regularly. A company should understand its strengths and weaknesses before trying new ideas because if these fail, you may face financial repercussions if they do not take off.
Magellan Solutions Can Guarantee Standard Outsourcing Services
Our outsourcing experts are committed to providing quality and reliable services for your business objectives. Magellan Solutions can help you cost-effectively achieve optimum results.
As a leading provider of call center services for over a decade, we pride ourselves on offering only the highest quality outsourcing services. On top of that, we are an ISO-certified and HIPAA-compliant outsourcing company. We provide a great variety of quality outsourced business solutions.
Give us a call, and let us discuss your business goals.