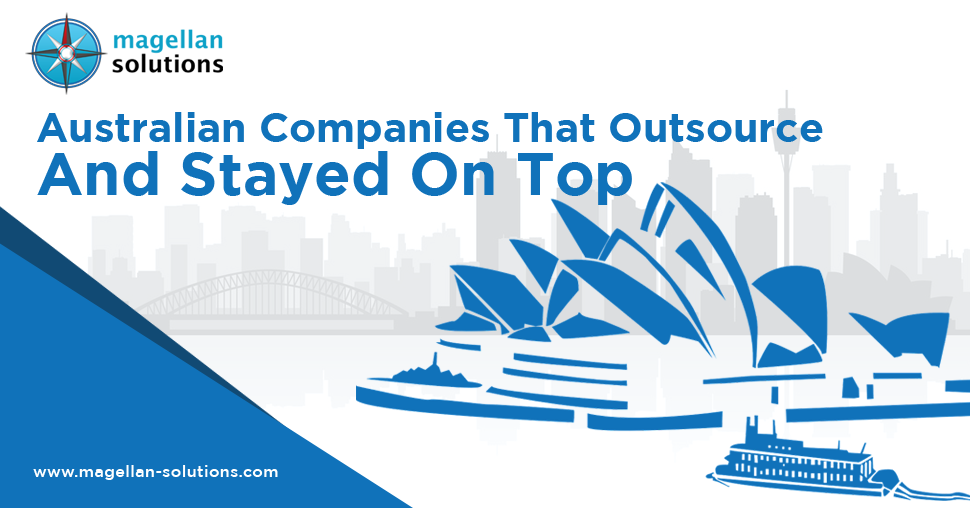 Outsourcing has become a global phenomenon. What was once thought of simply as a means to save costs has become an effective tool in helping companies grow and expand. Key industry players, at most, benefit from this business activity. Even startups and small businesses are now taking advantage of outsourcing to supplement whatever is missing in-house.
In this article, find out some of the major Australian companies that outsource work. 
Australian Companies that Outsource
Wesfarmers
This conglomerate specializes in diverse business operations including apparel and general merchandise, office supplies, industrial and safety products, and home improvement and outdoor living. It also operates mines and writes insurance.
Wesfarmers' industrial and safety division outsourced voice and data networks to let its internal IT team focus more on service delivery rather than network management.
Woolworths
This Australian retail giant operates supermarkets and a growing number of general consumer stores. Woolworths also specializes in the procurement of food, liquor, and other products. It has involvement in various consumer goods and services such as accommodations and gaming operations.
Aside from service management, Woolworths entrusts its last-mile courier and logistics delivery to several third-party contractors. 
Westpac
Westpac Banking Corporation is the oldest bank in Australia and considered one of the four major banking organizations in the country. Headquartered in Sydney, it provides a wide range of banking and financial services to individuals, small businesses, institutional and government clients, and multinational corporations.
Westpac sought support in technology and other areas of back-office administration. The financial institution also showed interest in outsourcing its human resources operations.
Rio Tinto
Rio Tinto ranks as the world's second-largest mining corporation and Australia's third-largest company in terms of market capitalization. As a pioneer in this industry, it finds, mines, and processes mineral resources ranging from gold, iron ore, aluminum, copper, diamonds, borates, petroleum, uranium, and coal.
This mining company is not new to outsourcing. It already outsources several of its functions to various service providers. Legal work, technology and application management, application development, and service desk are some of the known services being taken care of by third-party contractors. Rio Tinto also considered outsourcing some of its support functions like finance, human resources, procurement, and IT.
Telstra
The largest telecommunications company in Australia, Telstra provides users with a wide array of technology solutions spanning from mobile phones, internet plans, pay television, Internet of Things, and many more.
Like Rio Tinto, Telstra goes to outsourcing because of the quality of service they can get from this business activity. Aside from its 24/7 operations, outsourcing also offers unique technologies and better innovation. Among the services it outsources is customer service from the Philippines. 
Transurban
Transurban is a toll road operator and technology company headquartered in Melbourne, Australia. It builds and operates toll roads in major cities in Australia, the United States, and Canada. The company is also involved in research and development of innovative tolling and transport technology.
Since 2010, Transurban has been using contact center services from the Philippines for its toll networks in Sydney and Melbourne. This is to ensure continuous customer service improvement.
BHP
BHP is another global mining giant that extracts and processes minerals and explores oil and gas. Its headquarter is in Melbourne. BHP is one of the Australian companies that outsource various jobs. It has around 43,000 outsourced workers from different parts of the world.
Brambles
Brambles is a supply-chain logistics company that pools unit-load equipment, crates, containers, and pallets. With operation in more than 60 countries, it utilizes the circular business model (share and reuse) to deliver more goods to more customers while minimizing its impact on the environment.
One of the services Brambles outsourced falls under the finance function. It aims to utilize the IT systems of its chosen third-party contractor rather than implementing its systems. This move sent around 150 jobs offshore.
Amcor
Amcor had outsourced its domestic information technology services. With 250 sites in more than 40 countries, this global packaging company develops and produces packaging for pharmaceutical, food, beverage, personal care, technical applications, and many more.
Commonwealth Bank of Australia
The Commonwealth Bank of Australia is considered as the biggest bank in the country and the second-largest firm on the Australian Security Exchange. Its businesses span across Asia, New Zealand, the United Kingdom, and the United States. It offers different banking, insurance, stock, and fund management services for individuals and businesses.
This financial institution has signed a deal with a global outsourcing company for the provision of its payments system.  
Optus
Another Australian company that outsources jobs is Optus. Among the functions it has decided to outsource are its human resources and back-office financial and accounting operations.
Optus is the second-largest telecommunications firm in the country.
Why Do Aussie Giants Outsource to the Philippines?
The global outsourcing industry in the Philippines has grown exponentially as businesses seek ways to maximize their resources and expand their profit margins. Because it lowers overhead expenses, companies can thrive amidst the fierce competition, market saturation, and the ever-increasing costs of raw materials, office spaces, and the labor rate.
While many of its clients came from the US, many Australian clients are choosing the country as well. These are just some of the reasons why outsourcing to the Philippines is a preferred destination. 
Time difference.

The time difference between Australia and the Philippines is only two hours, making it easier for Filipino service providers to adjust their working hours. Unless the Australian clients are interested in 24/7 services, they don't need to pay for extra night differential. In most cases, the shift of Filipino teams working for their Australian clients begins at 6 am and ends at 3 pm, which most employees prefer so they can avoid the rush hour.

Proximity.

The Philippines is only a 6-hour flight away from Australia. With its proximity and inexpensive flight ticket, clients can easily visit their offshore team. 

Talent.

The Philippines is the home of talented and hardworking individuals who can perform several jobs — from repetitive tasks like data entry to specialized services like data analysis and legal work. Pro-tip: The country performs best in customer support and chat services.

Business models.

Clients have the liberty to choose the business model that suits their business. Whether they want to entrust the entire function to the BPO company, take care of the training of employees, or oversee the entire operation of their team without worrying about the admin and payroll matters, they can find it all in the Philippines.

High-skill jobs for onshore employees.

By eliminating low-value jobs and transferring them to offshore locations, Australian companies can offer high-skill jobs to their local employees. It also gives them the ability to focus more on their core tasks, thereby increasing the overall productivity and efficiency within the company.
Australian companies that outsource to the Philippines experience more growth through cost-reduction and business expansion. With its reputable and well-known BPO companies, the country remains a reliable offshore destination.
Interested to outsource? Check out our call center services page or talk with our team by filling out the form below.
TALK TO US!
Contact us today for more information.