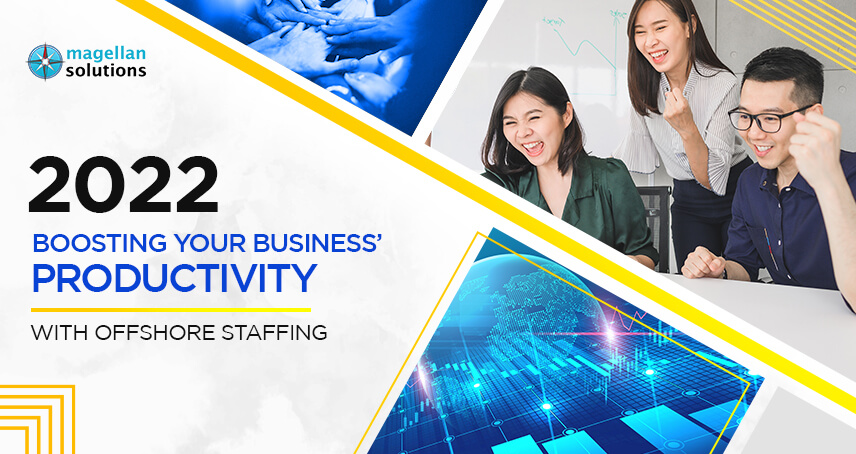 Boost Productivity with Offshore Staffing
Nowadays, we live in a world that is highly interconnected and virtually borderless. Geographical barriers no longer limit businesses. They are able to set up subsidiaries anywhere in the world.
Not only that, but they have the ability to transfer resources like technology, machinery, knowledge, and even humans globally. Businesses have been utilizing offshore staffing for a number of years as a way to reduce expenses and boost productivity.
Are you having a hard time finding and retaining the right employees for your business? The most suitable option might be to establish an offshore staff for your business. Offshore staffing enables you access to great talents at a fraction of price. You will see a significant cost reduction as well as increased efficiency and agility with full retention of quality work.
To further understand how offshore staffing works and why offshore staffing should be considered a strategy for your business' growth, continue on reading this article.
What is Offshore Staffing?
Offshore staffing is a type of outsourcing where a business lets a third-party give you access to a pool of skilled talents overseas who meet your requirements. From the term itself, the offshore staff employed is based abroad. You can spend less on personnel and infrastructure costs by hiring great talents.
Big or small companies, having qualified and talented employees at a reasonable price is essential. The process of hiring such skilled talents is rigorous and costly for the company itself. Once they are employed, you will also need to invest a significant amount of time and money in their management and training.
Nearshore Staffing vs. Offshore Staffing
The practice of hiring personnel from a nearby nation is known as nearshore staffing. Companies who want to outsource their work but do not want to struggle with the language barrier or culture shock of dealing with people from a different nation are increasingly turning to this alternative.
As discussed earlier, offshore staffing is the process of recruiting talented employees from overseas, geographically far from the headquarters of the company in need of the staff. It may be easier to recruit workers with the required skill set in nations with a broader talent pool.  
Pros and Cons of Nearshore and Offshore Staffing
After defining nearshore and offshore staffing, let us discuss the advantages and disadvantages of each strategy: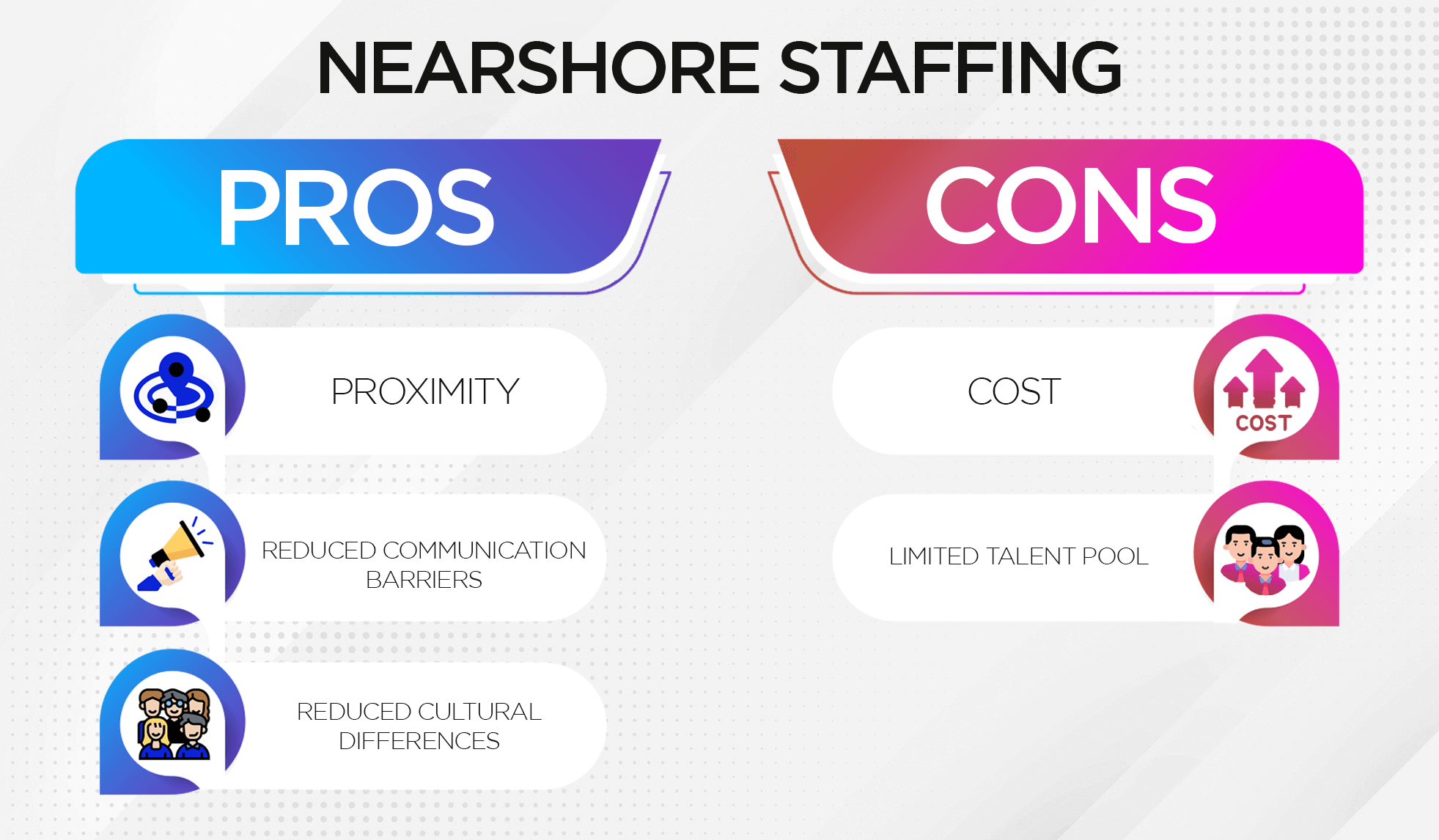 Pros of Nearshore Staffing
Proximity
Companies who prefer face-to-face meetings or easy access to their outsourcing partner's headquarters can benefit from hiring nearshore staff.
Reduced Communication Barriers
Since the nearshore staff is drawn from nearby countries, they often share your company's language. This can lead to a clearer grasp of project goals and can make communication much easier.
Reduced Cultural Differences
Just like the reduced communication barrier, it is also the same case for cultural differences. As there is less need for training on cultural norms and expectations, it can result in a working relationship that is more effective.
Cons of Nearshore Staffing
Limited Talent Pool
Since the nearshore staff is composed of workers from nearby nations, the talent pool is often smaller. It can be difficult to find employees with the necessary skill set.
Cost
Nearshore staffing can be less expensive than hiring domestic workers, but it can still cost more than hiring offshore staff.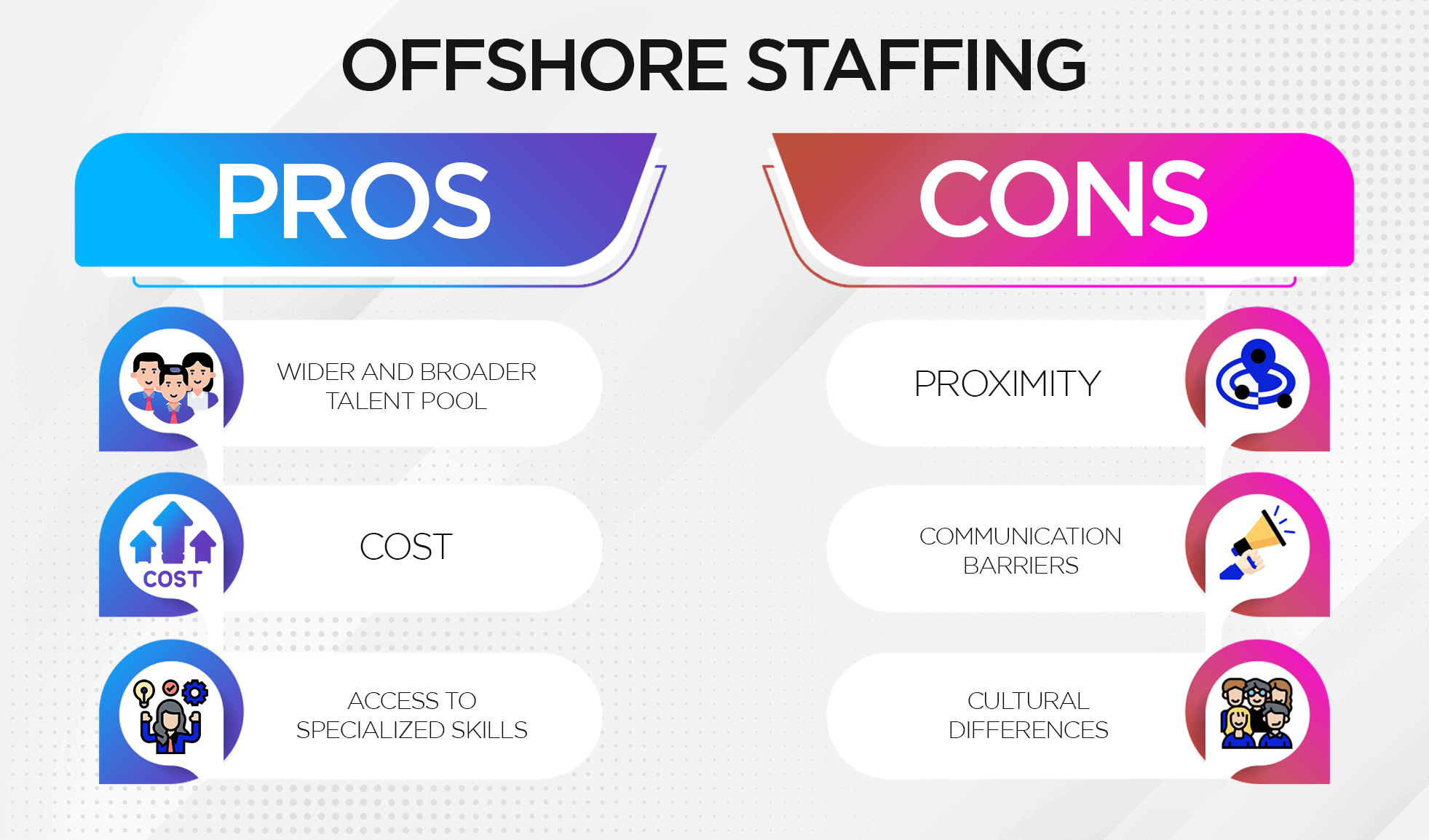 Pros of Offshore Staffing
Wider and Broader Talent Pool
Obviously, there is wider access to potential candidates in offshore staffing since there are various nations where good talents come from.
Cost
Offshore staffing is often less expensive than hiring domestic or nearshore staff. Businesses can profit from cheaper salaries in other nations.
Access to Specialized Skills
Companies can locate employees with technical skill sets in nations with a larger talent pool.
Cons of Offshore Staffing
Proximity
For those who prefer in-person meetings or quick trips to their outsourcing partner's office, the distance between the offshore staff and your company might be a disadvantage.
Communication Barriers
It's possible that the offshore employees don't speak the same language as your company. It could make it more challenging to communicate and lead to fewer misunderstandings.
Cultural Differences
Significant cultural differences may exist between your firm and the employees working remotely. There might be a need for training on cultural norms and expectations, so that the working relationship will not be affected.
Nearshore and Offshore Staffing Comparison Table
Now that we are aware of the difference between offshore and nearshore staffing, let's summarize all the information in the form of a comparison table. 
Cost
Nearshore and Offshore staffing are both cheap when it comes to hiring staff. However, if you wish to visit a nearshore company's office, you might be required to pay for your airfare and lodging.
Quality Work
Going with an offshore staff might be the best option here since the workers are more specialized in their skills and you have a broader talent pool to choose from. However, nearshore companies are often better equipped to manage cultural differences, which can result in a more productive working environment.
Time Saving
Offshore staffing may help you save lots of time on any programming tasks, including code writing and developing software. While for nearshore staffing, almost any task can be outsourced because communication is so easy.
Culture Barrier
Nearshore companies are typically located in nations with a similar culture to your own. However, offshore staffing may function similarly if you are at ease working with people from different cultural backgrounds.
Language Barrier
Nearshore companies are typically found in nations where English is widely spoken. However, offshore staffing might be equally effective if you feel confident speaking a foreign language.
Each business is unique and you need to understand the company's personal needs and those of your clients in order to know what strategies work best for your company. Think about all the factors involved to make a better choice for your business.
7 Benefits of Offshore Staffing for Your Business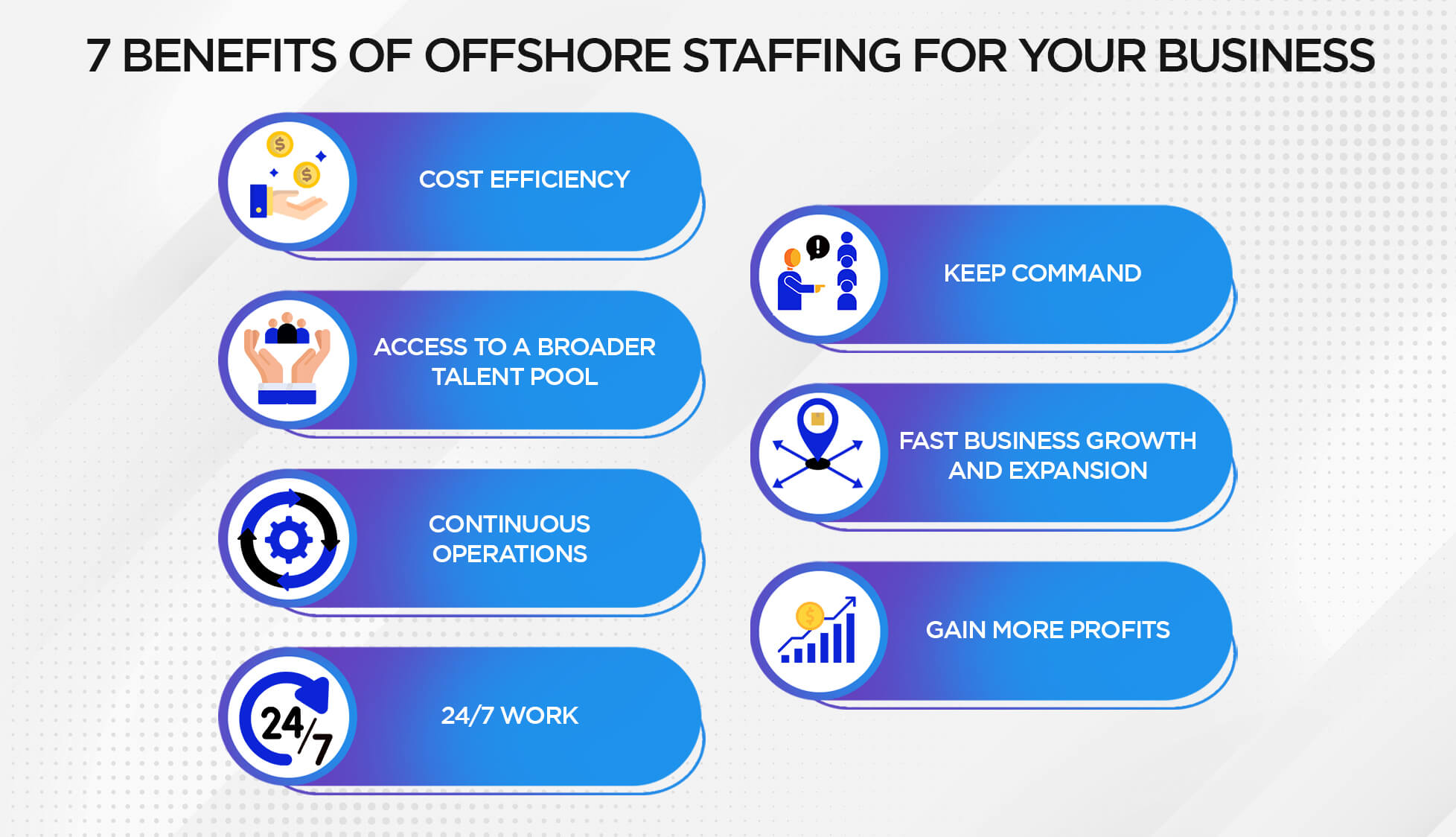 Offshore staffing has made it simpler than ever for companies to increase productivity. It paved the way for businesses to create strategic plans that can quickly increase their abilities and eventually boost their profit.
If you want to benefit from offshore staffing, we will discuss how it works and why it is advantageous to your business. 
Cost Efficiency
A significant portion of your company's monthly expenses go to your staff. When you avail offshore staffing services, you get to cut costs on the employee's training, management, and other benefits. The burden on infrastructure and other e-commerce service costs are even slashed in the list. Not only do you get to reduce cost, but it also brings value to your company by utilizing talented individuals with experience who are committed to expanding your business.
Access to a Broader Talent Pool
If you are having a hard time hiring potential candidates for your ideal team, that should not stop you. Through offshore staffing, you can easily get access to skilled professionals who live abroad. These people will aid in expanding your company further.
Continuous Operations
In times of crisis, the offshore staff that you hired will be able to carry on with the workload of the affected staff as well. Offshore staffing hence ensures you that your business will grow sustainably without going over the budget.
It is essential to have a robust business continuity plan that ensures that your business can continue operating even in times of disaster or fortuitous events. This provides you peace of mind that your company can and will overcome any unforeseen challenges it may encounter.
24/7 Work
With an experienced offshore staff that can work around the clock, even after you have gone to bed for the night, you can be assured that the project they are working on is uninterrupted and can even provide fast turnaround times.
Keep Command
Hiring an offshore staff lets you keep control of your team. Despite the distance, you can manage and interact with your remote team members successfully thanks to technological advancements. You will still be able to delegate the tasks to your workers and continue on receiving reports from them.
Fast Business Growth & Expansion
Offshore staffing will allow you to concentrate on growing your business without having to deal with the inconvenience of the expensive and time-consuming hiring procedure. It assists in freeing up internal resources so you may utilize the assets for business growth. 
Since the work is distributed among many across time zones, hiring workers from offshore also lowers the risk of losing potential clients due to a piling workload.
One of the most evident indications that your company is growing is the creation of new departments.
The offshore model enables you to respond quickly to the rising demand and workload as your company grows.
Gain More Profits
Offshore staffing reduces costs and with its strategic resources, it helps companies in proving a global presence. Because of low labor costs and decreased technology costs, this results in significant returns which benefits the company. All of these factors contribute to lower cost of production, improved productivity, and higher profitability.
To sum it up, great talent can be found anywhere, therefore any company that struggles to hire the finest and the brightest can use this as a strategy to its advantage. Many companies have expanded and achieved success by considering, utilizing, and enhancing their manpower with offshore staffing. It is a crucial decision that organizations must make carefully since it will have a significant impact on their organization and performance. After all, this talent ultimately represents your business.
Magellan Solutions Can Help Provide the Suitable Offshore Staffing Solutions for Your Business' Needs
It's now time to make a difference for your company.
Partner with an experienced outsourcing company who is trustworthy and reasonably priced to help you achieve your business' goals. We will ensure that your business operations run without a hitch with our hand-picked offshore staff.
Here at Magellan Solutions, we take pride in being a service provider for other businesses. We are known to provide only the best in outsourced services. We only want what's best for your business and we will help you grow your business according to your needs. And we are here to help you every step of the way with our topnotch services. 
With more than 18 years in the industry, we are an ISO-certified, HIPAA-compliant contact services and outsourcing provider offering a wide range of outsourced business solutions, from customer service to lead generation. 
Make the best choice now and let us assist you for your business needs. Give us a call today and get a free consultation.
TALK TO US!
Contact us today for more information.