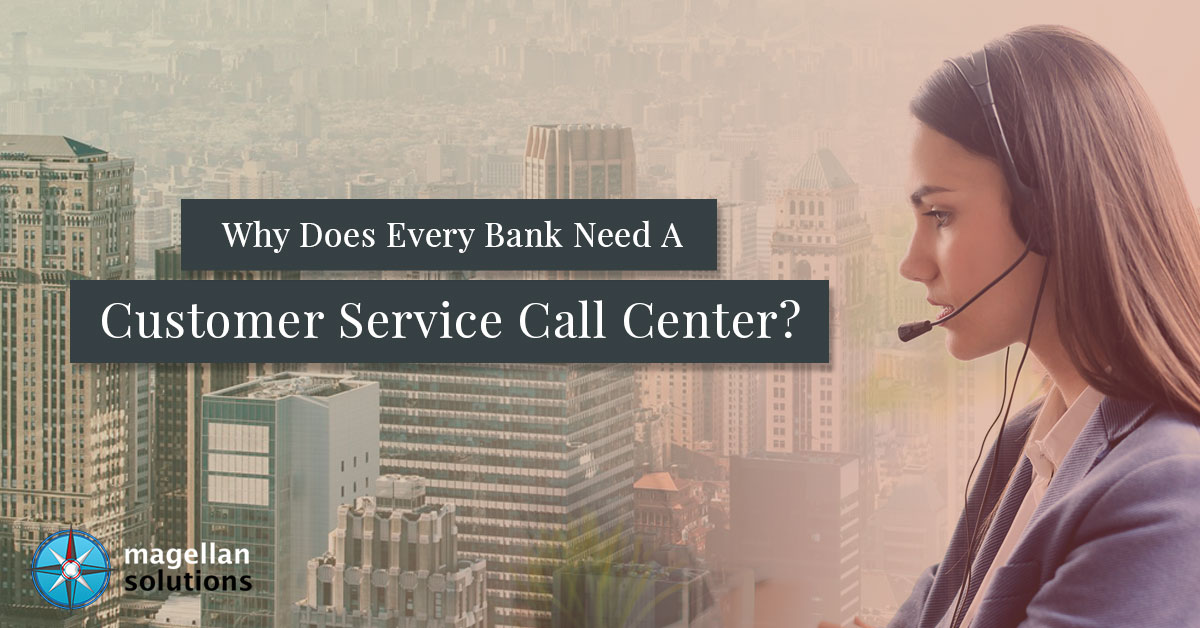 Customer service outsourcing is one of the best decisions a bank can benefit a lot from. In fact it is reshaping the industry with unique and high quality BPO services.
What the numbers say
Clarabridge, an American software company, surveyed 2,400 consumers (with ages ranging from 18 to 50) in the United States about their bank experiences and found out that 67 percent of bank customers placed a customer service call to their bank. Among the millennial consumers, 42 percent contacted their bank.
Despite the presence of self-service channels available online, the majority of bank clients still prefer human help.
In a Bain & Company report, in partnership with Research Now, it was revealed that younger customers often find digital channels confusing. Because of this, 47 percent of these consumers called their banks after trying other channels to seek better help with their routine transactions.
How does a customer service call center help banks
No one can deny the importance of customer service to the banking industry.
To maintain a steady cash flow — which is detrimental to their survival — banks have to make sure that they are catering to the needs of their customers.
Based on the figures given above, a relatively huge number of their customers need assistance with their transactions even if it's only for routine tasks such as paying bills, depositing checks, transferring money, and resolving problems. If they don't make any efforts to meet their customers' expectations, they should also make themselves prepared with a large churn that would come after it.
How could banks prevent this?
Resolving their customers' issues alone is not enough. They have to do it fast.
According to a Forbes article contact center customer service has a lot to learn from the banking industry. The American customer service expert, Shep Hyken, wrote, "slow response times or no response at all are unacceptable in any business." If this happens, Hyken added, banks can lose their credibility and their customers' confidence.
A service-oriented call center can help in different ways.
First, partnering with a quality customer service call center enables banks to improve their customer experience due to a number of ways:
Faster problem resolution
The majority of call center companies have effective call queue management systems and phone answering service in place to decrease the time the customers have to wait before someone picks up their call.
Call center agents underwent some rigorous training that tested their foundation and product-specific skills and knowledge to ensure that they can provide top-notch assistance to all bank callers.
Excellent communication is an important element in maintaining a customer's loyalty because it breeds stronger relationships. Call centers can accommodate customers to a more personal level, making them feel valued. Through this kind of communication, banks can make their customers realize that they are right when they have entrusted their money to the financial institution.
Call centers offer affordable customer service solutions to various businesses. This is an element that banks could take advantage of, especially when they are looking for ways to cut costs.
Promotion of other products and services
A customer service call center can help banks not only in terms of resolving customer issues but also in promoting other products and services. Through the strategy called upselling and cross-selling, customers can become more acquainted of other options that they can use when banking. Call center agents are also taught the cues that they need to wait so they could use this strategy that would sound like a helpful offer to the caller.
Partnering with a Magellan Solutions is one of the best decisions a bank can make.
As long as they choose the right call center company that would help them resolve customers' issues in a timely and appropriate manner, there is no doubt that they can receive a higher return on investment from their loyal customers.
Choose the right call center services provider for your business. Contact us now!
TALK TO US!
Contact us today for more information.