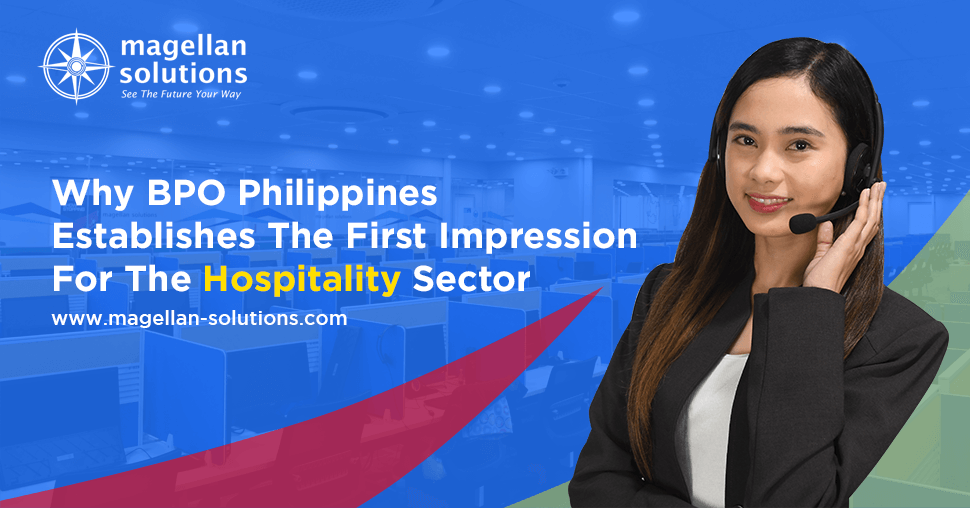 A Superb Customer Experience Always Starts With
BPO Philippines
The hospitality industry must place a greater emphasis on customer service in order to provide customers with a wonderful experience. 
Customers can no longer be satisfied with good food and a comfortable bed because they have been exposed to the gold standard of customer service. They want much more. 
For this reason, more and more hospitality businesses are trying hard to provide excellent customer service to make their customers happy.
After all, according to companies that outsource to Philippines, customer service is what makes or breaks a brand.
What is business process outsourcing (BPO)?
BPO (business process outsourcing) is a business activity in which a company hires an outside service provider to complete a critical business task.
Typically, a company begins by identifying a process that is required for its operations but not part of its core value proposition in the market; this phase necessitates a thorough understanding of the firm's processes as well as effective business process management.
Payroll and accounting processes, for example, are suitable for BPO since they are conducted the same or similarly from business to firm.
What is BPO used for?
Organizations engage in business process outsourcing for a variety of reasons, the most common of which are back-office and front-office operations.
Accounting, information technology (IT) services, human resources (HR), quality assurance, and payment processing are examples of back-office tasks, which are sometimes referred to as internal business functions in some circles.  Customer relationship management, marketing, and sales are examples of front-office functions.
Business process outsourcing (BPO) contracts might involve the outsourcing of an entire functional area, such as the human resources department, to a single vendor. Organizations also frequently outsource specific procedures within a functional area to third-party providers. For example, a company may outsource its payroll process while maintaining control over all other human resource functions.
The following are examples of processes that are frequently outsourced:  clerical and administrative support, customer service, and call centers, management and services in information technology for human resources, sales and distribution, shipping and logistics manufacturing marketing research sales.
According to a survey conducted by Clutch, a business-to-business research firm, small businesses are most likely to outsource their more technical tasks, with 37 percent percent of respondents outsourcing accounting, 37 percent outsourcing IT services, and 34 percent outsourcing digital marketing, among other things.
Recent decades have seen a significant expansion in the breadth of operations and services supplied by the business process outsourcing industry, which is beneficial to both large and small firms.
The scope of business process outsourcing (BPO) services ranges from the traditional back- and front-office operations outlined above to digital services like as social media marketing, among others.
As a complement to these commodity services, some businesses also outsource strategic jobs, such as information mining and data analytics, which have emerged as critical components of retaining a competitive advantage in a digital economy.
Creating The Best Brand Impression Through
Top BPO Companies in Philippines 2022
A brand's image gives the company personality, relatability, and encourages brand loyalty. 
You can rely on BPO companies in the Philippines to help you create and maintain a healthy hospitality brand image.
Here at Magellan Solutions, we listed the main reasons why BPO companies in Metro Manila are ground zero for your brand image.
We Understand Why First Impressions Matter
In the hospitality industry, first impressions are everything. 
A good first impression is the catalyst to a lifetime relationship with a customer and creates brand loyalty that leads to repeat business. 
Meanwhile, a bad first impression can not only deter potential business from one customer. It will also inevitably spread like a virus through online reviews, social media, and word of mouth. Severely hurting your business.
In this industry, first impressions don't start with a handshake. Rather they start with your reservation department or a call center. Specifically, your brand's first impression begins with whoever is answering the phone. 
If that first call is already rude, unhelpful, incompetent, and does not exude professionalism, then your brand's image could be in trouble.
We Don't Want Bad News Traveling Quickly
An increasing number of customers in the hospitality industry are experiencing negative customer service experiences. 
Moreso, they are sharing them across social media platforms to voice out their frustrations. 
In the previous decade or two, a bad customer interaction would only reach a handful of people. Thus, the impact on your business is mostly insignificant.
That is far from the case today. People turn to reviews and base their next course of action on that.
A bad customer service representative, rude employee, or lazy worker spreads like wildfire on social media. Not only will a bad interaction discourage a customer from booking, but it could discourage potential future bookings as well. 
In turn, you will leave a lasting negative mark on your brand's image. 
With the broad-reaching consequences of the information age, no industry can afford the negative repercussions of an underperforming business process outsourcing industry in the Philippines.
We Start with Training
A recent test of top hotel brands ' call centers found that the majority of the employees fail to sufficiently convey their hotel's best features.
Only 14% of tested call centers asked Discovery Questions.

A mere 7% adequately sold their hotel's benefits.

Only 25% of call centers effectively described the hotel's rooms.

Just 25% quoted more than one room category.
If your brand's call center isn't doing everything they can to sell rooms and bookings, they're working against you by not fulfilling the potential of your brand's image.
A call center must do more than fulfill the duties of your reservation department. They are, after all, the initial representative of your brand. In doing so, they become synonymous with your brand's image in the eyes of your customers.
Your Local or In-house call centers Are Not Always the Answer
You've worked tirelessly to craft your brand's identity and separate yourself from your competition. So don't let your hotel's call center hold you back. 
As previously mentioned, your call center represents your business. If you're call center's underperforming your business, then the perception of it will suffer.
Outsourcing your reservation department to BPO Manila Philippines will surely save you money temporarily, but ultimately it will cost you bookings.
Technology advancements have allowed thousands of businesses to outsource work overseas. Businesses that shifted their call centers overseas experienced a significant increase in the quality of their customer interactions.
Call Center and the Covid Situation
The COVID-19 epidemic worked as a catalyst for the BPO industry's transformation. Many conventional BPOs have undergone digital transformation as a result of the pressing necessity to migrate operations to the cloud.
Things were looking gloomy for the BPO sector during the outset of the pandemic and at its peak, so much so that a study done by Deloitte in April 2020 revealed that 32% of firms anticipate the conclusion of the epidemic will result in a drop in outsourcing. Things are beginning to look good, as many gamers have effectively adjusted to this new normal.
Any contact center, after all, isn't unfamiliar with the use of several platforms to successfully manage its operations. During the epidemic, however, things were different; many had to work from home. Many people did not have the benefit of having access to similar (if not identical) infrastructure to that which they would have had if they worked from an office.
Covid-19 has had a wide range of effects on the BPO business. Companies who were nimble and prepared to adjust to the "new normal" were able to weather the storm. Modifications have to be made on a constant basis to maintain an ideal level of operations while working online, from implementing many technological and digital changes to equipping their employees with the proper tools.
We believe it is reasonable to state that the BPO sector will continue to develop in the post-COVID age as long as CEOs and business heads are willing to unlearn and learn.
Outsource to
BPO Philippines
today
Reducing cost is one of the common reasons across all the partnerships we have handled. 
The extra budget allows the company to further concentrate on their main tasks. As a result, the company would see growth faster. 
This is why we want to extend a helping hand to you. Contact us today for a quote!
color: #292929; margin-top: 50px; line-height: 40px;">TALK TO US!
Contact us today for more information.