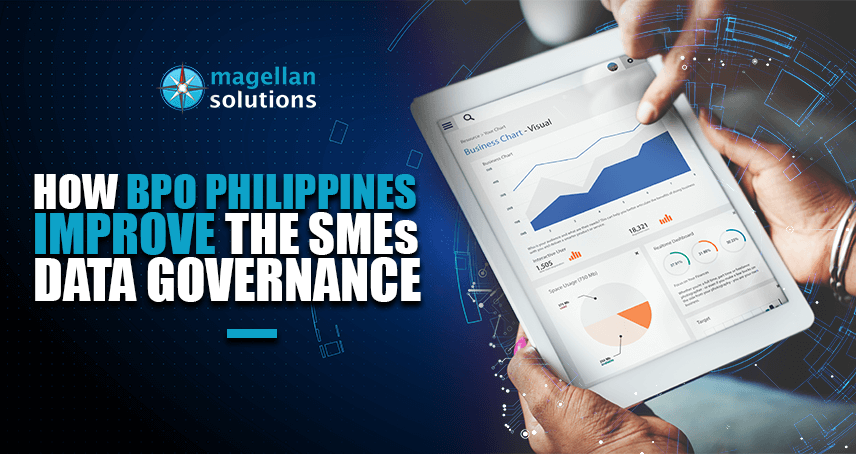 Data Governance is Critical for SMEs Wherein BPO Philippines Helps to Improve
Competitive organizations from industry players to startups and SMEs utilize BPO Philippines when it comes to data management services. 
Businesses of any size use these services to establish reliable measures to maintain viability of their data. 
BPO companies in the Philippines provide data management services from simple data entry jobs to more complex one like data analytics.
How SME Can Improve Their Data Governance Through Data Management Outsourcing
Data governance means planning, oversight, and control over management of data and the use of data and data-related sources. 
This goes hand in hand with data management. Something that has a direct impact on finances, marketing strategies, campaigns, and customer service of an organization. 
However, in the context of SMEs, these are the hindrances that may not allow them to maximize the full potential of their data:
Lack of resources such as limited personal capabilities and skills

Outdated technologies or tools

Budgetary restrictions
Outsourcing companies in the Philippines provides a cost-effective alternative for SMEs to ensure you can use your data and information for your own advantage. Outsourcing enables SMEs to transfer data requirements to qualified data scientists and analysts. People who possess the assets and expertise needed to organize your business' data. 
Also, companies that outsource to Philippines enjoy the constructive intellect on data administration and utilization these outsourcing partners provide. Which leads to an increase in the overall quality control of an SME's data governance.
Goal of Data Governance for SMEs When They Get Data Management Services from
Outsourcing Companies in the Philippines
Data governance involves the management of data security, availability, integrity, usability, maintenance, and control of its properties. 
When you partner with BPO manila Philippines for these requirements, it should be clear that they are here to help you establish the following:
Methods, set of responsibilities, and processes to standardize

Integrate, protect, and store business data and information
Common goals for SMEs when it comes to data governance are the following:
Minimize risks

Establishment of internal rules for data use

Implementation of compliance requirements

Improvement of internal and external communication

Increase the value of data

Facilitate the administration of data

Cost reduction

Ensure continued existence of the business through risk management and optimization
These all boils down to three critical concerns when it comes to quantity and quality control of data governance:
Ensure data availability

Ensure data consistency

Ensure data security and law compliance
Business Process Outsourcing Industry in the Philippines
' Benefits of Data Governance for SMEs
As a practice, BPO Philippines establishes systematic and formal control over data processes and responsibilities. 
On the data management side, here are the following benefits for SMEs:
More comprehensive decision support from consistent and uniform data across the business

Well-defined rules for changing processes and data that helps owners and IT to be more scalable and agile

Cost reduction in some areas of data management through provision of central control mechanisms

Increased efficiency with the capabilities to reuse processes and data

Improved confidence in data quality and data processes documentation

Improved data regulations compliance
While on the business management side, here are the benefits:
Ability to gain more insight and high-quality information from your organized business' data

Agile response to data changes and trace required data with accuracy all throughout its stages

Data coherence, reliability, and accuracy from more complex data sets

Quality control across data usage all throughout the business

Better decision-making capabilities based on trustworthy insights to properly assess risks and opportunities in the future

Better integration and knowledge sharing across on the entire infrastructure

Faster resolution of potential data analysis and issues

Use of data to create a comprehensive overview of the business' performance
5 tips for SME as you create the right data governance framework together with
BPO Philippines
We list here excellent tips to take into consideration when you partner with any BPO companies in Metro Manila for your data management services.
Respect the value of your data

Understand the difference between governance and management

Avoid being too technical or create a complicated framework that only IT people can understand

Failure is inevitable building your framework but strive to do so 

Involve your staff with the process and the technology
Magellan Solutions Provides Perfect Fit Data Governance Solutions for SMEs
Our 18 years in the industry is filled with successful delivery of data management services from industry players to SMEs. As a company that focuses on excellent services for SMEs among BPO Manila Philippines, we are here to help you establish the right strategy for you.
We have a roster of employees who can provide services for simple tasks such as data entry to data analytics. Our infrastructure is here to support whatever your requirements are. 
Magellan Solutions strives for the best services all the time. Not to mention, we are ISO 27001-certified and HIPAA-compliant. We take pride in ensuring that your data and information are protected at all times.
Contact us today and let us help you improve your business and how you managed it based on accurate and consistent data. Fill up the form below!
TALK TO US!
Contact us today for more information.