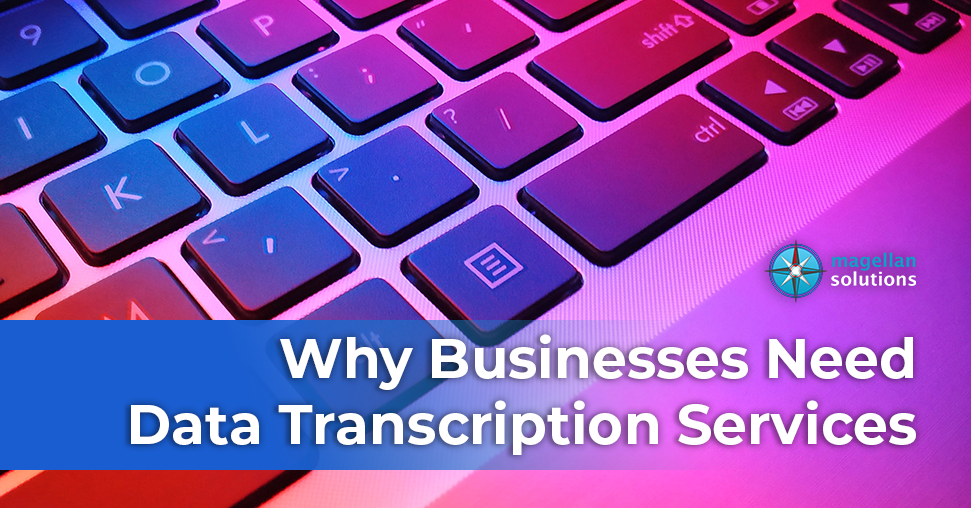 In this day and age, data is quite a very important part of our daily lives. We live on data. We thrive on data. And we make money with data. This is quite surreal especially in the world of businesses. Most organizations like to keep a tab on their business' data. They like to know – and even understand – what is happening around them, and what the numbers may tell them. There are plenty of things that one can get from data.
With such huge importance connected to it, it is very important that owners ensure that all the data that they have been put together in one place only for easy access. However, there are times when data still need to be transcribed from paper to digital. You can even enhance your audio by converting it into a highly accurate and readable text.
Magellan Solutions, one of the leading business process outsourcing (BPO) companies in the Philippines, offers businesses the opportunity to have more time and more freedom to do other core duties. This company now offers data transcription services for all those businesses that do need to have all the paperwork transferred into digital content. Although there may be individuals doing home-based transcription jobs with transcription software, Magellan Solutions offers owners a great team that has been trained well on data transcription so any amount of work can be done in no time flat.
Focus on core tasks
When you outsource data transcription to Magellan Solutions, you would have more time on your hands to do core tasks for your business. You would be able to focus on what needs to be done and you can also be sure that you are looking at your business as a whole.
Quality results
A lot of companies and business owners feel like outsourcing may not be suitable for business. In the case of those who have decided to make us their partners, these businesses have seen continued growth. They are more than happy with the quality of the results they are getting. This is primarily because we employ only the best specialists in town. More importantly, we also make sure that these people are professionals and are well-trained on the task at hand.
Errors are a no-show
With quality assurance specialists working as part of the team, you can be sure that there would not be any errors in any data transcription jobs that are sent over to Magellan Solutions. Errors can definitely mar a good database. We totally understand that and make sure that each and every job is done is given proper attention and details is checked twice.
Regular reporting times
Different organizations need comprehensive reports on data transcription jobs at different times and dates. Whatever date and time you would like to get your reports, we would send them over to you. All reports will be sent in a timely manner so you can simply go over everything when you need them. It does not matter if you like it to be done daily, weekly, bi-monthly, or monthly. You would be getting your reports.
Have you outsourced transcription jobs to a BPO solutions provider? What are the results? Share your thoughts and comments below.
Get a quote or call us with your questions.
TALK TO US!
Contact us today for more information.