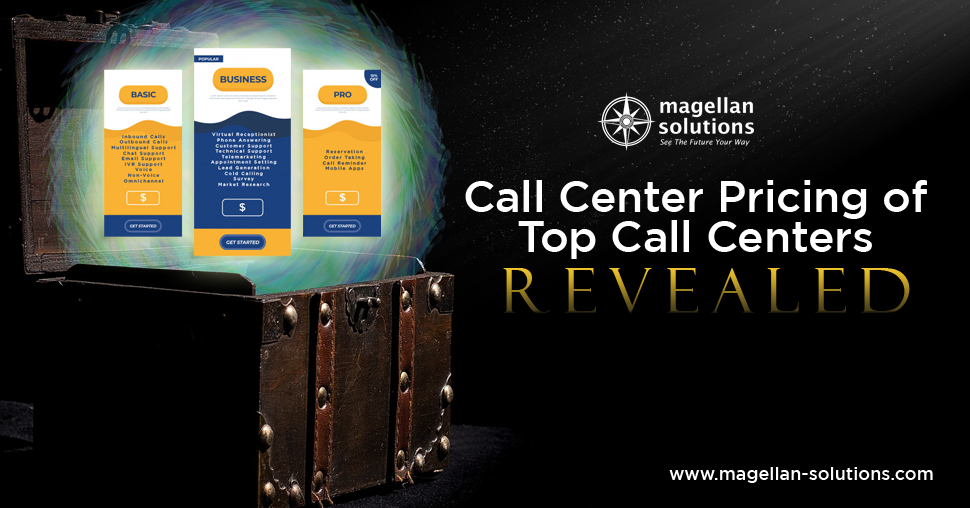 Call center pricing includes the cost of labor, call volume, average handling time to name a few. The idea of getting ripped off is a nightmare for everyone. But here are the entry-level prices for some of our call center services:
Inbound Customer Support: starts at $6/hour
Telemarketing and Lead Gen: starts at $8/hour
Tech support: starts at $10/hour
Advanced Tech Support: starts at $14/ hour
Different Call Center Pricing Per Service
Many factors are considered in call center prices. It includes the level of skills, type of work, location, and duration of the application. Here are some known pricing models for both inbound and outbound call services:
Shared

– These are the services in which the agents answer calls for one to three dozens of clients and the clients will pay on a per minute basis only for the time used. The rate is around

$.35-$.45 per minute at low cost international agencies and $.75-$.90 per minute for providers in the US and Canada.

This type of inbound call center pricing is perfect for large volume or low activities.

Dedicated

– When a dedicated team of agents working exclusively handles calls for only one client, it is called 'dedicated inbound'. It is fit for those with complicated applications or when the volume is predictable. It is priced on a per hour basis with rates ranging from

$8-$15 internationally to $22-$28 in the US and Canada.
Monthly

– Basically a portion of the Dedicated Inbound that is priced in a monthly rate. A lot of call centers around the world, aside from those in North America and Europe, offer this type of pricing.
Hourly

– This is considered as the common call center pricing structure for outbound telemarketing, especially for lead generation and appointment setting. Aside from the program size, difficulty, and contract length, the rates here vary with the location of the provider. Contact centers in India and Philippines normally charge starting from

$6-$10 per hour. For those in Eastern Europe and Latin America, the rate starts from $9-$14 per hour. In Western countries, they normally charge $22-$32.
Pay Per Performance

– Not the most ideal type for most outbound call centers. If you want a provider to agree and consider this call center pricing model, it is best for you to prepare your detailed report of your sales or appointment conversion rates, script or call guide, materials for training, and samples of calls recorded. Here, the amount of commission will depend on the situation and it should give the provider at least 10% to 20% premium for the additional risk to the outsourced call center.
Hourly + Pay Per Performance

– One of the favorite contact center pricing models for sales programs. This combination of pricing structure is beneficial to both the client and the call center and is effective to maximize the performance. It enables the provider to earn a competitive compensation based on the performance of the outbound program.
Call Center Pricing per Country
One of the most considered variables that affects the cost of outsourcing is the location. If you are aware of outsourcing call center pricing, you must know that choosing a call center outsourcing company in the US or Europe versus India or Philippines will create a significant impact on the price. Here's to give you an idea of call center pricing comparison by geographic location:
United States

/Canada: $22 – $35 per hour

Western Europe: $40+ per hour

Eastern Europe $12 – $25 per hour

Australia: $35 – $55 per hour

Africa/Middle East: $15 – $20 per hour

Latin America: $8 – $18 per hour

Asia/P

hilippines

: $8 – $14 per hour

India: $5 – $9 per hour

Pakistan: $6-$10 per hour
How Much Top Call Centers Charge?
What you are about to read is an assumption based on data readily available on the internet and industry knowledge. We will use the salaries of call center agents as a baseline 15 to 30% as the payroll to revenue ratio used by most businesses. With these figures, we can determine how much famous call centers charge their clients.
Brand C:
Based on Indeed, the average monthly salary of agents in Brand C ranges from 17,000php to 25,000php. Bringing an agent's average annual salary to 273,000 or 5400 dollars.
Brand S:
Brand S' average monthly salary of agents starts from 20,000php to 27,000php. Bringing an agent's average annual salary to 305,500 or 6044 dollars.
Brand T:
The average monthly salary of Brand T's agents plays around 17,000php to 21,000php. Bringing an agent's average annual salary to 247,000 or 4886 dollars.
| | | | |
| --- | --- | --- | --- |
| Call Center | Average Weekly Salary per agent (in Dollars*) | @15% | @30% |
| Brand C  | 104 | 694 | 347 |
| Brand S | 116 | 774 | 387 |
| Brand T | 94 | 627 | 314 |
*Conversion rates as of April 7, 2020
For example, if in case you work with Brand T, there would be a minimum 6 month contract of 100 FTEs, that is automatically $1.63 million. Of course there would be trade discounts of 2-5% but that's negligible.
The price may seem good on a per agent pricing, however, small businesses and startups are not their target markets. There has to be a minimum head count and longer contract terms for your small business to work with these giants. If you're a small business, it is best to partner with a boutique call center because it is flexible, there's minimal commitment, and you can easily scale your ops as you grow.
Call Center Pricing Inclusions
As mentioned above, factors affecting the call center pricing include but are not limited to: the number of seats, expertise of agents, current labor market rate, length of contract, call volume, average handling time, and add-ons.
For example, the average basic rate of a Filipino call center agent plays around $0.99 – $3.36 hourly rate. The service providers are the ones taking charge of their health card and overhead costs.
Customers have a great deal to pick up. It helps them reduce the costs. It also provides access to professional workforce, expansive business infrastructure, best practices, and efficient processes.
Top Call Center Countries By Value
India and the Philippines have been giants of the outsourcing industry for a long time. They share a lot of similarities hence the reason for their popularity with companies looking to outsource operations to reduce business and operational costs. They became the top outsourcing destinations because of many reasons. 
The difference between the two outsourcing countries is their unique niche. India is known for its expertise in the field of Information Technology. On the other hand, outsourcing to the Philippines is focused on its quality customer service support. The call center pricing makes well-known companies outsource to the Philippines that helps businesses save cost while getting quality service.
Call Center Pricing Comparison: India VS the Philippines
It is a well-known fact all over the world that India and the Philippines are rivals in the call center space. Let's check out the things you need to know when outsourcing to these two.
Infrastructure
When talking about the infrastructure, outsourcing to the Philippines makes more sense even outside its capital. Because of the country's continuous development to keep emerging in the outsourcing industry, some of its provincial areas such as Cebu and Iloilo are also IT-BPM areas now. Most of the buildings are of the highest standards and the internet connection is now more accessible and always available in different areas. 
Cost
It goes the same with that of India. Although they offer a lower salary cost, shortages for some positions and a bit of issues in the English fluency may have a significant impact on your business. 
Call center contract pricing includes the annual salary rate of agents minimum at $5500. It may exclude bonuses that can reach up to $3,000 and commissions worth around $400 to $5,545 for outbound campaigns. These rates are exclusive of health benefits and dental insurance.
India's call center pricing is 12-20% cheaper compared to the Philippines. However, the cost of Philippines call centers make up for it by having good communication skills and a better cultural understanding to those of the West. In addition to the quality service, the affordable call center pricing is why investors are attracted to the Philippine call center industry. This makes the Philippines the top call center country in the world.
Bottom line: With the experienced workforce and call center pricing in the Philippines, the Filipinos are your best bet.
Please note the figures shown above are based on research paired with industry knowledge on call center outsourcing costs. Actual amounts are confidential but they should be more or less the same.
Fill out the form below to get an idea of contact center pricing.
TALK TO US!
Contact us today for more information.