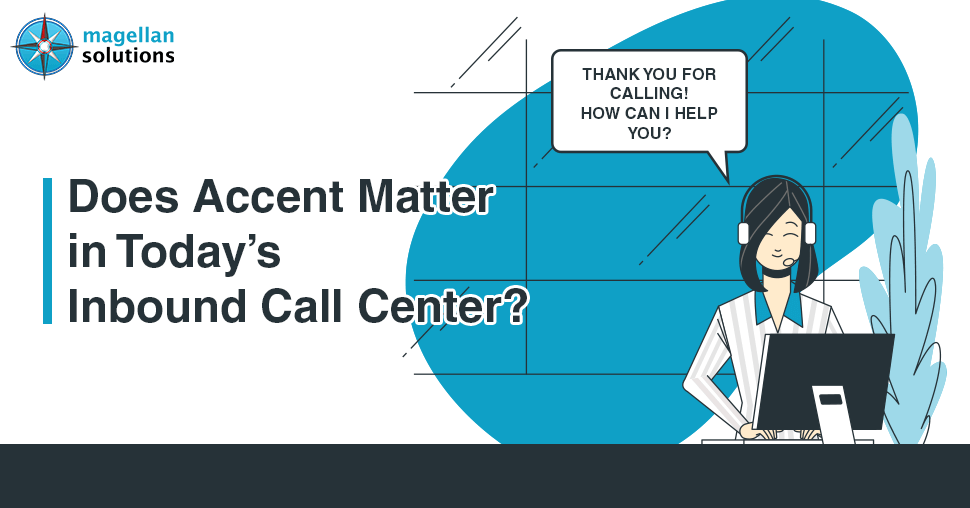 Does Accent Important in Today's Inbound Call Center?
Accents are often overlooked by business owners when looking for a company to outsource their inbound call center service. Businesses outsource their service primarily to save more money.
But aside from cost cutting, here are the other reasons why companies outsource their service:
Enhancing the quality of the service

Solving capacity issues

Focusing on the core business

Flexibility

Efficiency

Freeing Up Internal Resources

Tax Breaks
Given the reasons above, there is no goal that directly ties the accent of agents as an important factor. Enhancing the quality of the service could be a close reason but that could also mean improving the service through volume of workers.
So how important is the accent in an inbound call center?
Is There a "Right" Accent in Inbound Call Center?
Accent refers to a way groups of people in a particular region speak their language. 
There are two categories of accent. The first is how your accent is when speaking the language you are born with. The English accent in Texas is different in New York's English accent.
The second category is the way we sound while speaking a foreign language and applying the characteristics of your local language. 
Example is an Indian speaking English but applying the way he or she speaks in their local language. Giving it a thick and sometimes hard to comprehend English accent.
Accent of agents you outsource for inbound call centers falls under the second category. Being the most used language in the world means your agents must know how to speak English fluently.
Is there such a thing as a "right" accent for a call center agent? As your business grows, so as your target customers. Meaning having a particular "right" accent is not advisable.
Your customers could come from different places speaking different accents. Having a neutral accent for your agents is the most beneficial factor if you want a quality service.
What is a Neutral Accent for Inbound Service Agent?
Ever wonder why news reporters all have the same tone when reporting live? Because of their global audience, they need to make their way of speaking "universal". Viewers find it hard to understand an accent that they are not used to hear.
Neutral accent refers to an accent with no distinct ethnic origin. Everyone can achieve a neutral accent through rigorous training.
Having an ability to shift your tone into a neutral accent is a great advantage in the field of communication. This allows you to be flexible with your communication style to better fit the target customers. Thus, giving you more confidence when talking to your clients.
In communicating with your customers, clarity of the message is important to achieve customer satisfaction.
Inbound Call Center with a Global Market Means Diverse Clients to Talk to
The world is getting smaller and communication becomes easier. Everyone can talk to a live person in any part of the world anytime. 
Your customers could come from different regions. This will create a problem of adapting into their different accents. It is hard to hire different agents to conform with your different customers' accents.
Neutralization of accent for agents also applies to start-up business owners.

If you are planning to expand your business then you need to think ahead. Investing on quality agents will help your company's customer service in the long run. This will help you attract more customers and more sales.
So Is Neutral Accent Important in Incoming Call Center Service?
To answer this question, we need to know the different benefits of having an agent with a neutral accent. And all of these reasons involve the quality of your inbound call center service.
Comfortability of the Customer Communicating with Your Business
Customers like to do business with companies they can easily reach. It serves as a criteria if people want to deal with you. Aside from being easy to reach, you also have to make the customer service experience great for them.
In a survey, 61% of consumers say that they stopped transacting with an organization after experiencing a poor customer service. Imagine losing more than half of your client just because they are not comfortable talking with your people over the phone. 
Having a neutral accent for your agents gives you more sales and a better customer satisfaction rate. It is a great way to make more profit while expanding your business further.
Better Customer Satisfaction Rate
Having a great inbound call center service means a high probability of returning customers. Study shows that 97% of global consumers say customer service greatly impacts their buying decision.
One of the factors of having a great customer service is having an agent who can connect with your customer. Aside from being a good English speaker, clarity of the voice and accent is important in communication.
Keeping 61% of your client is one thing but having them return to buy your service or product again is even better. Not only you will secure sales today but in the future as well.
A Uniform Identity for Your Inbound Call Center

Whenever a customer calls an organization, they are expecting an agent from Asia to answer their call. This has become a stereotype in every customer service hotline.
For some, this setup is confusing as they thought they are dealing with a foreign company after purchasing a service or product in the US.

Customers take less than 30 second in average to figure out the ethnicity of the agent they are talking to over the phone. That is also the time needed for a customer to react to the agent's ethnicity, social and economic background.

Having a neutral accent does not give an impression to a customer that they are dealing with foreign organization. This will give you more freedom to establish your identity as an easy to access company.
The Philippines: Best English Speaking Country in Asia with Best Neutral Accent for Your Inbound Service
Now that we already know the advantages of having an agent with a neutral accent. Let us take a look at the best market to invest with, the Philippines inbound call center business.
Diverse Culture
The Philippines is part of the US Commonwealth until the 40s. Filipinos adapted most of the American culture. They can blend easily with Western customers because of this background. 
As mentioned, customers are more comfortable to agents who can relate to their situation. This is one of the reasons why the Philippines is the call center capital of the world.
Aside from the Western culture, Filipinos are well-oriented with Australian and European culture. So if you are planning to open your company to a bigger market, then outsourcing to the Philippines is your best option.
Wide Range of Accent
The Philippines has more than 150 local dialects. Aside from that, Filipinos are knowledgeable about other languages such as Chinese, Japanese, Korean, French and other languages.
It is also undeniable that Filipinos possess one of the best English accents in the world. The Philippines is also one of the best English speakers in Asia. 
But aside from having the best English accent, Filipinos are also versatile when it comes to adapting others' accents. You can hear some Filipinos speaking English in a Californian accent and even British accent.
But the best feat of the Filipino accent is the ability to neutralize it. In the field of inbound call center, having this kind of versatility is a great asset for your company.
Numerous Accent Trainings for Call Center Agents
Not everyone has the talent to instantly adapt or shift into a neutral accent. Good thing there are a lot of facilities that offer accent training for aspiring call center agents.
The Philippine Government also provides several programs that help call center agents to sharpen their skills. TESDA gives vocational courses to people who want to have a career in the call center industry.
These programs from the government and private sectors produce quality and competitive call center agents. Aside from that, it also encourages other people to try the customer service profession.

Magellan-Solutions Provides Inbound Service Agents Ready for the Global Market
As stated, the quality of the inbound call center is sometimes compromised because of the low cost service. In Magellan-Solutions, we strive hard to maintain our goal to be a globally competitive BPO company at an affordable price.
We take pride in the quality of work our call center agents provide. Our recruitment process makes sure that every person we are hiring is skillful. We always follow a high standard for our services.
Aside from the rigorous recruitment process, we always have training for our agents to ensure the quality of their work is at par with our standard. This training includes accent training, crisis management, and other topics related to inbound call center.
We have a variety of services we can offer for your inbound call center services that includes:
We understand the importance of giving the best customer service. We take pride in helping start-up businesses by assisting them in their development.
Contact us today for a 60-minute consultation at zero charge. Fill out the contact us form now!
TALK TO US!
Contact us today for more information.