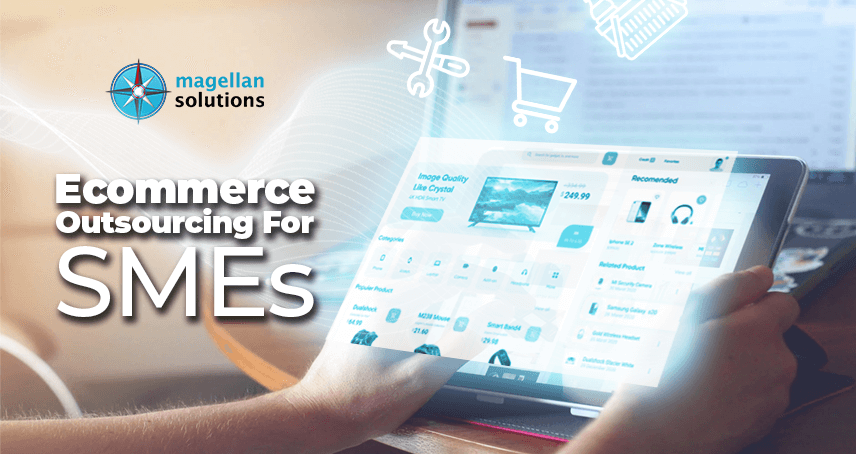 ecommerce full outsourcing
for SMEs
Cementing their brand as an enterprise for SMEs has been difficult. Unlike bigger industries, they do not have enough manpower to secure a stable spot. 
The internet provides a great opportunity for small firms.
People have chosen faster routes against traditional ones. Ecommerce has now become a universal bridge for retailers and consumers. It has been offering fast transactions and easier data collection. As a result, business deals easier and processed faster.
E-Commerce types for SMEs
1. Physical stores and online storefronts
A retailer sells both through a physical and online store. With a combination of two selling platforms, consider the following:
Have the most popular items available online.

Offer a special line of products or services for a larger customer base.

Vendor drop shipping.

Inventory and storage costs.

Shipping methods.
2. Pick-Up or digital products
A storefront still exists for this type of e-commerce, but the vendor does not offer their own shipping services. This is mostly suitable for businesses that offer online products or services. Without shipping options, the vendor should offer complimentary means in place of shipping such as:
Provide customers with online shopping opportunities without a lot of planning or execution.

No hassle for shipping or returns.

Increase customer lifetime value by at least 30% (according to Google).

Printing and selling of cards or classes online.
3. Online store
Products are mostly availed online and are being shipped. Even with a bigger opportunity to gain large customer amounts, retailers should still be cautious of:
The need to consider storage costs or third-party fulfillment.

Competition on product uniqueness and price.
Best performing platforms for an
outsource ecommerce management
Should eCommerce have a physical store and vice versa?
The answer to this is, yes. 
Both markets have a variety of consumers that they serve. Not everyone is comfortable with online purchasing. There are some who prefer that they personally find the products they need. Meanwhile, there is a growing generation that would rather add their items to a virtual cart as they read for reviews online.
There is a certain balance that each of the two brings. Hand in hand, the meeting of tradition and modern would always have more pros as compared to them acting as rivals.
But because of the pandemic, eCommerce seems to be in a pretty good spot. Shoppers that can't go outside turn instead to online shopping.
Top 5 best eCommerce platform and the services you may outsource with Magellan Solutions:
Shopify -Platform for online stores and retail point-of-sale systems.
Chat support

Order tracking

Sending of invoice
Wix – Software company, providing cloud-based web development services. It allows users to create HTML5 websites and mobile sites through the use of online drag and drop tools.
Squarespace
Site optimization

Marketing campaign

Emails
Magento
IT developers

Accounting

Content management 

Customer support

Marketing

Payments

Security

Reporting
WooCommerce
Payment transactions

Shipping

Marketing

Accounting
Magellan Solutions, top choice for
webshop outsourcing
As a successful webshop owner, you're bound to encounter the limits of what you do just by yourself. That's why we want to get to know you and your objectives. Only then can we create a tailor-made logistical solution. With this, Magellan Solutions puts your customers first. Our fulfillment processes are a guaranteed perfect match. We always meet the needs and expectations of both consumers and clients.
Our employees are both office-based and an at-home workforce. Both provide call center staffing models.
Even from an at-home setup, we still see to it that the agents promote quality work by monitoring their task progress.
Our agents provide you with the best experience of eCommerce customer service outsourcing.
Leave us a message and be a successful e-commerce entrepreneur!