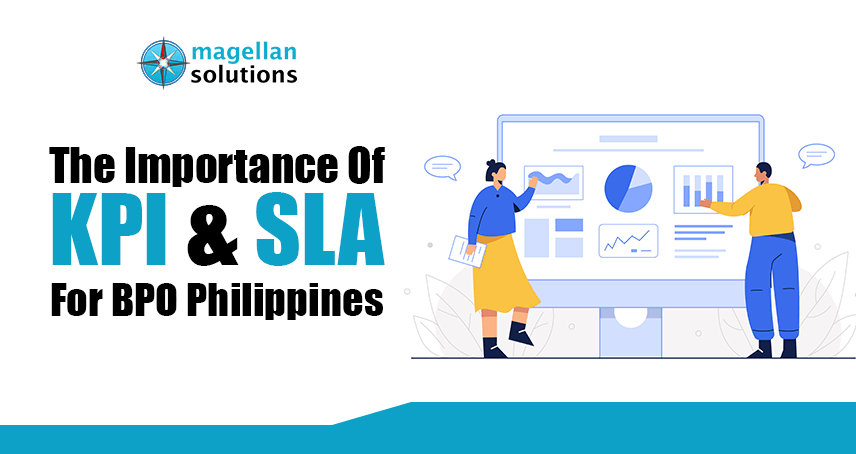 What is the role of SLAs for
BPO Philippines
?
It is important to understand that key performance indicators (KPIs) and service level agreements (SLAs) are not the same, even though there is some overlap. 
We would like to further explain the difference between KPIs and SLAs and look at the practical business applications of each.  
Understanding more of the Service Level Agreement
To start off, what is Service Level Agreement (SLA)?
It is a term not to be confused with KPI although they both serve to better performance.
SLA is an agreement between an internal or external service provider. It outlines what you will receive and what you expect from us.
There are three different categories of service-level agreements:
Service-based: The terms of service customers can expect are similar for all customers on a service-based service level agreement. In this case, everyone working with a service provider receives similar terms. The SLA between you and your mobile service provider would fall into this category.
Customer-based

: A more customized service level agreement is customer-based. This SLA outlines a relationship between a vendor and a customer in detail and is likely not a one-size-fits-all agreement.

Multi-level

: This category of SLA agreement splits into different levels to address a different set of customers who are using the same service.
With SLA, the service provider and the customer would regularly assess, communicate and adjust actions to adhere to the agreement. 
SLA may be a part of a legal contract. But a contract isn't fully about SLAs as contracts can be finalized without it. 
What are the SLA components of Magellan Solutions and
companies that outsource to Philippines
?
While the exact components will vary based on organization and industry, SLAs have relevant use in almost any business relationship.
In general, most of our SLAs include:
Service expected from
BPO manila Philippines
This lists Magellan Solutions' exact services that will set the standards of the deliverables. 
This way, any miscommunication or confusion is avoided at the onset. The hiring company has a clear set of guidelines of what to expect to get out of the partnership.
Responsibility of both parties
Related to the first component, our responsibilities, along with yours, must be clearly communicated in the agreement. 
It is critical that we are both aware of what we expect from one another so that no one feels taken advantage of.
Delivery timetable
A definite time element must also be agreed upon. 
For example, if an email is received from a customer, what is the expected timeframe for the customer to receive an answer. If customer service is through the phone, how fast should an incoming call be picked up?    
Handling disputes
There must also be an agreed outline or procedure in the event any disagreement may arise. 
There may not be clear-cut guidelines. This is because disagreements can vary depending on the situation. But it can give you and us an assurance and direction on how to resolve a conflict.
Corresponding consequences if service expectations are not met
Setting a defined penalty if service levels are not met, assures that you will get quality service from Magellan Solutions. 
At the same time, we set the bar of the quality of service to be provided as well as a goal for us to achieve.
Payment terms
The payment terms we agreed upon give a clear guideline of when to expect payment and the repercussions. This is only if payment is not done or received on time.
KPIs are just as important as SLAs for
business process outsourcing industry in the Philippines
In the world of marketing, we have KPIs for just about everything. We've got advertising KPIs, email marketing KPIs, content marketing KPIs, and more. 
These metrics tell you how well your marketing efforts are working and what results they're producing. They can also tell you where your marketing strategy could work.
Revenue per client/member (RPC)
The most common, and probably the easiest KPI to track is RPC.
This is a measure of productivity. 
We calculate this as:
RPC = annual revenue divided by the number of clients
For example, you generate $300,000 annually and you have 300 clients. Your RPC then is $1,000. Roughly the industry average. 
Besides access to classes and/or membership dues, what else can you make available for sale to your clients? What do they want? What would be a complementary product or service that would enhance enjoyment without seeming too aggressive?
Magellan Solutions guarantee that we will keep track of this regularly and update you.
Average Class Attendance (ACA)
Another popular KPI is Average Class Attendance (ACA). If classes are full or nearly so, it indicates a highly desired class, and theoretically, a profitable class.
At the other end of the spectrum, some classes are not quite as full. It's incumbent on the owner to find out why. Often it is an elusive answer. 
Thus, Magellan Solutions help you identify the difference between:
A bad class

A bad instructor

A bad day or time
Client Retention Rate (CRR)
Retention is the percentage of clients you retain. This is critical to long-term profitability. 
In many ways, it's the most important KPI of all. It measures how well you're delivering on your brand promise.
Typical CRR for the studio industry is roughly 72%. So, what do you do to increase that number?
Here at Magellan Solutions we do so by helping yocus on marketing strategies, tactics, messaging, time and expenditure along with ongoing sales efforts. 
Furthermore, we also retain your clients by:
Deliver what you promised.

Make sure those who work in your studio (whether employee or independent contractor) have embraced your vision.

Understand why clients are leaving. Do exit interviews. Let them know you value their opinion.
Profit Margin (PM)
What does it mean if it costs you more to generate the revenue than the revenue you generate? It only means that it's a negative PM.
Your business is not long for this world. That is, unless you're incredibly well-financed and have deep pockets.
If not, Magellan Solutions help you identify the best place and how you're spending your money. 
Where is your money going? Which expenses are out of control? Which are necessary expenditures and which are not? Which expenses help generate revenue?
And don't overlook the revenue side of the coin. Are you charging enough for this or for that? Does your pricing model need revision? Are your programs stale?
Average Daily Attendance (ADA)
A simple KPI but one that can get blurry. 
Is your studio full of Class Passers who pay next to nothing and have no intention of ever joining your studio or paying full price for a class? Good for Average Daily Attendance. But not so much for PM or CRC.
Magellan Solutions offer different methods to achieve your ADA goal. 
Give away free promo items, run special promotions, bring a friend, special this, or that are all ideas. 
But be careful. While there's validity to ADA as a marketing strategy, make sure there's a sales acquisition strategy to support it.
Even Good Metrics Can Become Useless
Indeed, everything stated above gives you an insight as to why you should have KPIs and SLAs.
After working for almost two decades in the business process outsourcing industry in the Philippines, Magellan Solutions found ways to avoid the mishaps with these metrics.
Useless KPIs
KPIs serve as a great advantage because you get to directly monitor with us how your business on our side is progressing. 
But there are times that KPIs become a weak point in the business. Some of the scenarios are:
Metrics you can directly manipulate

Even if you are not malicious, it can be difficult to resist manipulating your KPIs to make you and your company look better.

For example, if a KPI for a sales organization is a number of phone calls, they can start making dozens of meaningless phone calls which have no chance of converting just to make that KPI look better.

Too narrow

If you are a restaurant chain, you would not choose a single location to measure the health of your entire business.

KPIs that track only a small part of your business can give you a distorted view of the overall health.

Lagging indicators

Metrics that will not reflect changes in the business until days or weeks have gone by are not useful KPIs because it will be too late before you know what is happening.
On the other hand, SLAs are not a key motivating factor. In some cases, SLAs are even worthless.
Reasons for Useless SLAs
From a provider perspective, SLAs are not a key motivating factor. In some cases, SLAs are even worthless.
Some of the reasons that make them useless are:
Low Credits

SLA financial or service credits rarely cover your losses.

With many IT services and hosting in particular, simply covering a portion of the underlying IT costs rarely accounts for lost revenue.

It is important to understand how SLAs are not intended to make up for lost revenue. Some people turn to their SLAs for some sort of relief after an outage. Unfortunately, the money offered by the SLA is more of an insult than a help.

Uptimes Guarantees have no guarantee

Other providers offer 100% uptime guarantees.

However, you will soon discover that SLA credits do not kick in until after 30 minutes or more of downtime. This is a common marketing tactic wherein you have a guarantee of 100%.

But in line with this, you may not be able to claim any SLA benefits, as small as they are until services drop below much lower levels.

Ambiguous SLAs

Too often, the terms are confusing, ambiguous, and do not address what you really care about.

Companies, including our own, will guarantee response times but not resolution times. Response time and resolution have a very precise meaning to us as a service provider but may not be as clear to our clients.
KPI & SLA Success Stories of the
Top BPO Companies In Philippines 2019
Failing to meet a KPI is not a breach of contract.  
Rather, KPIs serve as navigational tools. It keeps BPO providers on track to meet defined SLA objectives.
Some of our solved issues below proved how both KPI and SLA are a must for BPO companies in the Philippines.
KPI
SLA
Customer/client

A leading IT services company's BPO division

UAE based healthcare based services company

Customer challenge

Several difficulties in processing mail order fulfillment for millions of orders each month.

Their BPO division handles millions of orders each month, but the client was unhappy with their process.

Customer satisfaction surveys were not providing the desirable responses.

Magellan Solutions challenge

• The IT services company's BPO division focused more on delivery and required immense training in BPO platform management.

• The company's existing in-house IT support was not in accordance with BPO platforms. It was more focused on desktop management. Moreover, the support service team was not familiar with the BPO domain.

• The turnaround time to respond to customers' queries had to be enhanced.

• The customers asked agents for their Last Name which confirmed the callers that they were speaking to a non-Arab agent

• The female patients gave out the contact numbers of their husband/ father/ brother instead of their own

• The customer reach percentage was less than 2%

• The customer satisfaction percentage was as low as 47%, which was ways lesser than the prescribed client SLA

How we handled the case

Magellan Solutions helped the company by designing a unique BPO platform meant for mail order processing.

We set up a special team, the members of which had expertise in Oracle DBA, BPO platforms, and operating systems.

Furthermore, a special support operations center was also established which was equipped with voice/email/internet facilities, including remote access support, which helped in reducing the turnaround time considerably.

Magellan Solutions was able to provide the following:

• The turnaround time for the projects improved by 24%

• The customer satisfaction percentage was increased to 85% – 87%

• All of these above mentioned results were achieved in a span of 2 months

Result

Several performance-related issues, faced by the company earlier, were resolved by Magellan Solutions. 

This augmented the company's productivity significantly.

Our client was satisfied and pleased with our value-added services.

Apart from meeting the client's objectives, we also resolved several performance & product related issues that the client's company was facing earlier, which augmented the company's productivity significantly.
The
business process outsourcing industry in the Philippines
offers nothing but the best!
Whether you are negotiating SLAs into a new contract or reporting KPIs during a quarterly business review, reporting meaningful data is crucial. 
Data helps us make better-informed business decisions and avoid costly mistakes. But everything comes with a cost. Although much can be automated, there is always some effort involved with tracking and reporting data. 
Make sure to define meaningful metrics that you want to track. 
Avoid " vanity metrics" whose only purpose is to show off how much data you have. Those only lead to information overload. 
This is why KPIs are called KEY Performance Indicators. They should, as the name suggests, indicate key information about your performance, and ideally provide some insight into how that performance could be improved. 
Fill out the form below if you want a specialized KPI & SLA for your business!
TALK TO US!
Contact us today for more information.