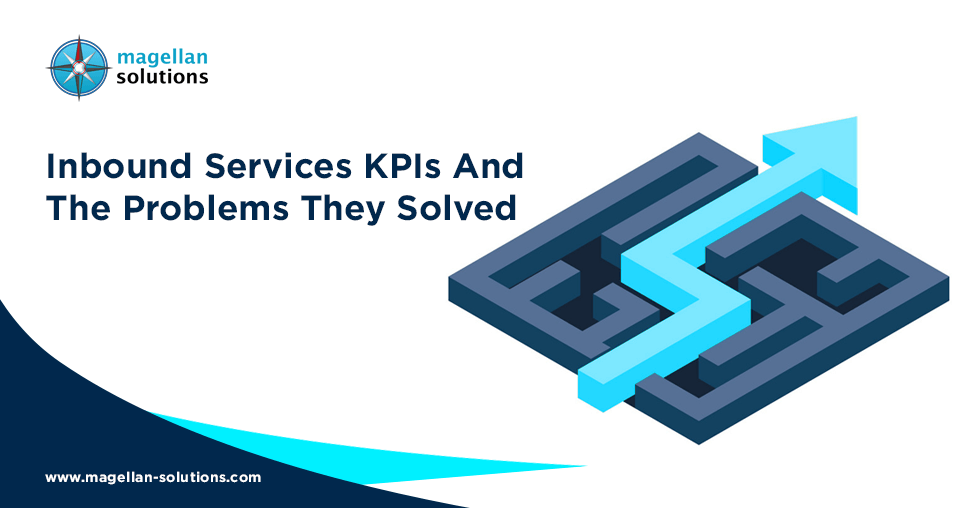 What Are
Inbound Call Center Companies
KPIs For?
In the world of marketing, we have KPIs for just about everything. We've got advertising KPIs, email marketing KPIs, content marketing KPIs, and more. Today, we're just going to talk about the big ones. Inbound customer service KPIs.
Inbound marketing KPIs, or metrics, provide your best estimate of success. 
These metrics tell you how well your marketing efforts are working and what results they're producing. They can also tell you where your marketing strategy could work. 
10 KPIs To Watch Out For In
Inbound Call Center Services
As you probably know, there are way more than just 10 inbound marketing KPIs to track. 
But, if you're just getting started with the inbound methodology, these are some of the most important:
KPI
How Magellan Solutions Use It For Your Inbound Call Services Advantage
1. Qualified Leads

There are leads you're actually interested in. But there are leads you're not.

This KPI tells you exactly how many qualified leads you're getting. Sounds basic? But qualified leads vs. plain ol' leads is key.

Your campaign is seeing a relatively low number of inbound call leads. But all of those leads are highly qualified and likely to close. Magellan Solutions help you realize that you're doing something right.

That's a much better sign of an effective campaign compared to one that delivers a ton of leads but never converts into prospects or sales.

2. Organic Traffic

Organic traffic is relatively easy to track.

The higher your organic traffic rate, the more your content is resonating with the right people.

When you have a high organic traffic number, you know that your content marketing strategy is working.

Magellan Solutions guarantees that you will place yourself ahead of the inbound call center services competition in search rankings. In addition, we let it help you focus on your ideal audience.

3. Social Media Traffic

Social media traffic is also a great inbound marketing KPI to watch.

By monitoring the traffic coming to your website from social media, you can determine:

• Which channels are driving the most traffic and the most leads to your site

• How many conversions you're seeing through social media channels

• How much website traffic is coming to your website from social media

Furthermore, Magellan Solutions help you determine which channels are delivering the most qualified visitors.

When you know that Facebook is the one delivering you 15 new leads every month, while Pinterest has delivered none, you can invest more money in your Facebook strategy.

4. Time-on-Site

If you have a long average time on site, then your visitors are reading your content and navigating deeper into your

inbound customer service

website.

Meanwhile, a short time on site is a good indication that it's time to change something up.

Here at Magellan Solutions, we can help you add a different image or a different content offer on your front page. We do this by changing up your calls to action. Furthermore, we make sure it's really working to answer the questions your ideal buyer is asking the most.

5. Time-on-Page

This is an especially useful metric. Especially if you've been working to incorporate pillar pages, or are working on developing longer-form content.

With the time-on-page metric, Magellan Solutions helps you gain insight into which pages are keeping your readers' attention, and which might still need a little work to retain their concentration.

6. Bounce Rate

As an inbound marketing KPI, we make it to a point that this helps you with your web design standpoint to understand if your landing pages are working properly.

If you have a high bounce rate, your visitors probably aren't resonating with the particular page they're being sent to.

Thus, we here at Magellan Solutions want to extend our hand to your inbound call services.

• Are they bouncing off of a landing page? Consider taking out some of the required fields on your form.

• High bounce rate on a piece of content? Add in an exciting first paragraph.

• High bounce rate on your home page? Consider changing up your headers

7. Conversion Rate

No matter what version of the conversion rate metric we're talking about, it's always important to track.

Magellan Solutions use this metric and helps you by telling the effectiveness of your campaign.

Conversion rates are always important to follow. They tell you more than just how many people are seeing an ad or a page or a content offer. They tell you how many people are actually interacting with that item. And engaged visitors are leads.

8. Customer Acquisition Cost

For most companies, it's more expensive to pick up a new client than it is to retain an old one. But your customer acquisition cost (CAC) can tell you more than that.

With CAC, Magellan Solutions tell you if your marketing strategy is effective. If you're spending thousands of dollars on Facebook and Google Ads, but you're only bringing in one or two new customers, then you've got a pretty high CAC. Thus, we help you change something up.

9. Lifetime Value of A Customer

To figure out the overall value of a customer, Magellan Solutions help you calculate it by:

(Amount of average sale per customer) x (Average number of times a customer buys per year) x (Average retention time for a typical customer (whether that's a year, a month, or more))

Typically, this metric shows you how important it is to keep nurturing leads, even after they've closed on a sale.

10. Return on Investment

ROI is an important metric for us. Through this, we can help you convince your boss that inbound marketing is legit.

Magellan Solutions uses this to our advantage as it helps us show you when your efforts are paying off. It also helps us tell when you might be spending too much on an effort that's not performing.
Start your
inbound call center outsourcing
with Magellan Solutions
While many of these can be tracked manually through your website management platform, we've found that marketing platforms are key to efficiently tracking inbound marketing KPIs.
Magellan Solutions utilizes and relies on the analytics tool to not only identify but also easily compare changes over time and track overall efforts.
If you'd like to learn about more inbound marketing KPIs you can track to better optimize your marketing strategy, or if you're interested in an inbound marketing agency, let us know. 
We can help you determine which KPIs make the most sense for your goals, and we'd be happy to explain a little bit more about the inbound marketing methodology, too.
TALK TO US!
Contact us today for more information.