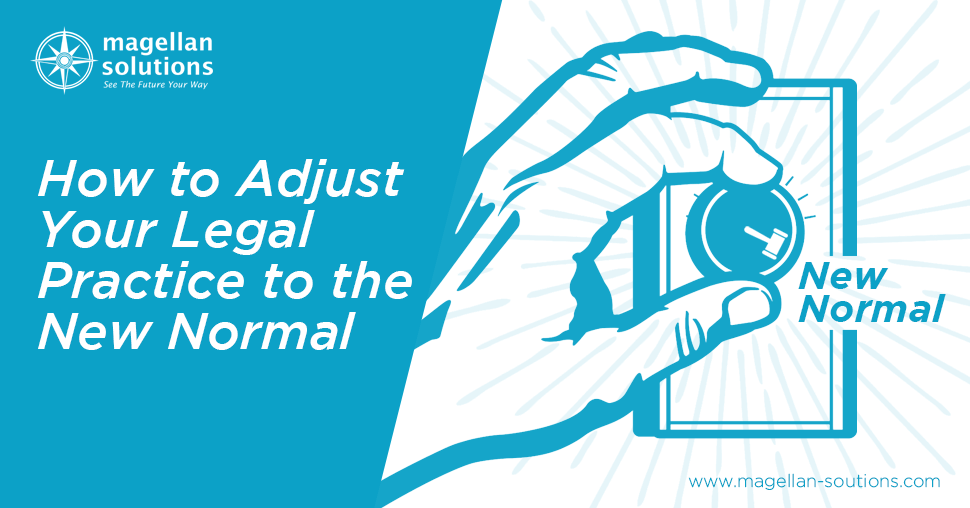 The COVID-19 pandemic has swept the world, and continues to affect us all.
Now, we are living in a new kind of normal. And everyone, including law firms must adjust accordingly.
But any change can fill us with uncertainties. You might ask yourself: what exactly are these changes? And how deep are its effects on me and my business? Most of all, how do you ensure success despite this new predicament?
At Magellan Solutions, we've worked with hundreds of firms around the world. And we are here to help.
How did the pandemic affect the legal industry?
The pandemic affects many aspects of our daily lives — from the way we interact with others, to how we do our jobs. The legal industry also grapples with these changes. But, some practice areas have changed  in unique ways.
For one, most lawyers are now charging for the hours they worked from home. Corporations are in dire need of legal counsel about dealing with the pandemic. And court activities were postponed, delayed or holding digital proceedings.
At the same time, there is an increase in demand for some areas of law.
Which new normal changes should your firm be mindful of?
Even after the lockdown restrictions are gone, we still have to abide by the "new normal". For this, you need to be aware of the changes that affect your law firm.
Here are some of the new normal changes that you need to be mindful of:
Remote work:

before the pandemic, many lawyers were already working outside the office. But this is now a standard practice in the new normal. Set your law firm for virtual work or work-from-home arrangements, if you haven't already. Keep in mind that you might need this setup for the long run.
Sanitation:

regularly sanitize the workplace

. And make sure that you won't run out of sanitation supplies. Place hand sanitizers in common areas. And check everyone's temperature before they enter the building.
Social distancing:

this new normal practice might stay for a long time. Here, you need to limit the number of people in the workplace. And those who are inside should be at least 3 ft. away from each other. Floor markers and transparent dividers are good social distancing solutions.
Mental health and wellness: isolation increases the risk for common mental health problems. To address this, check your staff's wellness often. Encourage them to work only when they're in an optimal physical and mental state. And tell them to stay home if they're feeling under the weather.
Relevant legislation:

catch up with any legislation that is relevant to the pandemic. In some areas, there are new legislations that were especially made for the pandemic, as well. Keep yourself tuned in for any updates on pandemic guidelines and protocols, as well.
How can you ensure that your law firm thrives in the new normal?
Surviving the pandemic is a priority. But growing your firm despite the situation and the new normal is a bigger challenge. And yet, this is necessary if you want to thrive in the long run for the new normal.
Here are some of the strategies that you can do to ensure that your firm thrives:
Explore other practice areas:

this might be one of the best strategies to thrive in the new normal. Some practice areas are especially in-demand during these times. Some areas that you may want to look into are:

Health law

: the pandemic is a public health issue. So, the demand for health law is peaking in the new normal.

Family Law

: after lifting lockdown restrictions, the demand for family law surged. There was a high risk for

domestic violence

during lockdown. And this factor may also affect the divorce rates after lockdown.

Bankruptcy: the financial blow of the pandemic affects both individuals and businesses. It led some to go bankrupt. And these people will need your help.

Corporate Law

: our response to the pandemic changes, as we learn more about the virus. And corporations would need legal guidance for their responses.

Employment Law

: there are new workplace regulations in the new normal. And both employees and employers need legal protection and guidance for these changes.
Improve your flexibility:

being flexible is key to thriving despite any changes. In this case, you need to have more flexible operations. Enforce staggered work schedules for safety. Also, look into flexible work structures for your firm.
Provide better client support:

connecting with clients is different in the new normal. That's why you need to improve your client support. Consider upgrading to omnichannel or

multilingual customer support

. Or try expanding your support team.
Try outsourcing: legal process outsourcing (LPO)

is a great solution for any law firm. When you outsource legal services, your firm can focus more on your core activities. And it comes with plenty of benefits, too.
The benefits of outsourcing legal work
Outsourcing is one of the best business strategies to thrive in the new normal. Your law practice can reap many benefits from outsourcing, such as:
More time for core activities:

you can outsource any non-essential work for your law firm. So, when you outsource, your in-house team would have a lighter workload. And this allows them to focus more on core operations.
Cost savings:

outsourcing is less expensive than hiring an in-house staff. Here, you don't need to spend on recruitment, onboarding, and training. And you can expand your workforce without providing mandatory employee premiums.
Better flexibility:

with outsourcing, you can easily expand or decrease your workforce. You can also add or remove any department whenever needed. So, your firm would become flexible and adjustable in the new normal.
Magellan Solutions: one of the world's best LPO companies
Magellan Solutions is a service provider with over 15 years of experience. Clutch, a market research firm, hails us as one of the world's top legal process solutions providers. And we serve law firms and legal departments all over the world.
With our LPO services, we ensure staff expertise, data security, and value-for-money. Our LPO team is made up of professionals with strong legal backgrounds. We have the ISO-27001 certification, so we can guarantee the safety of your data. Also, the rates of our services are very flexible, so even small firms can afford our legal solutions.
Are you ready to outsource your legal processes? Contact us, and learn how we can help your practice.
TALK TO US!
Contact us today for more information.