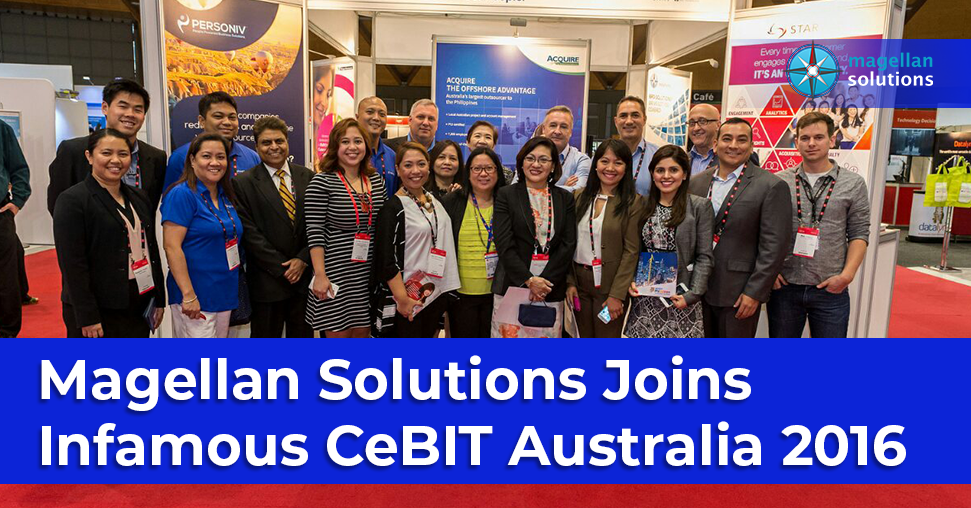 Magellan Solutions was part of the IBPAP (Information Technology and Business Process Association of the Philippines) delegation to CeBIT Australia 2016 on May 2-4 2016 at Sydney Olympic Park. Over 15 000 attendees joined the CeBIT exhibition that showcased the latest business technologies worldwide. The Philippine delegation was also sponsored by DOST-ICTO (Department of Science and Technology – Information and Communications Technology Office). Including Magellan Solutions, more than 300 organizations exhibited a range of technologies and services across 12 show floor categories including Cloud, Unified Communications, Big Data + Analytics, Mobility/M2M & IoT, Financial Tech + eCommerce, Education, Digital Marketing, Smart Office, Enterprise Security, BPM + Software, IT Hardware + Data Storage, and Managed Services.
The IBPAP delegation consisted of 11 Philippine BPO companies: Magellan Solutions, Acquire BPO, First Maritime Shared Services, Personiv, Pointwest Technologies Corp., Sitel Philippines Corporation, Startek, Spi Global, TaskUs Inc., and Teleperformance Australia Pty Ltd. This trade mission in CeBIT Australia 2016 opened opportunities for these companies to promote the capabilities of our technology and people in terms of outsourced services for every industry across the globe.
Magellan Solutions is one of the leading BPO companies in the Philippines offering inbound and outbound contact center services as well as other BPO services that cover data management, IT, finance and accounting, healthcare, engineering, and more.
Want to know more about how outsourcing can work for your business? Contact us today.