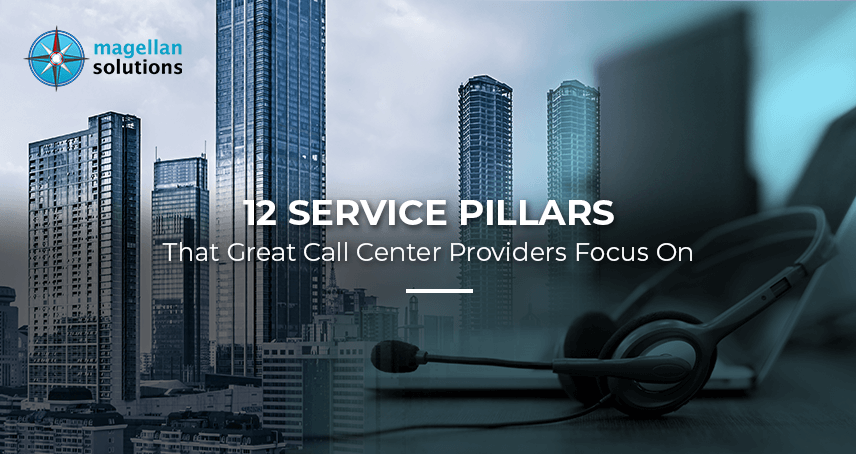 12 Service Pillars That Great Call Center Providers Focus On
Why Telemarketing Companies NZ prefers BPO Philippines as their Business Partner?
Stop Thinking of Non-Voice Services as an Afterthought in Customer Service Outsourcing Because It is Much More
The first thing that comes into people's minds about call centers is voice-based services. However, chat and writing support services are as equally important to businesses as its counterpart.
In truth, non-voice services can significantly elevate your company's performance.
If you are interested to know more, in this article, we'll give you an insight into how non-voice is leading the way in reshaping call centers as we know it.
Numbers Behind Non-Voice
Customer Care Outsource
Non-voice services usually take center stage when the telephone stops ringing. To say it, businesses see it only as a background service or fallback option support to customers. 
In fact, according to Dimension Data, only 33% of companies have webchat capability, 37% have SMS/instant messenger support, and 43% have social media customer service. Looking at these numbers, businesses do not see non-voice support customer service as an essential part of their business process.
This is serious. 
Ignoring non-voice-based services can limit a company's chances for success. Failure to adapt to technology creates a huge problem, especially for small and midsize companies. The worst-case situation that can happen for them is closure.
It is essential to adapt to the changing times since customers and businesses interaction are now so diverse.
The California State University's newspaper, The Collegian, said it better:
"Customers communicate through different ways. Some clients feel comfortable calling a business, while others prefer to send a Facebook message or text. This makes it necessary to create a single access to any channel, regardless of the method of communication is."
They add that as technology develops, the channels to reach clients wilhttps://www.collegian.psu.edu/news/campus/?utm_source=magellan-solutions.coml also change.
In addition to this, social media usage is growing in numbers. According to this Illinois Library research paper, nearly 80% of adults 18 and older and 93% of teens in the US use the Internet. And as expected, Facebook is the most downloaded application on iPhones, Blackberrys, and phones running Windows Mobile.
The research notes that: 
"The internet has become deeply embedded in group life and is affecting the way civic and social groups behave and the way they impact their communities."
So, using social media is not a bad option for businesses. More than that, it is a low-cost marketing and customer service tool to help you expand your reach, build trust and create a community.
Live chat grows in numbers as well, next to social media interaction.
Younger audiences prefer to use Live Chat support because of its response speed, convenience, and personalization of questions. It also enables two-way communication.
However, classic written communication channels stay relevant. Emails are a good example. Did you know that in 2019 alone, 293.6 billion emails were sent and received each day? And by 2022, there's a good chance that it will reach 347.3 billion daily emails. Despite the introduction of many communication channels, the art of writing emails remains strong.
All of these mean that to survive,o embrace writing channel services. Businesses to survive should stop considering non-voice as a parenthesis or support voice-based activities. They play a massive part in getting, converting, and keeping customers.
Furthermore, we've listed core reasons why you should invest in non-voice services.
5 Reasons Investing in Non-Voice Customer Service Outsourcing is Not a Bad Idea
1. It makes marketing easy
There are 4 Billion email users worldwide as of 2020, according to Statista. And by 2025, they expect that it will grow to 4.6 Billion. 
Also, there is a growing trend in mobile email. In December 2018, they discovered that 43 percent of email opens were via mobile. The number is very high compared to other methods of opening emails, such as webmail.
Considering that 62% of all emails are opened on mobile devices, marketing your brand will be easy.
What does it mean for Non-voice BPO? Simple, the demand for email support, such as marketing and customer service, will grow in numbers over the next few years. That is why BPOs offer 24/7 email support to stay connected with customers.
By measuring the numbers, half of the population will have email access in 2023. Imagine all the opportunities, especially for SMEs, to expand and acquire leads.
2. It delivers a strong return on investment (ROI)
According to Wharton University, digital email marketing has a better ROI for your company. Even more so, according to Professor Raghuram Iyengar, digital marketing attracts new customers and plays a part in keeping them.
Moreover, as per Data & Marketing Association (DMA), the average return on email marketing investment is $42 per $1. Although to make those numbers happen, you will need people that can create engaging emails. 
BPOs have workers that can help you market your brand. They usually go through a series of training to quickly identify pain points and write compelling emails. So instead of spending time and resources training agents to do their job, why not invest it in a work-ready non-voice customer service team?
3. It drives customer acquisition and retention
In a study done by Business Wire, 60% of Gen Z folks are more likely than average people to hang up if their call isn't answered in under 45 seconds. That's less than a minute!
With the sudden rise of phone calls nowadays, it is essential to maintain high-quality service. And to do that, you will need to branch out into different mediums.
In Commbox's analysis of their record, they found out that their customer's favorite communication channel is Chatbot. It ruled supreme with 44% favorability, closely topping Facebook with 42% and WhatsApp with 34%. In responding to customers, social media plays an important role. It is said that answering a social media complaint can increase customer advocacy by as much as 25%.
Anyway, these are channels you can use that can help you acquire customers and build a culture of trust. 
4. It is far more efficient than phone-based services
If a customer contacts your business and you do not have enough personnel to take that call, it forms a waiting line. How would you think waiting for help will affect the overall customer experience?
However, in chat and writing customer service, you can provide your customers with options and immediate resolutions through AI. Customers no longer need to wait more than 2-8 hours for a proper phone conversation because they can email or message their concerns to the BPO company.
Chatbots Magazine highlights the importance of AI in customer service. Their 2018 report found that 69% of people prefer chatbots because they can quickly answer simple questions.
5. It is the future of BPO
In the Computer Generated Solutions report called "Business Process Outsourcing Trends 2019: A Look Ahead," they discovered that "providing better customer experience" has risen to the top of the list of goals of over 30 industry leaders.
In the same report, they identified that 40% of businesses believe that providing their customers with "more current and effective IT capabilities" is a priority.
BPOs are looking for technology trends to help them create a seamless customer experience. 
Globe, the leading telecom provider in the Philippines, sees a 22% higher customer satisfaction rate than its call center because of chatbots. Not only did chatbots increase customer contentment, but they also resulted in a 350% hike in employee productivity.
The University of Akron published a paper supporting that AI will be the future of all businesses, not only BPOs. Their report noted that AI will enable companies to integrate existing systems better, assist with hiring, continue to turn big data into insights, provide customers with more effective customer service, and become more user-friendly.
Moreover, they stressed that four out of five CEOs believe AI would make material changes to their business in the next 2-3 years. In short, companies should embrace AI to stay competitive in the industry.
Although there is a bright future for non-voice communication in the BPO industry, the MIT Sloan Management Review still highlights the importance of collaboration between humans and AI technology.
Their review said that AI-driven customer service transformation is not about getting rid of workers but making them more intelligent. Bots can immediately help customers answer basic questions, but agents play a more critical role in answering complex ones.
Chat and messaging services can help people be more productive, especially in customer service. By leaving most of the work to machines, agents can now focus on being the sympathetic ear and clever problem solvers when buyers need them.
The Best Non-Voice
Customer Support Outsourcing
Company in the Philippines
Outsource Customer Support Services with us, and let's work together for a better future.
We are Magellan Solutions, the premier BPO service provider to SMEs.
The best results are achieved through our wide range of services, steady focus on quality over quantity, the best technology, pool of talents, and business honesty.
We have 18+ years of industry experience. And we are also an ISO 27001-certified, GDPR and HIPAA-compliant firm. So at the heart of what we do is data protection.
If you want to experience a difference in your business, message us! Our business development team will be with you ASAP!
TALK TO US!
Contact us today for more information.