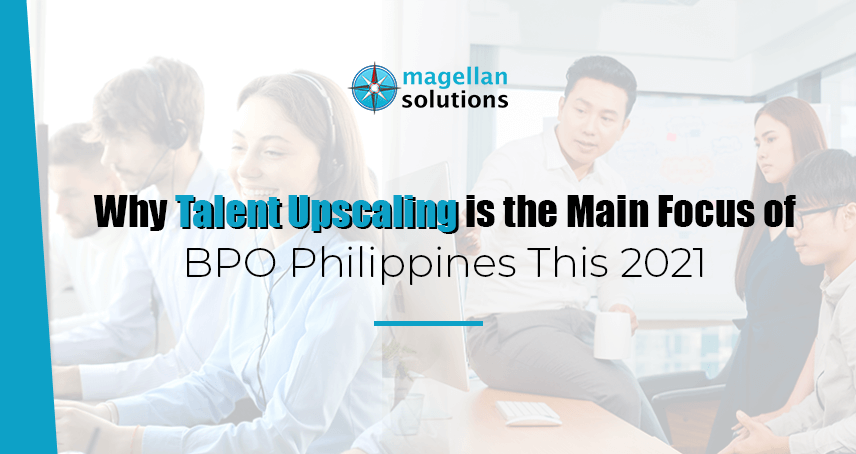 Why Talent Upscaling is the Main Focus of BPO Philippines This 2021
When to Outsource Human Resources?
Have you ever wondered if most successful businesses outsource human resources (HR)? 
A business that is thriving and expanding is desirable. But guiding a company in that direction also means more administrative work. You would need a helping hand to manage your growing business.
Contracting duties like payroll frees up a vast space for firms or departments. Firms do this to concentrate on their core competencies rather than being mired in routine work. 
HR plays a huge role in business. We can say that it is one of the major players in your firm's success.
Hence, in this article, we will guide you on how to know when the right time is to outsource it. We will also explain why you should do it and the HR outsourcing process. 
WHY OUTSOURCE HUMAN RESOURCES TASKS?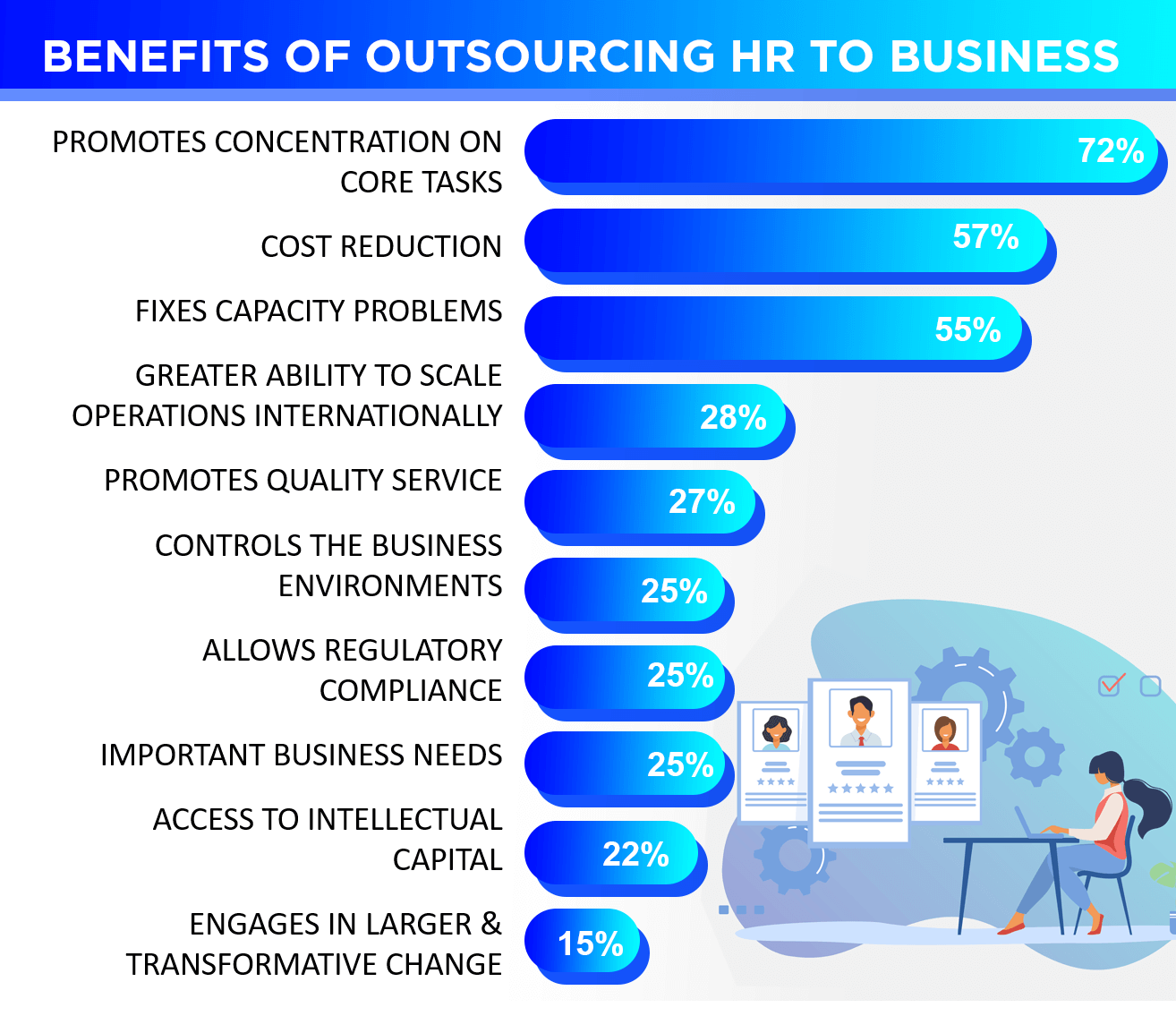 Source: Deloitte 
To outsource or not? Why are PEO services or outsourcing HR services still in demand? It might be because of the edge they can give. Sometimes, human resources outsourcing companies can also provide advice to business owners. Some just like that. They can save plenty of money.
Below are some reasons why businesses choose to outsource human resources.
SAVE MONEY
Finding enough money to recruit enough people to staff a competent HR department can be difficult. Outsourcing aims to fix that problem.
Firms can now hire competent people and save money simultaneously by outsourcing. BPO companies can help with HR-related duties to keep operations on schedule and within budget. This allows employers to do their own thing without concern about admin work. 
HELP YOUR BUSINESS THRIVE
Want to stay on top of recruiting trends?
Firms can efficiently work with their HR services provider to develop training programs for new hires. They can also help in devising incentive programs to keep staff members interested. 
Additionally, businesses can access tools that may be used to monitor expansion, promote employee success, and maintain compliance.
EMPLOYEE ENGAGEMENT
If you own a small business, allocating sufficient funds to foster a great employee experience may be more challenging. Outsourcing might greatly assist SMEs that cannot ascertain the needs and wants of their staff. They can advise on incentive programs and other forms of employee support to promote a positive work environment and lower turnover.
MAINTAIN COMPLIANCE
Employers must maintain compliance with everything from work to taxes to timekeeping. 
In addition to keeping up with significant legislation changes and revisions, HR outsourcing will ensure that the company complies with the law. Failure to comply with the law may result in filing errors and costly IRS penalties.
EASE MENTAL STRESS
Business executives may be unable to devote all their time to the company's main objectives because of routine HR obligations. 
But business owners who outsource can eliminate some of the HR staff members' duties—freeing up their time and lowering their stress levels! 
HOW TO KNOW IF IT'S THE RIGHT TIME TO OUTSOURCE HR? 
If your business is expanding, outsourcing human resources might be the answer you need. And your HR duties are causing you a lot of stress. 
Here are some indicators that you should outsource right now.
RETAINING EMPLOYEES AND ATTRACTING TALENT ARE CHALLENGING
Talent retention and recruitment are more challenging than ever. It's a candidate-driven market with record-low unemployment rates, and top performers are searching top firms for the most significant jobs—with the best employee benefits. However, offering competitive benefit packages is a challenge for many small businesses.
So, partnering with HR outsourcing companies is beneficial in attracting performers and risk management. They can help introduce a desirable company culture and benefits such as salary loans and health insurance. All at a lower price and with lesser imperils, of course.
PILING UP ADMINISTRATIVE TASKS & DRAINED STAFF
Your business is expanding, and you have finally achieved your goals, but the workload associated with HR-related duties is increasing. 
HR teams are evolving beyond simply performance management and benefits administration. They're also your legal team, and employment laws and regulations become increasingly stringent. The task is more complex and time-consuming, which may make it too expensive for your small business to handle.
YOU NEED TO SAVE MONEY
You acquire experience without having to spend too much on training. Outsourcing your HR duties to capable HR BPOs will not break your piggy bank. This is because the partner company's responsible for providing you with someone worth your money. 
Additionally, you can get their various HR services, such as payroll processing and tax filing, saving you time. Use this opportunity to maximize your money's worth.
HR ACCOUNTABILITY STRUCTURES ARE UNCLEAR
The division of admin responsibilities among managers and heads may result in accomplishing all HR tasks. But this often leads to issues about accountability. 
Managers might question whether they are providing the correct information to employees. And employees might not know where to report problems, and some tasks might get overlooked.
To solve this, you can centralize work to certain people. Or outsource. And have an established HR outsourcing model and process in a snap!
THE NEED TO UPGRADE TECHNOLOGY & EQUIPMENT
For your business to succeed, you must have top-notch technology. 
You need to upgrade your tech if your company is expanding quickly. 
Also, staff members must use advanced systems during the pandemic to keep up with everyone. And training everyone to adapt to complex software can be challenging. So, consider having someone else navigate these systems for you.
YOU DON'T ADAPT QUICKLY TO CHANGES
Companies nowadays are agile and quick to adapt to change. HR outsourcing enables your company to maintain its flexibility and make hires as and when they are needed in response to new business opportunities.
SO, WHEN IS THE RIGHT TIME TO OUTSOURCE HR?
The HR leader of your company is in charge of several crucial workforce-related issues. Outsourcing adoption increased as firms started to understand the need to concentrate on their core business functions.
You must first understand the HR outsourcing services model and limitations to find the best suit for you. Knowledge of this can help you choose the ideal partner for your company.
Also, choosing human resources outsourcing companies with the same vision for your business is crucial. 
MAGELLAN SOLUTIONS OFFERS TAILORED-FIT HR SUPPORT TO MEET YOUR EXPECTATIONS
At Magellan Solutions, we can relieve you of your HR duties with quality HR professionals. So once you are ready to start outsourcing, let us be your first HR solution provider.
We take great pride in only providing the top call center services, and we have 18 years of experience in the industry. On top of that, we are an ISO-certified and HIPAA-compliant outsourcing company.
Give us a call! And let us discuss your business HR outsourcing model.
TALK TO US!
Contact us today for more information.