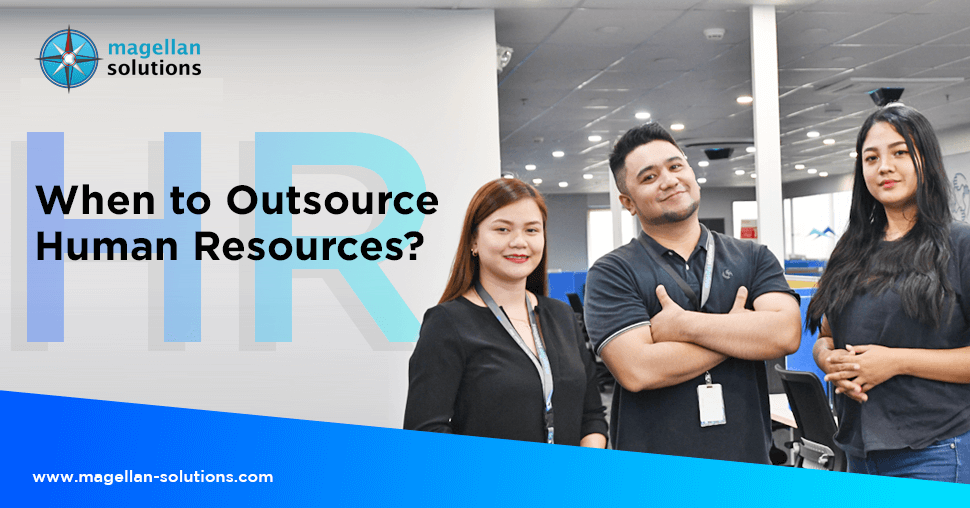 When is the Right Time to Outsource Human Resources?
Many call center companies in the Philippines focus on improving the skills of their agents this 2021.
There are several ways in which BPO Philippines improve the quality of their service to their business partners.
One of which is developing the skills of their agents to adapt to the changes in the business paradigm.
In this article, let's take a look at some reasons why talent upscaling is the main drive of BPO Philippines to attract more business partners.
Improvement of Agents' Skills vs Integration of Artificial Intelligence of BPO Companies in the Philippines
79% of executives believe that agents' lack of key skills threatens the development of their company. 
Unfortunately, the integration of artificial intelligence in many call center companies won't help to improve the capability of these agents.
Having advanced technology means agents will soon become more reliant on it. As a result, they will stop growing professionally and will lose interest in what they're doing.
With this in mind, future successful business models require a combination of human skills and technological application.
Here are some of the reasons why human interaction is still a relevant asset despite the rise of various technological advancement:
Mindfulness of Agents in BPOs
Although mindfulness is always associated with spiritual and meditative practices, it also has a great impact on the customer service operation.
Mindfulness helps develop agents' intelligence, openness to ideas, and self-reflection. 
As a result, it makes them more sensitive to human emotions. Therefore, they can deal with customers' issues delicately about their feelings too.
68% of customers said that their most recent positive customer service experience is with a pleasant customer service representative who helped them with their questions.
This is something that an AI cannot possibly do in the foreseeable future. 
Technologies might be more efficient when it comes to solving tasks but they lack connection with their customers.
It is the reason why many companies right now provide mindfulness training for their agents. 
After going through an eight-month-long training, they saw an improvement in their retention rate by 60%.
Companies that Outsource to the Philippines Prefer Human Interaction Due to Their Storytelling Ability
Today, we see more employees and individuals struggle with writing emails and communicating effectively over the phone.
These are the most essential skills needed for an effective customer services campaign whether through inbound or outbound calls.
As an example, telemarketers need to talk with their potential customers to sell their products. 
But, more than 90% of them won't answer your call since they do not want to speak with an AI or an incapable agent.
So, the best way to improve this aspect of your call center operation is to provide training for your agents.
It is still advantageous if your agents know how to build rapport when talking with your customers.
On top of that, there's a better chance of improvement on your first-call resolution metrics if you have an agent
It is because 33% of consumers don't mind staying on the phone longer as long as the customer service representative is friendly and can help them. 
Hence, there's a possibility that your agent can solve the issue since the customer is willing to stay on the phone longer due to their storytelling capability.
Even if your agent didn't resolve the issue, more than 50% of customers said they will still use your company if they feel that agents help them in the best way they can.
BPO Companies in Metro Manila Continue to Improve Their Decision-Making Skills
36% of customers say that one of the most frustrating aspects of poor customer service experience is agents' lack of knowledge to resolve issues.
This is because most of them lack decision-making skills, especially in customer service operations. Most of them rely on solutions provided by the management.
Only 20% of agents in a BPO company excel at the decision-making process. Meanwhile, executives and management as well only spend 30% of their time in this thought process.
Therefore, management should provide skills improvement for their agents' decision-making process. 
Although AI can probably provide an easier decision-making process through their algorithms, it may affect your future operation. 
It is because your organization will become more dependable in technology to decide for you. Thus, removing any possibility of getting any future leaders for your company.
So, having this kind of training improves not only your customer service satisfaction rate but also the leadership skills of your agents.
It means you're also investing with future team leaders and managers for your organization. 
Conclusion About Prioritizing Talent Upscaling in Business Process Outsourcing Industry in the Philippines
Generally speaking, many organizations disregard investing in their agents' skills since they're expecting technology can solve them all for them.
66% of agents say they were overall behind when it comes to evolving from a traditional call center agent to a modern customer service representative.
There are a lot of factors coming when it comes to disregarding talent upscaling. 
44% of agents say that since companies are so focused on improving artificial intelligence, they tend to ignore their agents' need for modern tools and CRM.
Hence, these agents only have limited ways how to resolve customers' issues. Which resulted in customers' frustration and eventually shifting to another brand.
So, you need to find a third-party service provider that values the importance of their agents by combining their skills with the current technology.
How has Magellan Solutions Managed to Upscale Its Agent's Skills Over the Last 3 Years?
Magellan Solutions has been a consistent contender for the top spot of the best BPO companies in the Philippines.
However, these past 3 years have been the highlight of their experience due to multiple industry-changing circumstances happening since 2019.
Let's review how the management of Magellan Solutions was able to upgrade the skills of their agents despite these changes.
Magellan Solutions Improve Their Services Through the Integration of Modern Technologies in the Call Center Operation
Here's the list of top BPO Companies in the Philippines 2019:
Helpware

Flatworld Solutions

Fusion BPO Services
Premier BPO

KMC Solutions

WNS Global Services

Unity Communications

AnswerFirst

Teletech
Magellan Solutions were able to remain in the top 5 of top BPO Philippines despite the radical changes they've been through.
The general program of Magellan Solutions in 2019 is to introduce as many BPO services as they can. So, they created programs in data management, eCommerce, and omnichannel.
On top of that, they also made several services in the 3D industry such as CAD outsourcing services.
Of course, inbound and outbound call center services are still their cream of the crop. Most of their clients saw a 40% increase in their inbound sales conversion rate.
Magellan Solutions also participated in some international conventions to improve their business processes and technology solutions.
During the second quarter of 2019, they took part in ConnecTech Asia 2019 in Singapore. 
Participation of Magellan Solutions in these international events opens up many opportunities for a possible partnership. 
The management also feels that healthcare BPO will become a trend in 2020 because of the worsening situation of the new coronavirus. 
As a result, they improve their HIPAA-compliant protocol to provide better service for their business clients.
All these improvements provide a new set of skills for their agents that they can use in the following years.
The management gave training and coaching sessions for their agents to develop their multitasking skills. 
Magellan Solutions integrated a blended call center wherein agents can do various works for different companies at the same time. 
This way, they can exercise their abilities and gain new knowledge.
Magellan Solutions Immediately Shift to Remote Work During Pandemic to Continue Their Business Operation
Here's the list of top BPO Companies in the Philippines 2020:
Teletech
Global Sky

KDCI Outsourcing

Propelrr

Loft

Main Source 365 Tech

D&V Philippines

TaskBullet

7th Media Digital
The management reacted quickly after the government announced a nationwide lockdown. 
They started providing working tools for their work-from-home employees just after a month of lockdown. 
The transition from an office setup to remote work is not as smooth as anyone can imagine. But Magellan Solutions management assisted all their agents throughout the process.
On top of that, they also provide internet incentives to alleviate the workload of their agents.
Meanwhile, for those who can't work in their home, they provided a staff house with free accommodations and a shuttle service for easy transportation.
As a result, 80% of their account becomes fully operational just a couple of months after the transition. 
To top it all off, the organization sustains the number of clients they're getting monthly which adds up with their growing international business partners.
The changes in the working environment did not stop Magellan Solutions from providing skills training programs for their agents. 
They have online meetings which include coaching agents on where areas they can improve.
On top of that, the management is closely monitoring all their operations despite working remotely. 
They teach their agents how to operate software to independently navigate in without supervision.
Magellan Solutions Continuously Take Care of Their Agents Through a Series of Training and Fun Activities
Here's the list of top BPO Companies in the Philippines 2021:
Six Eleven Global Teleservices

Cloudstaff

Infinit-O

Support Services Group

HireSmart Staff

AS White

Helpware

Office Partners 360

Teletech
Transitioning from office work to work-from-home is one thing, but sustaining it for a couple of years is another.
It'll be hard to maintain the quality of work if there's very minimal supervision, especially in the call center industry. 
That's why trainers consistently implement weekly coaching and training through online meetings. 
This way, agents can still maintain their excellent quality even with minimal supervision.
Magellan Solutions also provides monthly supplies that will protect agents from COVID-19 such as face masks and alcohol.
On top of that, they also create stricter health protocols to ensure the safety of agents working in the office.
Fred Chua, the CEO of the company, has a monthly Town Hall meeting to address issues concerning their agents.
It makes decision-making easier as everyone in the organization is involved in the solution. As a result, agents can participate in the decision-making process of the organization.
Based on this course of action, Magellan Solutions provide all the support it can to maintain the drive of its agents working from home.
Partner Now with One of the Best Outsourcing Companies in the Philippines
If you are a small or medium business looking to outsource your call center and back office service then go to Magellan Solutions. 
We have more than 18 years of experience providing services for SMEs from different industries.
Here are some contact support services we offer:
We are an ISO-certified BPO company that strictly follows a high standard of service from recruitment to the onboarding process. 
Besides that, we guarantee fortified protection for your data. Our tech support team has different security protocols to prevent online breaching.
Our Business Developers can help you in setting up your key performance indicators (KPI). KPIs will guide you and monitor the progress of your business with us.
We also offer guaranteed flexible pricing options based on several factors like service and number of agents you need. Magellan Solutions understands that start-up businesses have limited funds for outsourcing services.
More than state-of-the-art technology, we value our people and make sure they have the best sets of skills available for your company.
Contact us today and get a free 60-minute business consultation. Please fill out the contact form below.
TALK TO US!
Contact us today for more information.