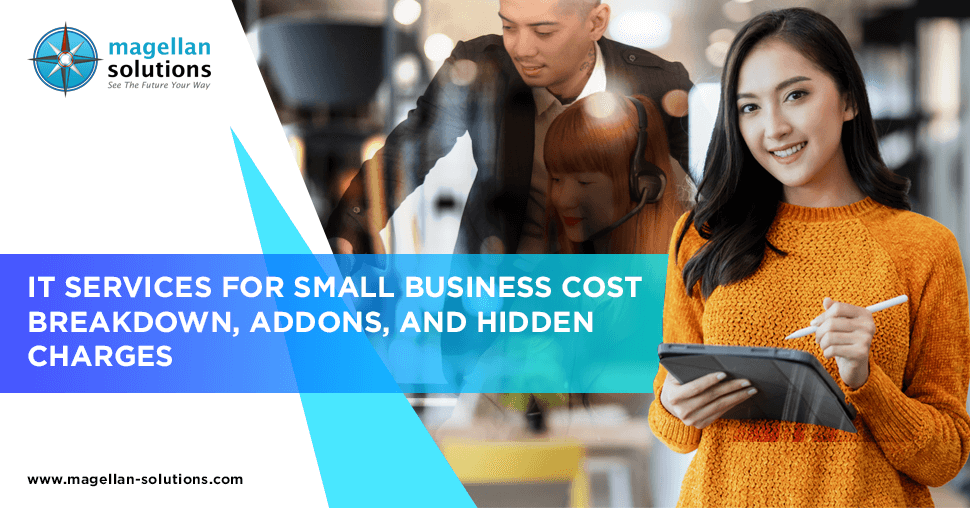 IT Services for Small Business Cost Breakdown, Addons, and Hidden Charges
Pros of Having Outsource Web Development Philippines
Outsourcing websites is currently a prevalent trend. 
However, there are still several questions regarding how and why to outsource web development Philippines, even if you already have an idea for a website that may support the expansion of your business.
Software development and outsourcing are necessities since digital growth makes it necessary to have a web presence. Not every firm has the time, personnel, or financial means to pay someone to develop a website.
This is where outsourced web development services become handy. It enables small and medium-sized organizations to utilize the technologies without developing them from the ground up.
WHAT DOES OUTSOURCING WEB DEVELOPMENT MEAN?
Web developers must make and change online shops, blogs, news sites, games, and informational websites. They also make mobile apps and content management systems. 
When a company hires someone else to do these tasks instead of doing them themselves, this is called outsourcing. The third-party may sometimes be in a different country.
WHY OUTSOURCE WEB DEVELOPMENT PHILIPPINES?
A solid online presence has been known for a long time to be essential for both business success and customer happiness. Companies often outsource website development to ensure that their site's quality is above average but at a lower price.
You don't have to worry about giving them the necessary training and tools. Web development companies spend money on these to provide their employees with the best.
Also, they make sure that people will always be there to support you, even during late hours. This means that someone is always looking for bugs and ways to make things better, even when you're asleep.
Every company decision carries possible risks. Therefore, embracing this and focusing on the positive aspects rather than the potential drawbacks is critical. Here are a few reasons why you should consider outsourcing web development Philippines.
A COMPETITIVE OUTSOURCING DESTINATION
BPO Philippines is known as the "capital of the world" because it has grown and developed quickly. The BPO sector in the country remains one of the most popular outsourcing locations in the world.
The BPO industry has brought in billions of dollars for the economy. Currently, the Philippines is one of, if not the top, choice for website outsourcing by businesses.
Outsource web development Philippines is much cheaper compared to other nations, as well because the cost of living in the Philippines is lower than in most other countries.
FOCUS ON YOUR BUSINESS PRIORITIES
When you outsource the development of your website, you are free to focus on operating your company. It is because you can leave your website development tasks to those with the most field experience.
In addition, you can ask your web dev partner to give you reports on your digital presence and progression. You can use this to scale up your business and attract new markets.
ACCESS TO CUSTOMIZABLE PLATFORMS
If you hire a third-party business to handle your website, you can use platforms with a wide range of customizable features and add-ons. If you do this, you'll have a website that fits your needs and gives your customers a unique experience that matches your brand.
ACCESS TO EXPERTS WITH SPECIALIZED SKILLS
A business should strongly think about outsourcing web development because skills are a big part of determining how to complete a website project. 
An outsourcing company can let you hire people with the skills you need fast. And fortunately, Filipinos are inherently artists. Many web experts in the country are waiting for their shots. 
They are famous for producing beautiful interfaces and designs. Website developers in the Philippines are skilled and willing to go the extra mile if needed. They are also very good at meeting deadlines.
Because of their skills, they can make great websites, use UX and UI principles, and give users good experiences.
DATA SECURITY & PRIVACY
The Philippines has the strictest rules about protecting personal information. 
When you outsource web development to the country, you can work with top experts who can make your idea a reality. All securely and safely. All these lead to massive growth for your business with little cost and risk.
ADAPT FRESH & CREATIVE IDEAS
Third-party companies that provide outsourced services might think like outsiders. Why? Because they don't know your company as well as you do. This can help them develop fresh ideas to improve web design and user experience.
EMPLOYEE TURNOVER IS NOT AN ISSUE FOR YOU
When you hire people from inside your company to work on your web projects, there is a chance that they could suddenly leave or join another company. By hiring a reputable company to build your website, you can protect your business from any unfinished projects with dedicated web developers.
EMPLOYEE COST
It may come with a hefty price tag if you want to get your website up and running quickly. You have to hire and train people. Suppose you give them all the necessary equipment and compensation. And if they're all talented web developers, that is pricey for a small business.
But by outsourcing website development in the Philippines, you can hire people with good technical skills. People that sure know what they are doing and can give you results whether your targets are in international or local markets. Also, you don't have to worry about the tech they'll use. BPO companies can usually provide them.
CONTINUOUS ASSISTANCE IS OFFERED
Once the online project is over, third parties like IT outsourcing companies Philippines typically continue to work with you. Usually, a beneficial relationship with your partner is long-term.
Dealing with them typically entails having access to continual website support services. Helps such as technical troubleshooting and software updates are often offered by BPO firms.
HOW TO OUTSOURCE WEB DEVELOPMENT PHILIPPINES?
When deciding whether or not to outsource, companies should be careful not to act too quickly. Before you look at your options, you should know a lot about the significant steps of web development that your project will go through.
We've listed below a framework to guide you with the know-how of outsourcing web development tasks. 
DEFINE YOUR GOALS
You should take down notes here, like what is your end goal? You can also write down why you are doing this in the first place. 
Questions such as what you hope to accomplish with your web project and what website you want to create are also good. 
Noting the details will improve communication and productivity with the provider. 
EXPLICITLY STATE THE PROJECT'S REQUIREMENTS
Share the features of your project with the outsourced staff, so they can determine the price and timeframe for developing the software. It helps discover the most cost-effective option to outsource web development tasks because cutting out unnecessary functions from the beginning typically results from working on feature scope and deadlines.
DESCRIBE YOUR PROJECT'S BUDGET & TIMELINE
The intricacy of the project and the choice of an outsourcing firm for website development are strongly influenced by the amount of money you have available.
The release date will only be precisely determined once the development team has been located. They are more likely to stick to strict deadlines and produce the needed results quickly if they have more excellent expertise and leading specialists.
INVEST IN A REPUTABLE WEB DEVELOPMENT OUTSOURCING COMPANY
List at least ten outsourced web development businesses while considering the requirements mentioned. Budget, location, and experience must all be compatible with your needs, and they should also have verifiable testimonials that you can honestly look into. 
ASK SOME TO QUESTIONS ABOUT YOUR PROSPECTIVE VENDORS
After selecting prospects for your web development outsourcing, strive to learn as much as possible about them. To provide you with the most excellent solution, a high-quality outsourced web development firm will be interested in all project details.
HIRE YOUR CHOSEN OUTSOURCING PROVIDER & SIGN A FORMAL CONTRACT & AN NDA
Reputable outsourced web development companies always recommend formalizing the partnership—an outsourced development business guarantees to protect the data you provide with the team through this document.
MAINTAIN EFFECTIVE COMMUNICATION
Successful outsourcing of development requires effective communication. Ensure that you and your team are on the same page. It will assist in preventing extra costs and misunderstandings of outsourcing while reducing errors and modifications during the software development process.
THOUGHTS TO PONDER
It's critical to establish a precise set of objectives for your project. Briefly describe your online project, list your technical and business goals, and choose a spending limit. Making a list of inquiries to pose to potential outsourcing teams is also an excellent idea.
If you do thorough research, you'll probably choose an outsourcing partner you can trust to do flawless work at a competitive price.
The top IT outsourcing companies in the Philippines will assign a project manager to supervise the work being done on your project and give frequent updates. Your web projects should go smoothly if your offshore team of developers can quickly fit into your organization and feel at ease working with the in-house team.
We hope this article has helped you understand why and how you should outsource web development Philippines. 
MAGELLAN SOLUTIONS OFFERS WEB DEVELOPMENT OUTSOURCING FOR YOUR WEBSITE NEEDS
Magellan Solutions can provide you with the best-outsourced staff you can ever have. 
We guarantee that best practices will be used for your project at every level, thanks to our significant experience in all facets of web development.
If you need to outsource a web development team in the Philippines, Magellan Solutions will help you maximize your resources at a fraction of the price without sacrificing quality. 
With 18 years of expertise in the field, we take great pride in providing only quality call center services. Aside from that, we are an ISO-certified and HIPAA-compliant outsourcing company. We offer a wide range of top-notch outsourcing business solutions.
Please do contact us and let us know how we might be able to assist you with your business goals. 
TALK TO US!
Contact us today for more information.