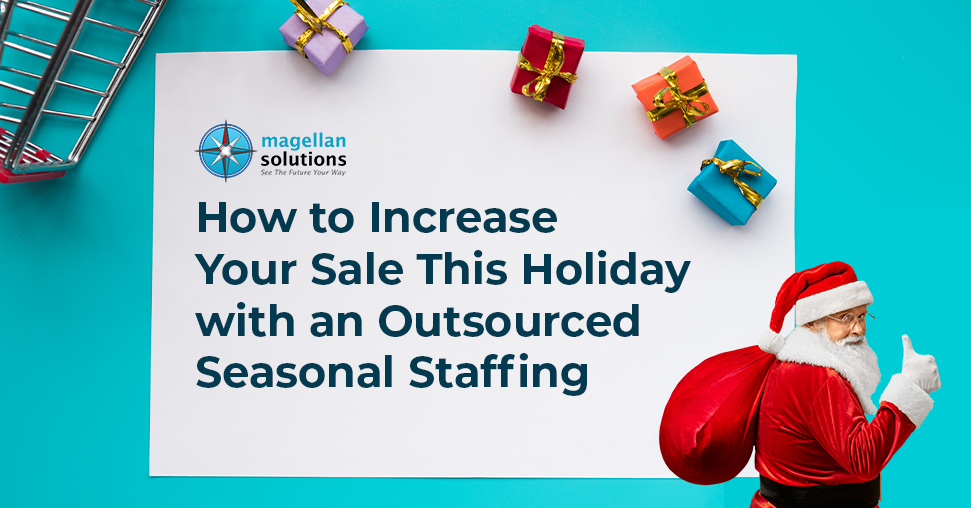 How to Increase Your Sale This Holiday with an Outsourced Seasonal Staffing
For businesses, the holiday season is the most profitable time of the year. But for some, it can also be a stressful time because they have more work to do. At first, the plan may be to hire more people to help with the demand, but this may not be a good long-term solution. especially if it's just a seasonal peak. The best way to deal with it is to hire people for certain times of the year. They're called Seasonal Staffing.
Opting for outsourced seasonal staffing allows you to have additional hands to ensure that no processes in your business will be left behind. The advantage of hiring a seasonal staff is that they'll only stay during the busy period to ensure that your business can keep up. 
WHY OUTSOURCE DURING HOLIDAYS?
Outsourced workers or seasonal employees can do more than just lend a hand. They can also help you boost sales this holiday season.
So, if you know you need more workers but aren't sure if it's worth it, here are some ways they can help you make more money this season.
ENSURES CONTINUITY OF WORK
In most companies, the holiday season is also known as the critical working days as this is also the time when employees go on leave. A reduced workforce during the busy season is where the challenge is. 
Companies resort to seasonal staffing to ensure that operations and productivity aren't disrupted.  Outsourcing staff in this season not only helps in meeting the increased demand for work but also fills in the seats of regular employees who wish to go on leave.  
When there's an increase in orders, there's also the need to process it immediately. If there are staffing issues, employees tend to focus on the quantity that they produce just to meet the customer demands and forget about the quality thus, human errors and slip-ups are likely to happen. 
When there is sufficient staff through outsourced seasonal staffing, productivity and efficiency are not sacrificed. Prioritizing the continuity of work by ensuring that the workforce is complete secures and even grows your revenue. 
FASTER SERVICE
With outsourced seasonal staffing, you'll have a team of people to whom you can give tasks. Things that need to be done, like customer service, accounting, data entry, etc., to keep things running smoothly.
During this busy time of year, it's normal to get bad comments about slow service. This needs to be avoided because it hurts the company's reputation. One of the benefits of outsourcing staff is that you can work with experienced people who know how to get things done faster.
If your customers are happy with the service you give them, you can expect them to come back even after the holidays.
OPPORTUNITY TO TEST THINGS OUT
If hiring outsourced workers is an efficient plan on how to effectively deal with the pressure brought about by the holidays, it may be an excellent time for your business to venture into a seasonal job.  Your outsourcing team may do the research to find the best marketing strategy that has the potential in increasing your sales this season. 
If you're in the food business, you can experiment doing other flavors in one of your top-selling products or if you're in cosmetics, you can release a different skincare item. Track and measure feedback to check if this new marketing strategy is profitable. 
If it turns out well, you can retain this marketing strategy even after the holidays or it can be your seasonal offer to your customers, so they have something to look forward to. 
TIPS TO INCREASE SALES THROUGH OUTSOURCED SEASONAL STAFFING
Now that we know the benefits of seasonal employment, here are some tips to help you get through the holiday.
MAKE A PLAN
It's true that hiring an outsourced staff to do in-demand tasks can be a cost-efficient move for your business rather than hiring a regular employee, but it will still depend on the needs of your company. 
Before resorting to staff outsourcing to do the seasonal job, make sure to conduct planning and developing strategy first. There's a possibility that your workforce is still sufficient, and it can still handle the demands of the busy season, so seasonal staffing may just be an additional cost.
IDENTIFY THE SEASONAL PEAKS
The seasonal peaks vary from one business to the other. Other companies are already experiencing a peak in sales as early as September while some just experience the peak only a few days before Christmas. 
It's essential to identify your seasonal peak, so you would know when it's necessary to add manpower as you will still conduct training. Your forecast will be based on your past experiences. 
GET THE HELP YOU NEED
Outsourcing seasonal staff is critical during the holidays as you need to ensure that the ones you're getting help with will really attend to your needs. Partner up with an outsourcing agency that can produce qualified and trained staff. 
If you require back-office outsourcing services, choose a provider that has data security certification as they will be handling confidential information.
PRIORITIZE AREAS WITH URGENT NEEDS
If all departments in your business may experience an increase in workload, create a hierarchy map as to which department requires more staffing. Maybe not all departments demand extra help. Having seasonal staffing in areas where they aren't producing the most may result in redundancy. You don't want to spend on useless demands.
LOOKING FOR A COMPANY TO HELP YOU THIS BUSY SEASON?
Need help with your operations this Christmas season? Don't let the increase in your workload stress you out! Outsource your work to hit your revenue goal this season.
At Magellan Solutions, we can provide you with highly trained seasonal staff that can make the work done. Contact us now and let's talk about how you can enjoy your holiday with profit in mind.
TALK TO US!
Contact us today for more information.