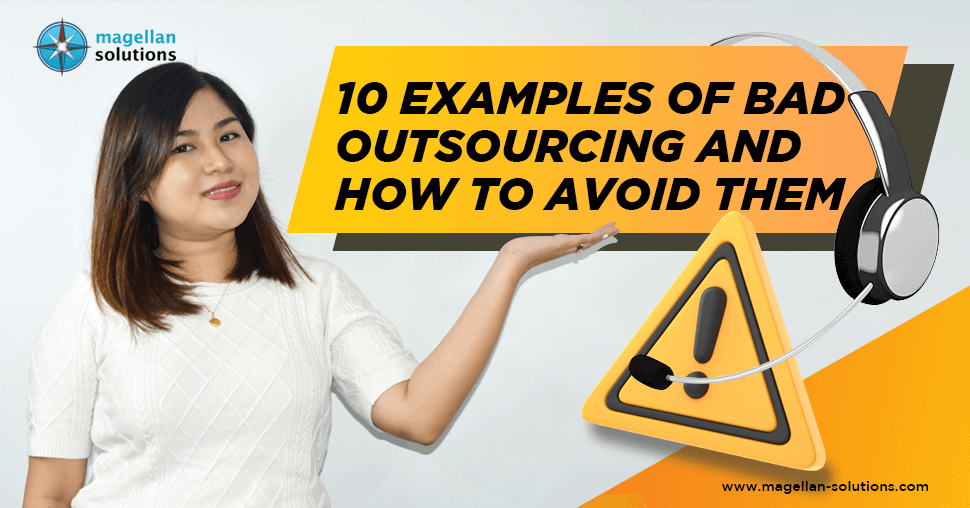 10 EXAMPLES OF BAD OUTSOURCING AND HOW TO AVOID THEM 
Due to the exponential rise of information technology (IT) over the past ten years, it is now necessary to offer IT goods and services using ever-cheaper methods.
Due to the numerous advantages outsourcing has to offer, including reduced costs and access to a larger talent pool, an increasing number of companies are outsourcing their software development needs to outsourcing companies. But as perfect as outsourcing sounds, it still poses risks and that is inevitable. 
But it doesn't mean they don't frequently face the risk of failing in that regard. You must be ready to handle any risks or challenges you may encounter before you employ an offshore staff. 
We'll look at seven significant outsourcing failures in this article. We'll also go through the top ten causes of these outsourcing failures and how to prevent them. 
WHY DO COMPANIES OUTSOURCE THEIR BUSINESS?
Here are reasons why companies outsource some of their tasks to business process outsourcing (BPO) companies.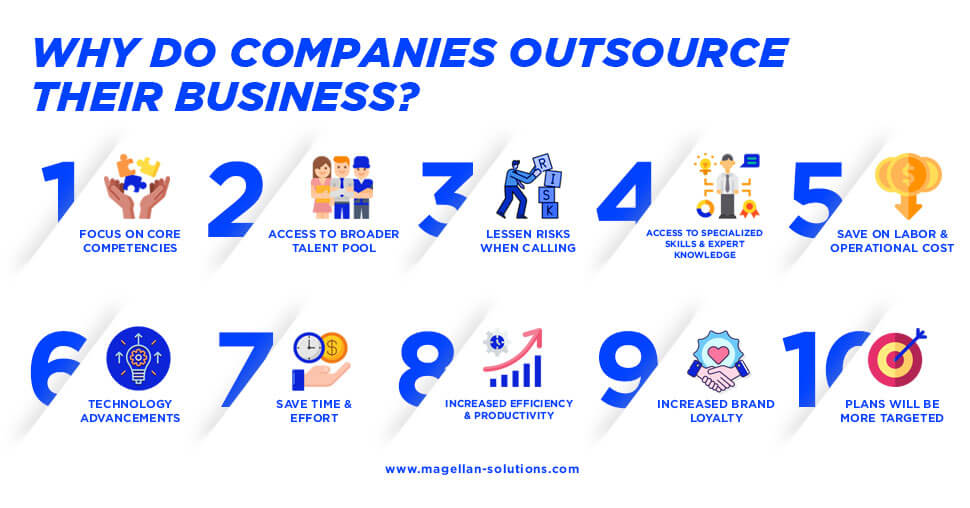 Source: Magellan Solutions
7 EXAMPLES OF OUTSOURCING FAILURES: REAL LIFE EVENTS 
It is also inevitable that in some aspects of our lives, outsourcing fails. Let's examine a few significant examples of bad outsourcing to see what we can learn from them. 
#1) IBM & THE TEXAS STATE
In yet another expensive incident, IBM was removed from a project with the State of Texas. 
CASE STUDY
The State of Texas employed IBM in 2006 to combine the activities of 27 state agencies' data centers into two data centers. It was a $863 million, seven-year contract.
However, after four years, IBM had only finished 12% of the task. And these outsourcing failures led to backlogs and higher costs, not to the state saving money on integrating the IT system.
TAKE NOTE: 
Choose the ideal contract structure for the operation. For short-term contracts, you can opt for a set fee model, and for long-term collaborations, for a material and time model.

Make a formal agreement detailing the project's deliverables' scope and due dates.
#2) QUEENSLAND & IBM
The event involving IBM and Queensland Health Department, puts the spotlight on examples of bad outsourcing.
CASE STUDY
The Queensland government hired IBM in December 2007 to create a payroll system for the Queensland Health Department. Although technical difficulties were discovered throughout the development process, IBM revised the expenses to be around $27 million. Later, the project had delays and grew to cost $1.2 billion.
Moreover, the payroll system never performed flawlessly, resulting in thousands of employees receiving incorrect paychecks. The Queensland Government made an attempt to sue IBM. However, a waiver that absolved IBM of any responsibility led to the dismissal of the claim.
TAKE NOTE: 
Ensure developers have access to realistic deadlines.

Instead of depending just on the outsourced team's brand value, evaluate their skills.

Consider project hazards and budget projections in advance.
#3) J.P. MORGAN ABANDONS IBM
Although the Queensland project was IBM's worst failure as an outsourcing vendor, it wasn't the first time the company has lost a significant outsourced client. 
CASE STUDY
In 2004, J.P. Morgan Chase & Co. decided to bring its own IT staff back in-house and canceled the remaining seven years of its $5 billion IT contract with IBM. Following the takeover of Bank One Corp. in 2004, the bank decided to dissolve the agreement.
J.P. Morgan claimed that after merging with Bank One, it would be able to manage its IT infrastructure more effectively domestically compared to through outsourcing. 
IBM lost billions of dollars, and J.P. Morgan paid a price for the company's choice to disassemble and then reconstruct its IT team, even though J.P. Morgan did not accuse IBM of breaching its contractual responsibilities. 
J.P. Morgan saw excess spending with regard to its I.T. employees spending and compensation. 
TAKE NOTE:
#4) VIRGIN AUSTRALIA & NAVITAIRE
Due to Navitaire's negligence, an airline e-commerce outsourcing business, the reservation and distribution system for Virgin Australia crashed. The disaster highlights the need for technical proficiency in IT outsourcing.
CASE STUDY 
Virgin Australia's online reservation, check-in, and booking system broke in September 2010, leaving 50,000 customers stranded.
Navitaire immediately located the issue's root cause—a broken disk drive. However, it was unable to quickly address the pressing problems.
Navitaire decided to repair the damaged drive rather than immediately moving to a backup drive, which resulted in a 24-hour suspension of operations. Virgin Australia suffered significant financial and client losses as a result of the error. In order to deal with the losses, both corporations ultimately came to a mutually satisfactory but vague settlement.
TAKE NOTE: 
When choosing a vendor, take into account logistics and time zone issues.

Keep your own development teams on board to find solutions alongside outside specialists.

Make sure IT outsourcing providers are capable of and skilled at troubleshooting server problems.
#5) THE ROYAL BANK OF SCOTLAND & THEIR IT VENDOR
The Royal Bank of Scotland (RBS) was hit with substantial fines as a result of the technical difficulties it encountered when working with an unidentified IT provider. Although not entirely an outsourcing failure, this example demonstrates how provider cooperation and skill are crucial for corporate success.
CASE STUDY
The banking system and payment processing of RBS were impacted by an erroneous software update in 2012. For weeks, it rendered the system unusable, preventing millions of consumers from accessing their accounts.
Banking companies in the larger RBS Group were among those impacted. Additionally, just about 30,000 social welfare beneficiaries got their money.
Union officials theorized that India's outsourcing of IT services was to blame for the problem. However, it was later discovered that RBS technical personnel had botched the update. In 2014, the Financial Conduct Authority (FCA) issued the banks a £42 million fine.
TAKE NOTE: 
Establish a precise process for emergency actions to be taken in the event of system breakdowns.

Conduct risk analyses to identify crucial weaknesses in online systems, such as the use of old software or hardware. 

Employ an outsourced service provider who has the skills and motivation to complete or assist you with crucial tasks, such as system updates and data recovery.
#6) ACCENTURE & HERTZ 
Accenture's outsourcing agreement with Hertz is a clear example of the need for improved communication and project management in outsourcing. 
CASE STUDY 
In order to modernize its website and mobile apps, Hertz recruited Accenture in 2016.
Hertz had created business plans, outlined objectives, and created roadmaps to expand its platform offerings. Accenture, however, disregarded the scalability needs of the platforms and produced a product that was inapplicable outside of North America. Other problems with the project were delays, unsecure data, and sluggish design.
Hertz was ultimately left with a mediocre product. They consequently sued Accenture for $32 million in April 2019.
TAKE NOTE: 
Explicitly state what you expect from the contracted project.

Throughout the process, keep in touch with the outsourced team.

Formalize the assertions made by outsourcing suppliers.
#7) LACK OF COMMUNICATION BETWEEN THE US NAVY & ELECTRONIC DATA SYSTEMS (EDS) 
Outsourcing failures may occasionally result from a complete breakdown in communications. This was the situation between the US Navy and IT contractor EDS.
CASE STUDY
The Navy and Marine Corps hired EDS in 2000 to train their employees. 
EDS was so focused on getting the contract that it overlooked the true extent of the project. EDS didn't learn that the Navy and Marine Corps wanted it to replace or integrate tens of thousands of legacy applications until after it had already begun working on the project.
The Navy acknowledged that its own personnel's lack of decision-making contributed to EDS's lack of direction while also taking some of the blame.
Even worse, EDS was required to pay for all of the hardware changes under the terms of its contract with the Navy. Due to vague contract language, EDS was exposed to certain expensive and unanticipated responsibilities.
Due to its inability to pay its debts, EDS had paid off more than $500 million in lost assets by 2004. EDS reported a $153 million loss at the end of the third quarter of 2004.
TAKE NOTE: 
Check the contract if the implications are clear and understood by both parties. 

If you want your business to prosper, effective communication is a must. 
10 REASONS WHY OUTSOURCING FAILS & HOW TO AVOID THEM 
So, after discussing bad outsourcing examples, let us now explore the factors why outsourcing fails and how we can prevent them. 
1) LACK OF CONTROL 
The performance and quality requirements of your products and services may be impacted by this lack of control. Additionally, it limits your ability to modify your outsourcing plan to better suit your demands.
SOLUTION 
You can optimize the operations of your outsourcing project by retaining some control over the outsourcing team by approving priorities and establishing rules. Additionally, it will assist you in meeting the needs and resolving the problems of the outsourcing teams and avoiding bottlenecks.
2) LACK OF COMMUNICATION
Two factors that contribute to outsourcing failures from companies that use these services are poor communication and dishonesty. It results from the fact that they delegate all tasks and duties to contractors without providing them with the precise information needed. As a result, many providers are unable to meet the expectations of these companies.
SOLUTION
To make sure that communication is a crucial part of the process, incorporate calls and project management tools into your project plan. For a variety of purposes, including team building and software development, clients can establish communication channels.
3) LACK OF KNOWLEDGE & EXPERTISE 
Employing an outsourcing provider without the required experience and skills can result in a waste of time and resources on pointless procedures.
SOLUTION
You can save money by hiring an outsourcing partner based on their technical capabilities rather than having to hire in-house development teams. They can assist you in creating performance benchmarks or metrics to assess the caliber of the outsourcing company's work.
4) VAGUE EXPECTATIONS 
Unclear expectations can lead to poor outsourcing results and high prices. It can result in serious company failures when coupled with inadequate risk assessments.
SOLUTION
Companies should have a specific objective and lay out their product expectations for outsourcing vendors. This makes sure that you and your partner are in agreement regarding costs and product development.
Additionally, it's crucial to carry out risk analyses for initiatives before launching them. Businesses can protect themselves from product problems and vendor failures by doing this.
5) COST PRIORITIZATION
When selecting an outsourcing partner, it can be tempting to go with the bidder that will save the project the most money. However, putting costs first doesn't always guarantee that your outsourced project will be profitable in the long run.
SOLUTION 
Cost reduction does provide you a competitive advantage, but value is more essential because it affects how well your product is made. Therefore, efforts to outsource should not be seen as a strategy to save operating costs. It should be viewed as a way to streamline your business's processes.
6) CONFLICTS OF INTEREST
When you outsource, you must deal with businesses that have various cultures, working methods, etc. The relationships between firms and outsourcing vendors will suffer if they have conflicting interests.
SOLUTION
Try to have a constructive conversation and give the other party a chance to express his ideas satisfactorily. Try to acknowledge one another when you both agree on anything. This is a chance to talk about the issue and work together to find a solution.
7) VAGUE OR NO WRITTEN CONTRACT
When dealing with offshore teams, a formal, written contract is always in your best interest. According to statistics on outsourcing failures, vague or unwritten contracts are one of the main reasons for outsourcing failures. For this reason, it is essential to draft a formal contract that outlines the obligations of the offshore service provider.
SOLUTION
The agreement should include all the information about the project and its future plans. By doing this, you can avoid becoming confused. Planning a refund policy as an exit strategy will ensure that you are protected in the event that your outsourcing team is unable to finish the project or produces a mediocre product.
8) CULTURAL DIFFERENCES
Working with offshore staff always carries the risk of encountering cultural differences. Developing mutual respect and understanding is crucial when dealing with this issue because they have their own working cultures just like your company does.
SOLUTION
This could entail some degree of staff training as well as a designated period of time for the internal and external teams to get to know one another and set up efficient communication mechanisms.
9) TIGHT DEADLINES
Deadlines that are too tight may result in hurried and unsatisfactory production. Additionally, it can entail neglecting certain crucial procedures and producing substandard products. 
SOLUTION
Great project management and outsourcing outcomes can be influenced by realistic deadlines and efficient scheduling. Therefore, it is a good idea for companies using an outsourcing partner to set aside some time for project concerns.
10) NOT CONSIDERING THE PROJECT AS A PARTNERSHIP
Businesses regard outsourcing as a temporary partnership when they see it as a transactional agreement. Due to the minimal contributions made by both sides, there is no chance of establishing confidence in the outsourcing project.
SOLUTION
A service provider needs to act as an advantageous outsourcing partner who promotes long-term success. The likelihood of preserving shared accountability and a deeper professional relationship throughout the project lifespan is also increased by considering the venture as a partnership.
CONCLUSION
To avoid outsourcing failures, businesses must also be aware of them. Outsourcing won't be a terrible idea if you do a thorough analysis and manage it well; in fact, it will help your business expand much more efficiently.
To avoid any potential complications during the software development process, the aforementioned bad outsourcing examples should be identified and discussed before any outsourcing project.
Whatever issues arise shouldn't be severe enough to qualify as outsourcing failures as long as the risk factors are avoided.
MAGELLAN SOLUTIONS CAN PROVIDE YOU WITH QUALITY OUTSOURCING SERVICES & SEAMLESS TRANSACTION
It's time to make a choice and utilize outsourcing services to increase the efficiency of your business.
With no compromise on quality and at a fraction of price, Magellan Solutions will undoubtedly help you with your company needs and goals.
With 18 years of expertise in the field, we take great pride in offering only the best call center services. On top of that, we are an ISO-certified and HIPAA-compliant outsourcing company. We provide a great variety of top-notch outsourced business solutions. 
Contact us now and let's discuss your business needs.
TALK TO US!
Contact us today for more information.