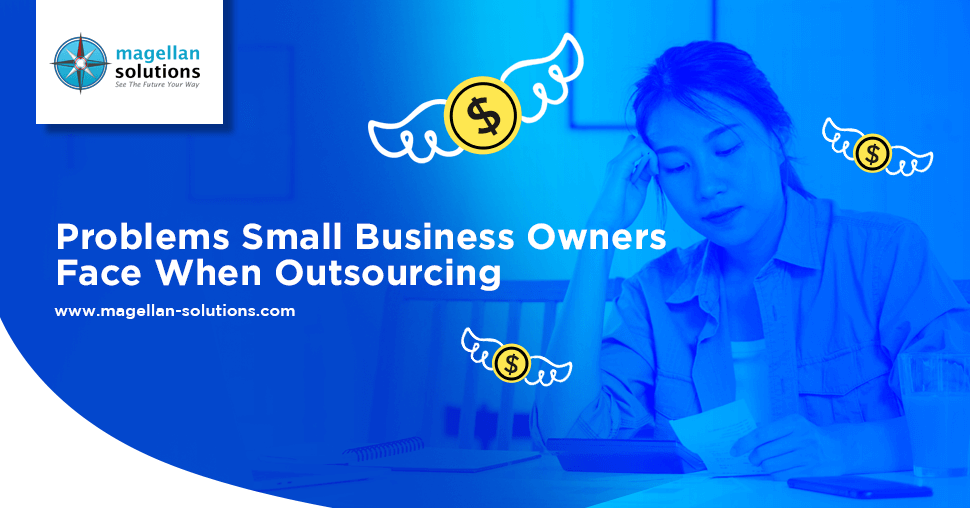 What are Small Business Owners Outsourcing Problems?
It's no secret that outsourcing benefits small business owners in more ways than one. 
Aside from being cost-effective, outsourcing provides small business owners with efficient support minus the hassles of hiring in-house staff. This is why outsourcing became one of the most popular and preferred business solutions in the market. 
Small businesses, despite their size, can be just as much work as a larger-scale one, and most of the operational nitty gritty are often handled by people with multiple responsibilities who have to switch to several hats to keep things running smoothly. Outsourcing can take many tasks off your hands without compromising service quality.
However, outsourcing seems promising for small businesses, but it has risks. Before outsourcing, it's best to weigh the pros and cons first.
Some Setbacks of Outsourcing For Small Businesses
Like any business practice, outsourcing has its flaws. But when done right, it can help fine-tune many parts of your operations.
Before making a decision, check your business for weak spots, as well as size, cost, and necessity. It's natural to be cautious about business decisions when time and money are limited. So don't stress too much.
While reliability, cost-effectiveness, and access to a wide pool of talents are known benefits of outsourcing. It also helps to know the drawbacks so you can fine-tune as you go.
Sometimes, there are hidden costs. 
Outsourcing is one of the most cost-effective business solutions in the market. 
Due to the lucrativeness of the industry, many outsourcing providers are founded here and there, with each offering their own specialty services wrapped neatly in an affordable package. 
For first time outsourcers, it's easy to be swayed by attractive rates and deals in the market. And once a small business owners decides to avail of the offer, some are surprised to be slapped with charges that hadn't been included in the initial fine print. 
Before you decide to outsource/choose a provider, make sure to ask questions about the coverage of the package offered to you. Also, be sure to read the contract thoroughly before signing to avoid accidentally agreeing to terms that aren't feasible for you and your business. 
Operational oversight and responsibility. 
While outsourcing can save small business owners time, money and the hassle of constant trial and error in hiring employees, having a dedicated team offsite can give rise to management issues along the way. 
Small business owners, you have their own vision and set of standards. When outsourcing, there might be conflict between your style of management and the provider's own strategy in handling staff. 
Before you begin your outsourcing operations, be sure to communicate with your provider when it comes to the standards and culture of your brand. It's best to choose a provider that shares the oversight of operations and runs your staff the way you would. 
Cultural and language barriers can be an issue. 
Outsourcing is a global industry just as much as the others, and most outsourcing providers are located miles and miles away from the businesses they cater to. In fact, many of the biggest outsourcing partners are located in Southeast Asia, but service clients in the US, UK, Australia and many parts of Europe. 
While having a multicultural and multilingual staff has its global appeal, sometimes things can be lost in translation, especially with poor education. 
This might be a pressing issue especially to businesses with a global reach, but all it takes is training and cultural awareness exercises to make sure your outsourced staff are ready and adaptable to the global market. 
There might be (some) security risks. 
Having a business unit offset can be worrisome in many ways. 
You can be unsure at how efficient and smooth the offsite operations would be, and possible security risks might worry you just as much. Without being physically present or having your team in the same office, it might be a challenge to address issues and risks. 
It's always best to explore the security measures your outsourcing providers implement to make sure all your data is secure and safe from any possible breach. Choose only legitimate and certified outsourcing providers for high quality security practices, so you can rest assured your business and all related information is secure. 
Loss of control and minimal monitoring.
As a small business owner, you are well aware that your manpower is the lifeblood of your business. Your firm's performance rests on your staff's productivity level, and you can only enjoy maximum productivity when you strategize your operations. 
With outsourcing, monitoring and control might be a lot more challenging, given the distance and time differences between your office and your outsourced staff's location. There might be differences between you and your provider's manner of management, which can't always be aligned with your vision for your company and employees. 
Communicate your needs and expectations. This is for your outsourcing provider to ensure your offshore staff's performance and productivity align with your vision and standards.
Making Outsourcing Work For You
Outsourcing is not perfect. But when you look deep enough, you'll realize that its flaws can be solved. It's all a matter of good communication. 
Before you take a dive into outsourcing make sure you do your due diligence. It's best to identify your business' needs so you can set feasible expectations in outsourcing. When choosing a provider, do a thorough background check to ensure your operations and data are secure and safe.
Finding a provider willing to share oversight in managing and training employees may be difficult. But the results are worth it when you start hitting targets and driving revenue.
Choosing a legitimate reliable provider can be tough, especially when there are so many options. So make sure you choose an outsourcing provider that seeks to provide more than just the bare minimum. Choose a provider that goes the extra mile. 
Magellan Solutions Makes Outsourcing Work For Small Businesses
Magellan Solutions is the first of its kind in the country to offer business process solutions (BPO) especially for small and medium-sized businesses. Now servicing more than a hundred firms all over the world, it continues to provide top quality outsourcing services to local and international business.
Magellan Solutions has more than a decade of industry experience and is ISO-certified and HIPAA-compliant.
Make outsourcing work with Magellan Solutions. Talk to us today. 
TALK TO US!
Contact us today for more information.