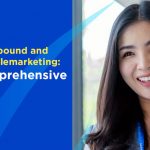 Mastering Inbound and Outbound Telemarketing: Your Comprehensive Guide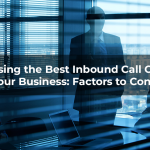 Choosing the Best Inbound Call Center for Your Business: Factors to Consider  
There are over a hundred thousand business process outsourcing companies operating worldwide, and among the critical decisions you'll face is selecting the ideal partner to meet your business's unique demands.
How can you narrow down the searches? Remember, there's around 10-15% annual growth of BPO companies worldwide, which intensifies the competition for delivering top-notch service quality. 
You may have a lot of questions in mind. No worries! Asking questions is a crucial step in the outsourcing process, and the only way to clear those uncertainties is by asking them.
We've got you covered! We will share some essential questions to ask when outsourcing a call center. 
1. Can They Handle The Needs Of Your Business? 
You choose to outsource your inbound services as your in-house team can no longer handle the workload. It's just right to ensure that your provider can accommodate the demands of your business. Hence, get the answers to these questions to find out if the company can provide your needs:
Can they handle the spike in your business calls, and how do they handle it, especially during peak season?

Are they equipped with the the necessary staff and tools to deliver the expected service level?

Are they up-to-date with technology and software tools?

If there are system failures, what measures are in place for backup?

Do they have ongoing training programs to make their staff well-versed in using the tools, equipment, and product knowledge as well?
If they answer yes, it gives assurance to quality service delivery. It also gives you peace of mind that their values are aligned with your business requirements.
2. Ask About Their Reporting
In order to assess if your collaboration with a third-party service provider is beneficial, there must be metrics to be measured. You will entrust your business's reputation and customers to them, so you want transparency if the outsourced process meets the goals. As a business 
The metrics measured are usually the number of calls answered, each call's duration, and the conversation's outcome. But it doesn't end there, there are quality assurance elements that aim to maintain the service quality and to identify room for improvement quickly. 
Key Performance Indicators – These are measurable performance metric to gauge progress if it attains the requirements expected for the contact center. Here are the common KPIs:
Average Handling Time (AHT) – How long does an agent resolve the customer's concerns? A lower AHT may indicate an efficient service. Still, it doesn't always equate to quality service, as there's a tendency for agents to strive to complete the call in less time without exploring if the customer still has other concerns.

First Call Resolution (FCR) – Are the customer issues resolved at the first call without requiring a follow-up call? A high FCR rate may lead to customer satisfaction and demonstrates a good problem-solving skill.

Customer Satisfaction (CSAT) – This measures customers' overall satisfaction with the products and services offered by the company and how the agent was able to attend to the customer's issues. 

Net Promoter Score (NPS) – How likely does the customer recommend the company to their family or friends? This metric also categorizes customers into promoters, detractors, and neutral consumers.
Quality Assurance – Quality assurance is a way for QA specialists or team leaders to ensure that the service provided by the agents is what is expected from them. Here's what quality assurance monitors:
Call Checking and Evaluation –

Quality assurance

monitors all kinds of customer interaction, whether through phone calls, emails, chat support, etc. Adherence to protocols and how the agent was able to deliver quality customer service is assessed.

Feedback and Coaching – Based on the QA evaluation, the agent receives feedback and determines their strengths and areas for improvement. The feedback and coaching sessions aim to facilitate professional development.
3. Where is the Location of the Contact Center?
Some businesses that outsource often overlook the outsourcing center's location as they think they will not manage the workers personally. However, the choice of location would impact your company's ability to attract customers and generate revenue, so it must always be included in your call center checklist. Here are the reasons why:
Each country has a unique culture and set of working ethics. It's vital to ensure that your company's standards and values are aligned with that country's cultural norms to avoid conflicts.
Language barriers may often lead to misunderstandings that may affect customer satisfaction. It's essential to choose an outsourcing partner who can speak your customers' language fluently. When the agent is proficient in the customer's language, they can have a better understanding of what the issue is and can provide accurate resolution. 
Legal and Regulatory Compliance
The legal and regulatory environments vary between countries. Being aware of the location is crucial for creating contracts and settling any legal conflicts and disputes. It makes it easier to ensure that your outsourcing partner follows the regulations bound by the law.
If you're from Western countries, your go-to outsourcing partner may be in ASIA, such as the Philippines and India. These countries offer low-cost labor while still maintaining high skills and expertise.
4. What Certifications Do They Have?
Certifications for outsourcing companies depend on the service that they offer, their industry focus, and the client requirements. 
Certifications for a BPO company are considered their competitive advantage as they show their industry expertise and commitment to providing high-quality customer service. The standard certifications that an outsourcing company has included:
HIPAA Compliance Certification

(Health Insurance Portability and Accountability Act)
If the outsourcing company handles healthcare-related tasks, it must be HIPAA-compliant to secure the confidentiality of the patient's medical information. Through this certification, legal consequences in accessing healthcare-related information are avoided.
ISO

(International Organization for Standardization) Certification
Before a company can be ISO-certified, it must undergo assessments or audits to ensure that its overall operations meet the standards set by ISO. An outsourcing company that is ISO-certified has the impression that they are a credible outsourcing service provider.
Have You Made Up Your Mind?
By asking these questions, you can find a provider offering an outstanding and efficient call center service that will satisfy your customers and boost your business. 
By outsourcing call center service to Magellan-Solutions, you can streamline your operations, gain tighter control of the budget, and give support to your staff and customers. 
Magellan Solutions has established itself as a trusted outsourcing and call center service provider for over 18 years to companies across various industries. 
Contact Magellan Solutions today and get a free quote for your call center service needs. We can even give you call center outsourcing tips to make your outsourcing journey successful.